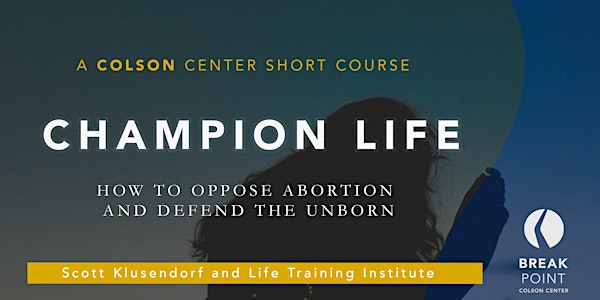 Champion Life: How to Oppose Abortion and Defend the Unborn
The question at the heart of the abortion debate is: Who counts as one of us?
Refund Policy
Contact the organizer to request a refund.
Eventbrite's fee is nonrefundable.
About this event
Champion Life: How to Oppose Abortion and Defend the Unborn
September 8, 15, 22, 29 | 8pm – 9:30pm ET
Effective pro-life apologists stay focused on the question. They do not cancel arguments. They objectively weigh them according to the dictates of sound reason, seeking to understand before offering judgments. They are intellectually curious, eager to explore all facets of the abortion debate, including responses from academic critics who hold differing views.
Do you have the tools to build a persuasive pro-life apologetic?
This month, join Scott Klusendorf and learn to:
Clarify the issues at hand and focus on the big questions
Address five bad ways people argue about abortion
Answer objectives to the pro-life position clearly and persuasively
Train others by effectively communicating your pro-life views
What is a human being? Why is life worth defending?
Register today to explore these questions and learn practical skills in four compelling modules over Zoom, with supplemental materials and discussion questions provided by the Life Training Institute.
View the topics below:
Week 1: How to Make a Case for Life in about a Minute
Week 2: The Five Wrong Ways to Talk about Abortion
Week 3: Answering the Most Common Pro-abortion Objections
Week 4: Develop a Pro-Life Game Plan
Each short course session begins at 8 pm ET, and goes for an hour-and-a-half. A half-hour Q&A session is included. And if you miss a session, don't worry: We'll send you a link so you can watch a recording at your convenience. This short course is great for individuals, families, small groups, or even whole churches.
Not able to attend the live webinar programs or want to listen to the program again? For your convenience, we will also provide links to recordings of the live webinar programs in follow-up emails sent within 24-48 hours following the live webinar programs. We encourage you to share these recordings with friends, family, small groups, or churches. We simply ask that the recordings not be posted to social media or other outlets such as YouTube.