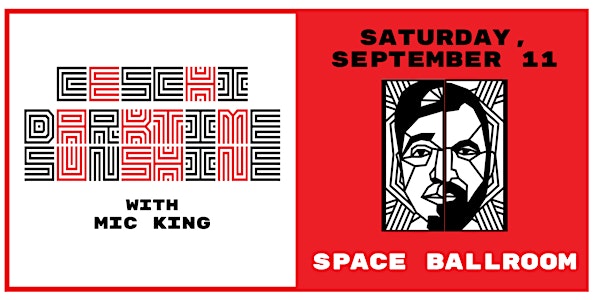 Ceschi, Dark Time Sunshine
ALL AGES
Premier Concerts and Manic Presents:
with Mic King
When and where
Date and time
Starts on Saturday, September 11, 2021 · 8pm EDT.
Location
Space Ballroom. 295 Treadwell Street Hamden, CT 06514
Performers
Headliners
More Performers
About this event
General Admission Standing Room Only
COVID-19 Policy
COVID-19 Vaccination (14 days past second shot) OR proof of negative COVID-19 PCR test (received within the past 72 hours) required for entry. If vaccinated, please bring your vaccination card or clearly legible photo of your vaccination card on your phone and a valid photo ID. If unvaccinated please bring printed or digital proof of your recent negative PCR test. Masks are required for all ticket holders and staff despite vaccination status. You may pull your mask down when eating or drinking only. These policies will remain in place until further notice.
To present proof of vaccination and/or negative PCR test results on your phone, we've partnered with Bindle, a digital health platform that is secure, easy to use and completely anonymous; your personal health information is never shared and your biometrics are not required. Visit the App Store or Google Play Store and search for "My Bindle." Set-up is free and simple. If you are unable to provide digital proof, physical proof is also accepted.
CESCHI
On Sad, Fat Luck, their second collaborative full-length, rapper/singer Ceschi Ramos and producer Factor Chandelier have condensed three years of heavy touring, profound loss, and late stage capitalism polemics into a 13-track album.
While driving on the autobahn manically throttled on espresso during a tour with cult rapper Serengeti, Ceschi put on a beat that Factor had sent him out of the blue. Factor has a history of gently nudging a vocalist towards a specific sound he's after, and this was one of those cases as Ceschi found inspiration for the title track flying solo 200 km/h across the German highway.
Sad, Fat Luck was the song, and album, he had to make in the wake of the type of high-grade personal hell that makes you wonder if you're living in a simulation. "They're watching me hang myself for rounds of applause," he laments over a pristine, propulsive Factor beat.
Early in his career, Ceschi's band Toca was signed to Snoop Dogg's management team. He learned a bit about how to navigate cutthroat Hollywood and its bullshit lunches and empty promises. During a meeting with an L.A. agency rep, Ceschi was asked to describe his music concisely. Knowing that the breadth of his influences is too wide to properly digest, Ceschi blurted out something like, "If Kendrick Lamar met Elliott Smith in a psychedelic limbo. If Kurt Cobain's brain blown ghost met Frank Ocean." And the man got it - right away. No talk of Freestyle Fellowship, Neutral Milk Hotel, My Bloody Valentine, Silvio Rodríguez, or the vast, less marketable influential giants to Ceschi.
A student and peer of the '90s California underground scene, Ceschi flips multiple styles and cadences, often moving from chopping verses to spoken word-adjacent raps in the same track. He is also a gifted guitarist, inserting his warm minimalist balladry ("Daybreak") into the tracklist as a sort of palate cleanser amongst heavier, wide-eyed productions ("Lost Touch").
When seven friends die in a seven-month span and you exist in an epoch of normalized tragedy and injustice - calling to mind Drew Michael's notion of depression as a condition where you see the world as it is - where do you turn? For Ceschi, a seasoned indie rap and folk-punk veteran, artistic expression has always kept the gears turning. And Factor has been along for the ride for quite some time now, intuiting Ceschi's heart through dense, bright productions, and coaxing it out of him when it's buried just beneath the surface.
Familiar Ceschi themes of death, depression, and despair are at war with the type of blistering hope and joy that Herman Hesse spoke of in Steppenwolf, the improbable moments of tranquility puncturing the sea of suffering. Ceschi encapsulates this sentiment in concise turns of phrase on "Middle Earth", rapping, "For the minutes we have on this planet we're seeking love, and that's more than enough. Call it what you want. Call it God. Call it your freedom. That connection between living beings is a powerful thing, and that's real to us."
Sad, Fat Luck came together between 2015-2018, conceptualized partly on the road and realized fully in New Haven and Saskatoon studios. Its title comes from a joke photo Ceschi sent to Factor of himself shirtless in a penthouse Jacuzzi above Times Square that was kindly secured for Ceschi under questionable circumstances by a hacktivist friend during a particularly unstable stretch for the musician. Astronautalis and Sammus provided guest verses on the album, while multi-instrumentalists such as Danny T. Levin, Jane Boxall, and Child Actor helped flesh out the overall sound.
"Sans Soleil", a late addition to the record, stands as its emotional core. "This has been an awfully costly trip," Ceschi relays on the chorus, hinting at what he's endured in a lengthy battle with depression and processing loss. The outro features a voice memo from the late producer Sixo, a close friend of Ceschi's and integral part of the Fake Four family, who died in a freak motocross race incident in 2018. Sans Soleil is also the title of a Sad, Fat Luck companion album born out of the Saskatoon sessions set to drop in July 2019.
Ceschi founded a label roughly 10 years ago, at a time when beloved indie labels like Def Jux were folding in response to music becoming "free." He wanted an outlet for him and his friends, and the long road ahead was never viewed as untenable. He grit his teeth, signed artists, made music, booked tours, and continued moving forward amongst shifting terrains. All roads of his past decade have led to this album, and a vocalist couldn't ask for a better co-pilot than Factor. Sad, Fat Luck is suffering as grist for the mill, and the skeletal framework of what that mill can produce when manned by an unflinching sense of hope.
Links: Official Website | Facebook | Twitter | Instagram | Spotify
DARK TIME SUNSHINE
DTS - LORE Nine years after the release of their critically acclaimed ANX, Dark Time Sunshine is back with their third full-length, Lore. Comprising Seattle emcee Onry Ozzborn (Grayskul, Oldominion) and Chicago producer Zavala, DTS have been on the cutting edge of indie hip hop since 2009, behind genre-bending production and a heady lyrical approach all their own. Lore builds on the psych-rap foundation of their previous efforts while shifting into new terrain that incorporates the aesthetics each artist has explored in recent years, and the end product is an album brimming with hope.
Since ANX, we've seen Onry drop several solo projects (Tantrum, Nervous Hand, etc.) as well as a Grayskul album alongside longtime comrade JFK. In 2017, Zavala dropped Fantasmas, an electronic departure that led to NPR calling him "a messenger of sonic relief." The two spoke often of making another Dark Time Sunshine record, but the pieces didn't fall into place until 2020, when a particular batch of beats Zavala sent Onry's way resonated with a new, hard-won headspace that the emcee found himself in. Onry wrote all of Lore between May and August 2020.
Having already endured a difficult few years battling personal demons and health struggles within the family, Onry was probably more prepared than most for the chaos of 2020. His resilience shines through on Lore. "What a wonderful display of determination to make it out of hell," he raps on "Hell Nah" over a lush, spacey Zavala backdrop. You can practically hear the weight lifting from his shoulders on many tracks, and especially on "Ayemen", the album's emotional core. The song is pure triumph over adversity, with an infectious hook buoyed by a crystalline Zavala collage. "Broken before / But never again" becomes a mantra.
Continuing the trilogy of Ceschi collabs that begins each of Dark Time Sunshine's full-lengths, the rapper/singer makes a frantic cameo on "Lore", setting the stage for an 11-track odyssey that also features guest shots from R.A.P. Ferreira, Homeboy Sandman, and Hail Mary Mallon. Ferreira and Sandman appear on "Rite Kids", a sequel of sorts to "The Wrong Kids" from DTS's debut EP Believeyoume. The trio ruminates on nature vs. nurture and stresses the importance of both strong parental guidance and allowing kids the space to thrive on their own intuition. Onry kicks off "Poor Pavel" with a razor-sharp verse showcasing the versatility of his delivery, before Hail Mary Mallon (Aesop Rock + Rob Sonic) jump on the track with their signature abstract pyrotechnics. Backup vocals on the album are provided by Alison Baker and Jack Rylands of Psycho Rooster.
Lore explores themes of breaking cycles, self-determination, and rebirth. It contains the most focused and impassioned writing of Onry Ozzborn's two decade career, and Zavala ties it all together with rich textures, bright synths, and cracking drum breaks. For this or any other trying year, it's the perfect soundtrack to sticking the landing over hell and surviving with you and yours intact.
Links: Official Website | Facebook | Twitter | Instagram | Spotify
MIC KING
A chilling, complex, and yet still uplifting MC, Mic King has spent most of his rapping career unsigned, picking up fans from his highly touted live shows of which he completes nearly a hundred per year. Born Michael King in northern Philadelphia, Mic King was first inspired to rap at age 14 as a freshman in high school. By the time he was a computer science major at Howard University, he was a high-grade, formidable battle-rapper with many championships under his belt. College began to appeal less and less to him, and after being turned off by the nine-to-five way of living from an internship, he finally quit school in 2002 to devote all his energy to hip-hop. Before 2002, he already had made several appearances on underground rap compilations, but that year released his first 12", "Ahead of My Time," which featured rappers Tonedeff and his cousin, PackFM. He officially left the battle-rap circuit in 2003 and put resources towards building his short-lived imprint Indieground. His first full-fledged work of all new material was actually the Intricate Spectrum EP, which came in 2004. However, critics began to take more notice of the hard-working MC in 2007 with the release of Mike & the Fatman LP, a conceptual and collaborative effort with Demigodz producer Chum the Skrilla Guerilla. ~ Cyril Cordor, Rovi