Description
Certified Agile Leadership Training gives managers and coaches skills needed to foster success.
Your success as a leader in an Agile organization requires looking beyond Agile itself. It requires a deep understanding of your organization and your own leadership path. To equip you for this journey, you will gain a strong foundation in understanding organizational culture. From there, you will learn key organization and leadership models that will allow you to understand how your organizational culture really works.
Now you are ready to start the journey! You will learn about organizational growth – how you may foster lasting change in your organization. Key is understanding how it invites change in a complex system. You will also learn about leadership – how you may show up more effectively, and how to help others.
Though each Certified Agile Leadership course varies depending on the instructor, all Certified Agile Leadership courses intend to create awareness of, and begin the journey toward, Agile Leadership.
Graduates will receive the Certified Agile Leadership (CAL 1) designation. See Scrum Alliance Website for further details.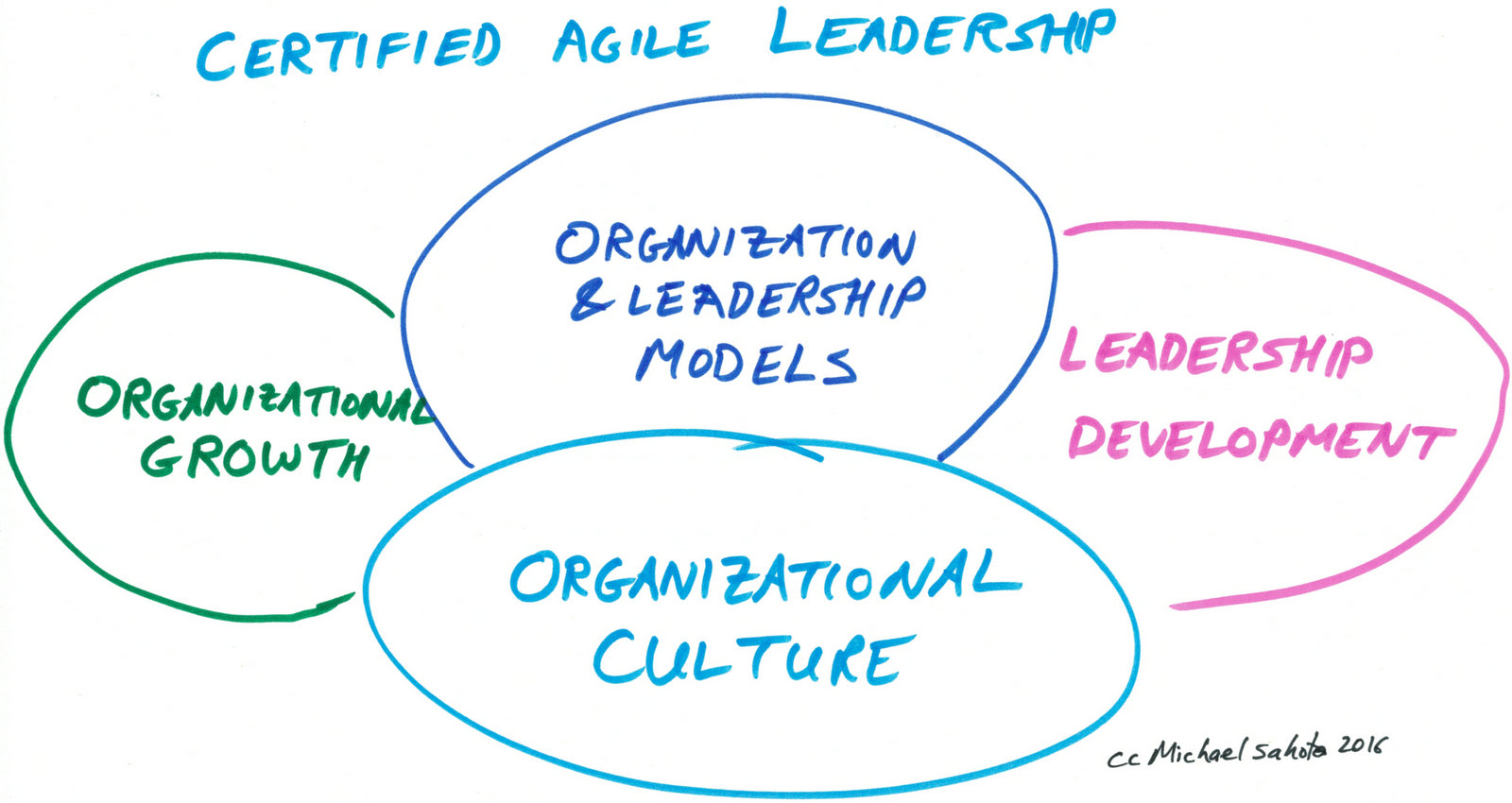 "When we examine culture and leadership closely, we see that they are two sides of the same coin; neither can really be understood by itself." – Edgar Schein
Who Should Attend
There are two main audiences that are addressed by this training: organizational leaders and organizational coaches. The principles and practices of organizational culture and leadership are the same regardless of your role.
Organizational leaders include executives, vice presidents, directors, managers and program leads. Organizational coaches include Agile coaches, HR professionals, management consultants and internal change leaders.
"The only thing of real substance that leaders do is to create and manage culture." – Edgar Schein
Pre-requisites
Agile fundamentals. You need CSM or CSPO. Alternatively, you may demonstrate that you have the fundamentals or may request a pre-event webinar to ensure key fundamentals.
Course Pre-learning
Participants are expected to complete 2-3 hours of videos and readings in advance of the training. Then there is more time to focus on discussion and exploration. The reading guide will be shared with participants after registration.
Get 14 Professional Development Units (PDUs)
PDUs: This training provides 14 PDUs in support of maintaining certifications offered by the
Project Management Institute, including the PMI­-ACP as well as the PMP certification.
This course also counts as 14 of the 21 contact hours needed to be eligible for the PMI-ACP certification.
Training Environment
We create a highly interactive dynamic training environment. Each of you are unique – and so is each training. Although the essentials will be covered in every class, you will be involved in shaping the depth and focus of our time together. Each learning module is treated as a User Story (see photo) and we will co-create a unique learning journey that supports everyone's needs.
Only the most valuable topics will be covered.
The training will draw from the learning areas identified in the CAL overview diagram.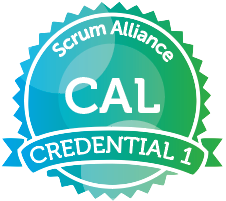 Learning Modules for Certified Agile Leadership Training (CAL1)
Organizational Culture
"If you do not manage culture, it manages you, and you may not even be aware of the extent to which this is happening." – Edgar Schein
Why Culture?

Clarify why culture is critical for Organizational Success.

Laloux Culture Model:

Discuss the Laloux culture model that will help us clarify current state and how to understand other organizations/models.

Agile Culture:

Explore how Agile can be seen as a Culture System.

Agile Adoption & Transformation:

– Highlight differences between Agile Adoption and Transformation.

Dimensions of Culture:

Look at key aspects of culture from "Reinventing Organizations". Where are we and where might we go?

Culture Case Studies:

Organizational Design: Explore how leading companies use innovative options to drive cultural operating systems.
Organizational Growth
Working With Culture

: Given a Culture Gap. What moves can we make? Work with Culture or Transformation.

Complex Systems Thinking

: Effective change is possible when we use a Complex Systems model. Cynefin. Attractors. Emergent Change.

Healthy "Agile" Initiatives

: How to get to a healthy initiative. How to focus on the real goals of Agile and clarify WHY.

Fostering Organizational Collaboration

: Understanding collaboration and trust beyond the team. Organizational drivers. Patterns for change.

Metrics

: How do we measure success? What metrics help and which harm us?

People-Centric Change

: The methods we use to change must be aligned with the culture we hope to foster. How we may change in a way that values people.

Transformation Case Study

: Walkthrough of how a transformation unfolded with a 100 person internal IT group.

e measure success? What metrics help and which harm us?
Leadership & Organizational Models
Theory X – Theory Y

:

Models of human behaviour that are implicit in various types of management systems.

Management Paradigms

: Contrast of Traditional "Modern" Management practices with Knowledge worker paradigm.

The Virtuous Cycle

: Key drivers of success emergent across different high-performance organizational systems.

Engagement (Gallup)

: Gallup has 12 proven questions linked to employee engagement. How can we move the needle?

Advice Process

: More effective decision-making using Advice Process. Build leaders. Practice with advice cards.

Teal Organizations

: Explore what Teal Organizations are like.
Leadership Development
Leading Through Culture

: How to lead through culture so that innovation and engagement can emerge.

VAST – Showing up as Leaders

: VAST (Vulnerability, Authentic connection, Safety, & Trust) guides us in showing up as more effective leaders.

Temenos Trust Workshop

: Build trust and charter your learning journey. Intro version of 2 day retreat.

Compassion Workshop

: How to Use Compassion to Transform your Effectiveness.

Transformational Leadership

: See how we may "be the change we want to see" in our organizations.

Leading Through Context

: How to lead through context so that innovation and engagement can emerge.

Leadership in Hierarchy:

Hierarchy impedes innovation. Listening and language tips to improve your leadership.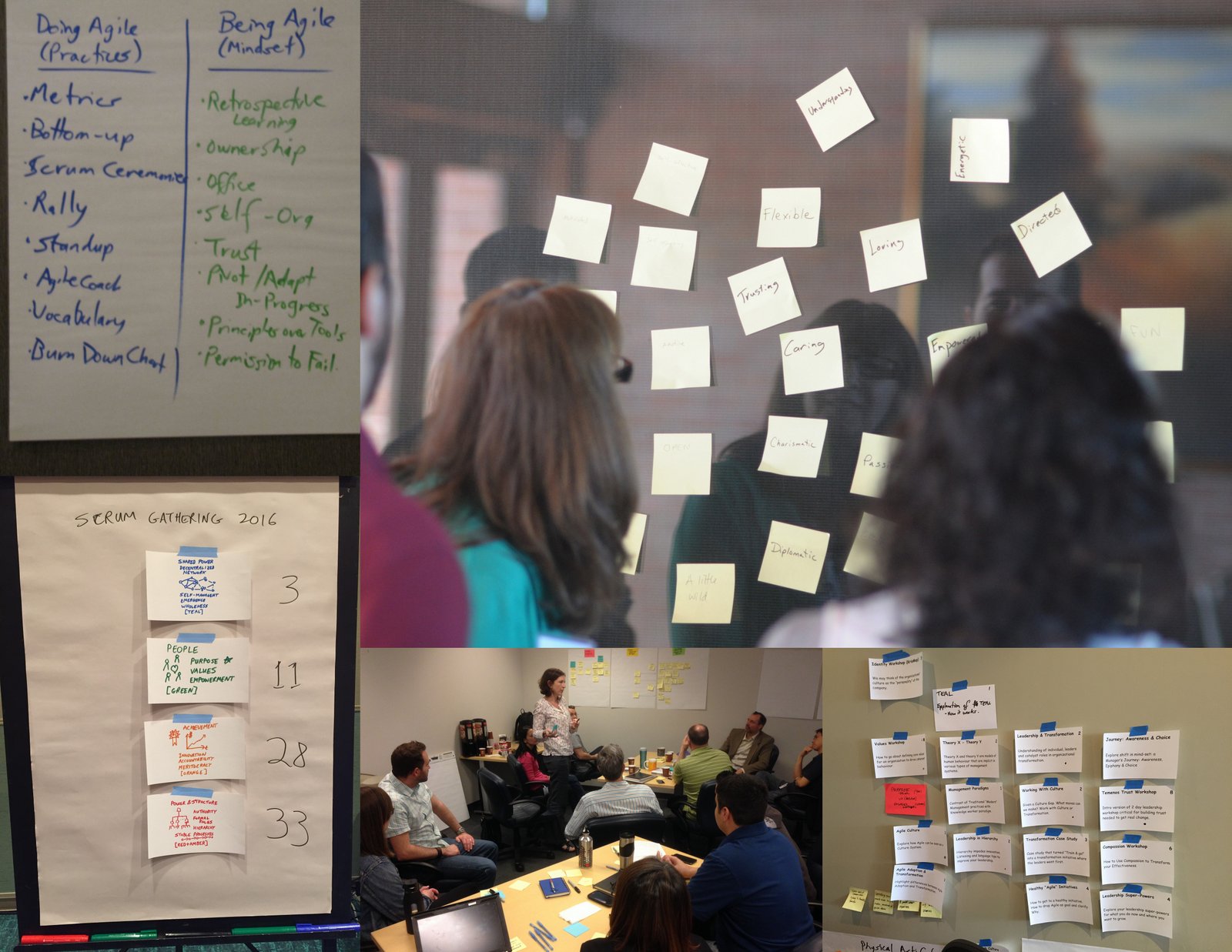 What People are saying about this Training
"Effective, Relevant, Informative. I learned how to initiate transformation to move towards high performance. In particular, the VAST model (Vulnerability, Authentic Connection, Safety and Trust) was valuable." – Tissa DeSilva, Director

"Thought-provoking, Clarifying, Motivational. I gained deep insights into my desire for change vs. my organization's. I now have a clearer view of the role of the leadership team, the negative organizational impact of well-intentioned efforts and on the role of Agile." – D.B., CIO

"Insightful. Collaborative. Engaging. Different models exist for culture which work for different companies. We can choose what aspect of each that will work for us." – Ray Shum, QA Manager

"Educational. Insightful. Interesting. It was engaging and cooperative. I now understand non-traditional org structures." – Sean McKaig, Sr. Manager UI Dev
"Active, Engaging, Open. The culture of our firm is a key driver. There are opportunities of change for the good. I liked the interaction, open discussions and mix of activities." – Rahul Mehra, Associate

"Engaging, Enlightening, A-HA moments. We went beneath the surface to get the true culture change. Employee engagement is the secret sauce." – Angie Smith, Culture Enthusiast (Yes, that's her official title)

"I think that the training session will cause a fundamental shift in our company, which has been long overdue, and that it will ultimately result in a much healthier organization (or organism depending on how deeply you want to think about it). I believe that it will cause us all (leads) to make space for others so that there is room for each person to grow and flourish." – John McTaggart, VP Business Systems

"Inspiring, Humbling, Overdue. I found the following valuable: VAST (vulnerability, Authentic connection, safety, trust) model, communications, and focus. Excellent facilitator, fearless, makes it look easy, practices what he preaches." – Mitch van Huuksloot, CIO
About Your Instructor, Michael Sahota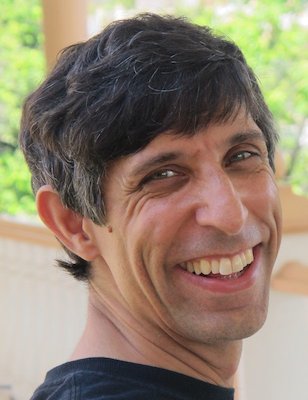 I believe people deliver astounding results when they have Passion and Purpose. Joy and Meaning. Creativity, Safety, Trust and Belonging. I believe we can foster work environments where people can grow and evolve to unleash their best every day.
I help people cultivate their organizational culture. To invite a more conscious way of being and relating. To evolve organizational structures and practices that foster new ways of working.
I am a guide: I help leaders navigate the world of organizational reinvention. I support learning and growth through: training, coaching, consulting, and facilitation. I increase awareness of the connection between actions and outcomes. I invite change. I walk the talk.
Since 2001, I have been fostering an Agile way of working. Since 2010, I have been helping organizations evolve their organizational culture to create places where Agile may flourish. As a Certified Enterprise Coach (CEC), I help leaders bridge the world between Agile and organizational reality.