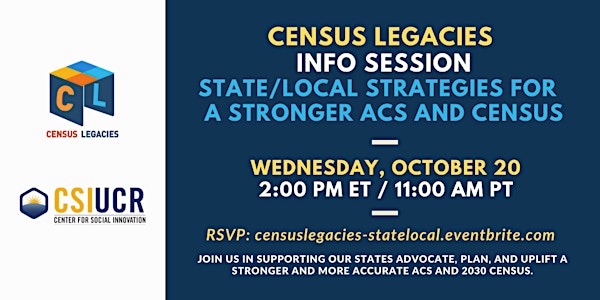 Census Legacies - State/Local Strategies for a Stronger ACS and Census
Census Legacies - State/Local Strategies for a Stronger ACS and Census
About this event
Did you know that 2020 data on your community—from poverty, education, workforce, transportation, housing, and health—are at risk?
Given low response rates during the pandemic, the U.S. Census Bureau will only be able to release experimental estimates from the 2020 American Community Survey. These will be released in November 2021, for "a limited number of data tables for limited geographies."
More generally, funding for the all-important ACS is at risk, and low response rates present a problem in many states, particularly in rural areas, Native communities, and communities of color.
What can states and localities do about this important problem?
Join us on October 20, to find out what is already happening, and how your state and locality can get involved. We welcome leaders and stakeholders from business, philanthropy, community organizations, government agencies, and state legislatures to attend.
We kindly ask that you please fill out this 2-minute survey prior to the start of the event. (https://forms.gle/sZWzNqG7MxnKEppp6)
Speakers:
Tony Carvajal, Executive Vice President, Florida Tax Watch
Tony Carvajal serves as Executive Vice President for Florida TaxWatch and brings more than 30 years of nonprofit management and consulting experience to the team, having helped organizations across the country design and implement plans to address all types of opportunities and disruptions. Prior to joining TaxWatch, Tony served as President and CEO of The Able Trust, a foundation committed to supporting persons with disabilities, and recently completed a decade of service as the futurist and Executive Vice President at the Florida Chamber Foundation where he developed research, programs, and policies designed to engage business leaders, chambers, and community leaders around a vision for Florida future.
Karla Lopez del Rio, Associate Director, Census Legacies and Center for Social Innovation, UC Riverside
Karla brings a wealth of community development experience and housing expertise to augment our Center's capacity and impact. Prior to joining CSI, Karla served as the U.S. Census Bureau's Lead Partnership Specialist for Riverside County. Her team created hundreds of multi-level and multi-stakeholder collaborations across the region to increase the Census questionnaire response rates for historically hard-to-count populations. For over a decade, before joining the Census Bureau, Karla dedicated her passion and career to affordable housing, homeownership, and community development. She is a member of the Board of Advisors for the Center for Demographics and Policy at Chapman University. Karla has received awards from UC Berkeley's Blum Center for Developing Economies and from NeighborWorks America in the categories of poverty alleviation and community building.
Joan Naymark, Executive Director, MACS
Joan Naymark is the founder and Executive Director of MACS – Minnesotans for the American Community Survey. Joan retired in 2012 from Target Corporation with 30 years of market planning experience. Joan was a member of the Census Advisory Committee representing the U.S. Chamber of Commerce and also served ontwo panels for the National Academy of Science about the American Community Survey and annual Economic Data from the Census Bureau.
Susan Racher, Vice President and CFO, Wallace H. Coulter Foundation
Susan Racher is Vice President and Chief Financial Officer of the Wallace H. Coulter Foundation, which she joined when the foundation was formed. As CFO, Susan manages the endowment's investment portfolio, and also directs the Foundation's civic engagement work in Florida. Susan is in the leadership group that created the Florida Counts Census 2020.
Karthick Ramakrishnan, Founder of AAPI Data and Census Legacies, Director of Center for Social Innovation, UC Riverside
Karthick Ramakrishnan is professor of public policy at the University of California, Riverside, and serves as the executive director of California 100, a transformative statewide initiative focused on building a shared vision and strategy for California's next century that is innovative, sustainable, and equitable. Ramakrishnan also founded the Center for Social Innovation at UC Riverside, and AAPI Data, a national publisher or demographic data and policy research on Asian Americans and Pacific Islanders (AAPIs). Ramakrishnan serves on the Board of The California Endowment and the Association of Princeton Graduate Alumni, chairs the California Commission on APIA Affairs, and serves on the U.S. Census Bureau's National Advisory Committee (NAC).
James T. Tucker, Senior Special Counsel, Lawyers' Committee for Civil Rights Under Law
Dr. James Tucker serves as a Consultant to the Coulter Foundation on Census and the ACS, and currently is the Chair of the Census Bureau's National Advisory Committee. A founding member of the Native American Voting Rights Coalition, he served as Pro Bono Voting Rights Counsel to the Native American Rights Fund (NARF) for 15 years, co-leading NARF's efforts on the 2020 Census.