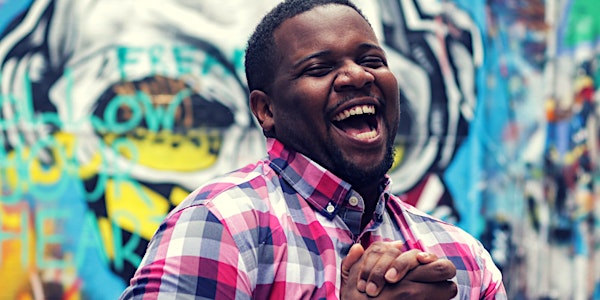 Celebrate You: Baltimore's Self-Care + Wellness Conference
An all day self-care and holistic wellness conference featuring Baltimore based experts + practical application + accountability.
When and where
Location
Creative Alliance 3134 Eastern Avenue Baltimore, MD 21224
About this event
Proudly Sponsored by Mend Acupuncture + Nourish Family Nutrition + TeaRado Tech + honeygrow + Shine Text + YogaWorks + Yoga Tree
The founder's story + why this event is happening
In 2016, Sinclair Ceasar was told that he was pre-diabetes, pre-hypertension, and almost 300lbs. He knew he had to make a change for his family and for the sake of his life. After seeing several doctors, working with Baltimore based experts, and building new habits that stuck, Sinclair lost 30lbs that year. Since then, he's kept off the weight, felt more energized, improved his over all holistic wellness, and has started teaching others how to as well. In 2018, he launched Celebrate You, so others could benefit from the same exact experts that helped him on his journey. Sinclair has been featured in the London Times, Essence, The Mighty, Voices of America, This is my Brave Inc., and Shine Text for his commitment to truth-telling, inpsiring hopefulness, and helping others to live a better story. He's super excited about keynoting a TEDx talk later in 2018! Learn more about Sinclair's work at www.sinclairceasar.com
At a glance
This all day interactive and life changing conference combines expert teaching, dynamic engagement around topics of accessible/practical self-care and holistic wellness, and hand-on activities to help participants live better stories.
Logistics
Saturday, October 6, 2018.Creative Alliance. 3134 Eastern Ave, Baltimore, Maryland. 9am-4pm. Introvert friendly. Intimate setting. Next door to delicious vegan, vegetarian, and gluten free options.
The problem + what we'll provide
People struggle with taking care of themselves and believing in their worth and value. We will teach participants practical ways to take a more holistic approach to self-care and wellness. This day will be catered towards busy people and helpers who are willing to commit to cultivate new habits + challenge themselves to be vulnerable.
Program overview
How to Eat - All things nutrition, meal prep, and reflecting on what you put into your body
How to Move - Body positivity + dancing till you sweat
How to Explore - A conversation about how to engage more with nature, and integrate mindfulness and yogic practices into daily life.
What the day looks like
Kickoff and setting intentions
Nutrition and meal prep for busy people
Live cooking demo from a chef!
Time to reflect and connect with others
Surprises
Hip Hop dance workshop and body positivity
Exploring mindfulness, nature, reconnecting with self
Yoga!!!!!!
Accountability clusters
Closing + Send Off
The absolute best after party ever!
Speakers
Diana Sugiuchi |Nutritionist/Dietitian, RDN, LDN | Nourish Family Health
Nicole Tirado | Founder of TeaRado Tech
Bakari Jones | Social Entrepreneur + Speaker
Jillian Richardson | Founder of The Joy List
Cynthia Chavez | Dance Instructor & Executive Artistic Director | Movement Lab & Baltimore Dance Crews Project
Molly Gallant | Outdoor Recreation Programmer | City of Baltimore, Parks and Recreation
Jen Cusick | Outdoor Adventure Specialist | Loyola University Maryland
Sinclair Ceasar | Stigma Crushing Mental Health Speaker
Tickets - as low as $19
Total Value - $449
Full Program + Self-Care & Wellness Glam Bag + "Celebrate You" Reflection Journal PDF + Access to Secret Facebook accountability group
Additional Awesomeness:
Acupuncture, massage, and more!
Refund Policy
All tickets are non-refundable and cannot be transferred. We believe making lasting changes in our lives start with making commitments to ourselves and following through on them.
Questions about anything (the event, sponsorship, vendor apps, etc.)
Email our team at celebrateyoubaltimore@gmail.com