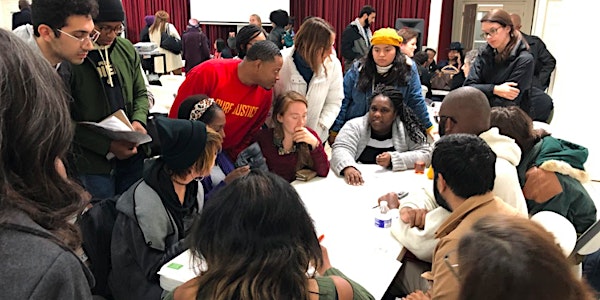 CBA for the Tre - Houston Coalition for Equitable Development without Displ...
Location
Wesley Chapel AME Church
2209 Emancipation Avenue
Houston, TX 77003
Description
Dear neighbors and community leaders,
The Houston Coalition for Equitable Development without Displacement is gathering for a second time at 6:00 on Tuesday, December 3, 2019 at Wesley AME Church (2209 Emancipation Ave). Last month, we announced our goal of securing a Community Benefits Agreement (CBA) with Rice Management Company as they develop the 16-acre Innovation District around the old Sears building and Fiesta at the edge of Third Ward.
Congratulations! We succeeded in delaying the variance request hearing for Rice's new parking garage from November 18th to Thursday, December 5th! Thank you to all who emailed the Planning Commission. Now that we have their attention, it's time to show how powerful we are together.
Before we go to the planning commission on December 5th, we will gather on December 3rd to review the CBA process and timeline and present the community's visions on the following CBA working group topics:
Historic and cultural preservation of communities of color

Affordable housing

Minority and African-American owned businesses

First source hiring for living wage jobs with benefits

Minority and African American owned tech incubator and accelerator inclusion

Education

Access to quality, affordable groceries
Then, we will appoint a negotiation team who will represent the Coalition in meetings with the developers.
Things to do before the meeting:
Watch for an email from the working group facilitators! They will be reaching out to everyone for feedback on the ideas generated at the last meeting.

RSVP to the event by signing up here on eventbrite and/or clicking "going" on our Facebook event

Follow the Student Coalition for a Just and Equitable Innovation Corridor on Facebook and @HaltGentrifica1 on Twitter so that if you can't make the meeting, you can follow along from home on our student-run live streams!
See you there and take care!
- Houston Coalition for Equitable Development without Displacement
P.S. Want to support the coalition as an individual or organization? Email Mary Claire Neal at mcn3@rice.edu to learn more about endorsing the Coalition, offering technical support, or joining a working group.