Join us for a Cause-Minded Conversation with Jim Schutze and John Wiley Price on The Accommodation.
About this event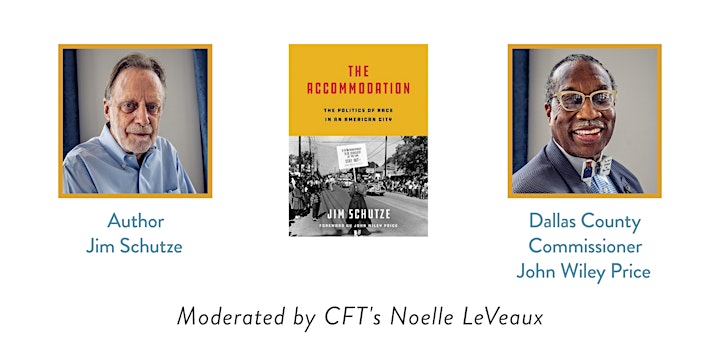 This event is at capacity and will be live streamed and recorded by KERA and Encore.
You can access the live stream online beginning at 7pm on September 14 at KERA.org/theaccommodation
Event Details:
Tuesday, September 14, 2021 | 6:00pm-8:00pm
Location:
The Kimpton Pittman Hotel - Downtown Dallas: 2551 Elm St, Dallas, TX 75226
Complimentary valet parking on site, surrounding street parking available
Event Schedule:
6:00pm: Networking
7:00-8:00pm: Panel discussion
Event Speakers:
Jim Schutze, Author, The Accommodation
John Wiley Price, Dallas County Commissioner
Noelle LeVeaux, Chief Marketing Officer, Communities Foundation of Texas
Will Evans, Executive Director and Publisher, Deep Vellum
Photo Credit: Philip Cherian Alex of D Magazine
Note: In-person invitations are limited due to event capacity limitations and CDC guidelines.
Special thanks to our partners at KERA.

About The Accommodation
The Accommodation—authored by Jim Schutze and soon to be re-issued by Deep Vellum with a new forward written by John Wiley Price—is the powerful, long-repressed Dallas history book that examines the suppressed past of race and politics in the city.
Join Communities Foundation of Texas and Deep Vellum for this important, timely conversation. Knowing and acknowledging our history is a crucial step towards uniting our city in this critical time. Our goal is for this conversation to serve as a launching point to more transparent conversations and plans for progress, paving the way to a more equitable future for all Dallas citizens and communities.
Book Sales
Books are available for pre-order now (hardcover and e-book) on Amazon and will be sold on-site at the event by Pan African Connection.

Organizer of Cause-Minded Conversation: The Accommodation
We are the foundation for a thriving community.
Our community is a special place, with a long history of caring citizens, rapid growth and a robust economy. But as it continues to grow, so to do the needs of those facing imbalances in income, racial equity, and educational and economic opportunity. And data suggests these needs will only increase. But the future of our community can remain bright.
At Communities Foundation of Texas, we work side by side with caring donors, committed nonprofits, philanthropy-focused businesses and civic leaders to help build communities that thrive for all.