About this Event
Reserve Seats for this event are subject to a $15 food or beverage minimum.
Carbon Leaf
FOR 25 YEARS, 17 ALBUMS AND 2,500 LIVE SHOWS, CARBON LEAF'S INDEPENDENT SPIRIT CONTINUES TO RESONATE WITH IT'S FANS, YOUNG AND OLD.
Pulling from folk, Americana, roots and rock traditions, the Virginia quintet's lively sound features vocal harmony, acoustic & electric guitars, mandolin, fiddle, bass, drums, cello, banjo, penny whistle, pedal steel, accordion and whatever else can be placed onto the stage.
The group's current project is a 4-part series called Gathering, and centers on life and death; love and loss; heartbreak, loneliness and landscape and, ultimately, the need for community, gathering and human connection.
Carbon Leaf's music is independently written, recorded and produced from the band's studio in Richmond, VA.
Red Wanting Blue
Hailed as "Midwestern rock heroes" by American Songwriter, Red Wanting Blue has spent the last twenty years establishing themselves as one of the indie world's most enduring and self-sufficient acts, notching appearances everywhere from Letterman to NPR and reaching #3 on the Billboard Heatseekers chart, all while operating largely outside the confines of the traditional music industry. For their powerful new album, 'The Wanting,' the band handed production duties over to acclaimed singer/songwriter Will Hoge, who helped them create their most ambitious, fully realized collection yet. Recorded in Nashville, TN, the record draws on many of the group's traditional strengths—indelible melodies, infectious hooks, explosive performances—even as the making of it pushed them far outside their comfort zone and forced them to take an unprecedented, nearly year-long break from touring.
Alternately triumphant and melancholic, the songs on 'The Wanting' are both muscular and nuanced, with frontman Scott Terry's epic, heartfelt vocals soaring above the band's gritty brand of driving rock and roll. The record opens with the rousing "High and Dry," a feel-good rocker that also serves as something of a mission statement for a fiercely independent group that's as much a band as they are a family, with Terry singing, "I want to stand on my own two feet again / And when I mess up / That's when I hope my friends will pick me up." On "Ulysses," the band channels early Phil Collins with pulsing synths and larger-than-life drums, while the tender "Glass House" crescendos from a delicate whisper to a triumphant roar, and the dreamy "I've Got A Feeling It Hurts" calls to mind the hypnotic drive of REM mixed with a touch of Jayhawks jangle.
"This is really the most collaborative album our band has ever made," Terry says of the wide range of influences. "It's the first record where every member contributed to the writing, and I feel like we all matured as artists because of it."
Over the course of ten previous studio albums, Red Wanting Blue brought their passionate, unforgettable live show to every city and town that would have them, blazing their own distinctive trail through the American heartland as they built up the kind of fanatically dedicated audiences normally reserved for arena acts. In 2016, they celebrated with a 20th anniversary retrospective album/concert film entitled 'RWB20 Live at Lincoln Theater,' which captured the band in all their glory at a sold-out hometown show in Columbus, OH.
The Alternate Routes
The Alternate Routes are the band that helped us to remember "we are how we treat each other, and nothing more." Now they're back with a new single, "Safe Haven"—a love song that uses real life as its backdrop.
"Nothing More" propelled the band into new ears and new heights, having been featured prominently in the 2014 Winter Olympics, on NCIS, and in a partnership with TOMS shoes. It was followed up with "Somewhere in America," a poignant and personal conversation about gun violence that earned the band a 2016 Independent Music Award and a visit to the White House.
"Safe Haven" continues the socially-conscious, no-hold-barred examination on modern living that the band has increasingly embraced. It reflects an evolution and maturity that results from sticking together and trying new things, musically and lyrically, for over a decade.
"Sitting down with someone you love and trying to convince them, and yourself, to keep pushing forward, to face your fears and stay strong, is a sentiment that I hope many people can relate to," says guitarist, Eric Donnelly.
"Safe Haven" was self-produced by Donnelly, drummer and engineer Kurt Leon, and singer Tim Warren, a sonic departure from previous efforts that highlights the use of the recording studio itself as an instrument. It was mixed by fellow Bridgeport, Connecticut native Peter Katis (The National, Interpol, The Swell Season).
The Alternate Routes first burst onto the scene in 2005 with their breakthrough album Good and Reckless and True. They released several albums on Vanguard Records and on their own, toured extensively, and relentlessly refined their craft. They have collaborated with such seemingly disparate artists as singer-songwriter Patti Griffin, director Lisa Cholodenko (The Kids Are All Right), and guitarist Carl Broemel of My Morning Jacket. They've performed on "The Late Late Show with Craig Ferguson," "Late Night with Conan O'Brien," and have been repeat guests on NPR's "Mountain Stage."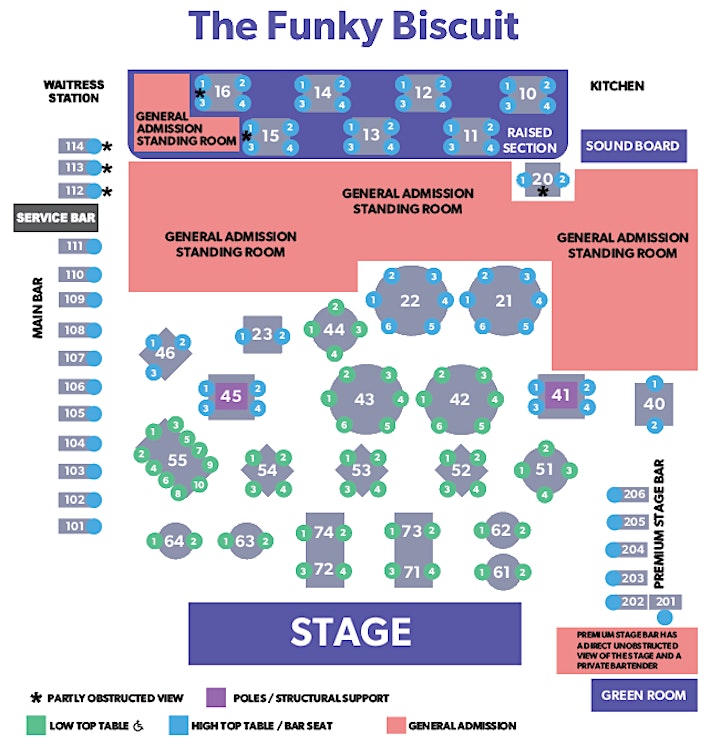 Performers
Date and Time
Location
The Funky Biscuit
303 SE Mizner Blvd
#59 Royal Palm Place
Boca Raton, FL 33432
United States
Refund Policy