A Love Bazaar: Buy Black Marketplace, R&Brunch & Hip-Hop Soul Happy Hour
About this Event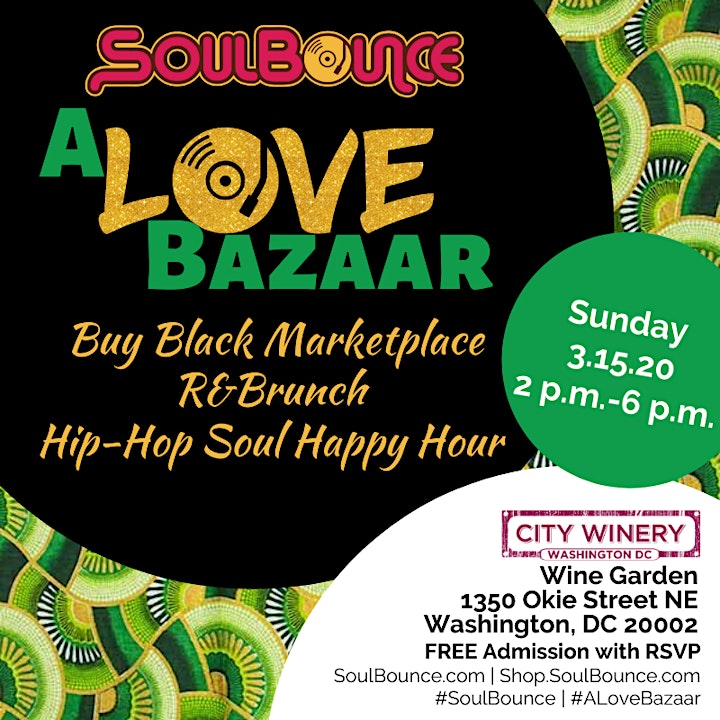 **UPDATE: In response to the declaration of a national emergency and states of emergency in DC, MD and VA, March's A Love Bazaar has been CANCELED.**
Join SoulBounce.com on Sunday, March 15th from 2 p.m.-6 p.m. at City Winery Washington DC in the Wine Garden for the March 2020 Edition of A Love Bazaar!
🛍 Shop at our Buy Black Marketplace and let your dollar circulate with over a dozen Black woman-owned small businesses and creative entrepreneurs during Women's History Month.
🍽 Enjoy R&Brunch with R&B grooves curated by SoulBounce and food from City Winery DC's brunch menu available for purchase from 2 p.m.-4 p.m.
🍷 Sip on wine and cocktails and vibe during a Hip-Hop Soul Happy Hour with drink specials from 4 p.m.-6 p.m.
Admission is FREE with RSVP.
Any Black woman-owned businesses in the DMV area interested in vending at this event can fill out this quick questionnaire for consideration.
#SoulBounce #ALoveBazaar