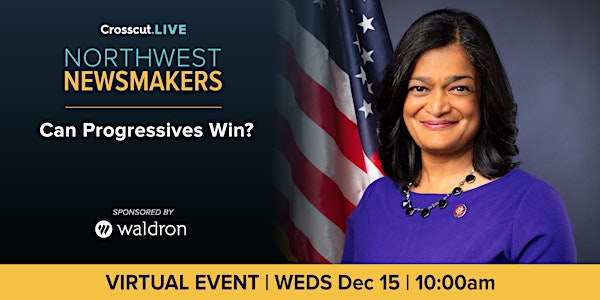 Can Progressives Win?
Join us for a conversation with the head of the Congressional Progressive Caucus, Congresswoman Pramila Jayapal.
Refund Policy
Contact the organizer to request a refund.
About this event
**Please note: a link to the virtual event is included in your confirmation email and will also be sent out on December 13 and 15.**
As the head of the Congressional Progressive Caucus, Washington Congresswoman Jayapal has led the tumultuous effort to pass the most ambitious component of what President Biden has called his Build Back Better Agenda. The original bill proposed funding for climate-change amelioration, paid family and medical leave, child tax credits, universal pre-K, free community college, affordable housing, and improvements to Medicare, Medicaid, and the Affordable Care Act and it would create a pathway to citizenship for some undocumented immigrants, raise taxes on rich companies and individuals, and allow Medicare to negotiate drug prices. For Jayapal, the bill is "the most incredible opportunity to pass transformational policies that we've ever had." But the fight between her progressive counterparts and moderate democrats erupted into intra-party disputes, trimmed the bill in half and raised questions about the Democratic party's own strategy to maintain control of congress. Where does this all lead progressive ambitions moving forward? Has Jayapal proven she can effectively lead the progressive charge? We'll find out.
When you RSVP, you can also submit a question for our speaker. We will use those questions to shape the conversation.
About the speakers:
Congresswoman Pramila Jayapal represents Washington's 7th District, which encompasses most of Seattle and its surrounding areas. Congresswoman Jayapal is a member of the House Judiciary Committee and on the House Education & Labor and Budget Committees. She is also the Co-Chair of the Congressional Progressive Caucus, the Immigration Subcommittee Chair of the Congressional Asian Pacific Asian Caucus; and a Vice Chair of the Congressional LGBTQ Equality Caucus. Representative Jayapal has focused on immigration, income inequality, and expanded collective bargaining rights for workers. She has worked on healthcare issues and is the author of the College for All Act. She has also prioritized clean energy and climate justice legislation. Congresswoman Jayapal is the first South Asian American woman elected to the U.S. House of Representatives and one of only 14 naturalized citizens currently serving in the United States Congress.
Mark Baumgarten is the managing editor at Crosscut where he oversees a newsroom of dedicated reporters, producers and editors telling the stories of Seattle and the Pacific Northwest. He is also the host of the Crosscut Talks podcast series.