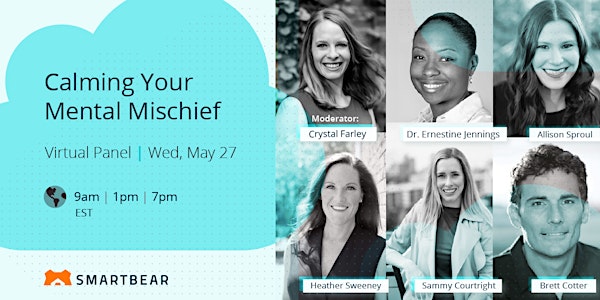 Calming Your Mental Mischief with SmartBear
In honor of Mental Health Awareness Month, join us for our virtual event, "Calming Your Mental Mischief with SmartBear."
About this event
Join SmartBear as we end Mental Health Awareness Month with a discussion on how this global pandemic has impacted the world's views on mental health. We've brought together five amazing people for a virtual panel to answer frequently asked questions, and to share helpful tips to get us through this difficult time. This group will discuss topics like: PTSD, losing a loved one, anxiety, and more. It's important to know that you are not in this alone, and that today's challenges are only temporary. These panelists are here to talk you through some of the things you may be going through at this time.
On May 27th We'll host 3 live sessions at 9am, 1pm, & 7pm in order to reach those in as many timezones as possible.
Attendees will be able to interact during this event and to chat live with others in a safe space. Our panelists will also be available to answer your questions!
Moderator:
Meet Crystal Farley, Manager of Enablement, for SmartBear!
Crystal Farley is Chief Storyteller and creator of Grace & Growth (formerly known as PTSD: People, Trauma, and Stress Discussed: an unfiltered truth), and host of the Crystal Farley Show on WSMN 1590. Crystal formed her own organization, C Far: Beyond the Box, in 2019 to help various communities develop more effective communication & stress-relief strategies after working in a leadership capacity for Apple, HPE, and IBM.
Crystal Farley has been given gifts of life experiences that allow her to connect with a vast audience. She is a mother to a beautiful daughter, a daughter to a mother in recovery. She is the sister to members of the LGBTQ+ community, a combat veteran, and woman from technology. Crystal have been formally diagnosed with PTSD. She is a divorcee, wife, fitness fanatic, and radical empath who hopes to change the world one person at a time.
Crystal believes that people and organizations should not be defined by life stressors and Crystal is the voice of necessary change, a cheerleader for the underdog, and speaker about all things that are the elephant in the room.
Panelists:
Meet Sammy, Co-Founder of FitSpot,A workplace engagement platform that provides virtual workplace programs and experiences that engage employees and tenants to create community, enhance productivity and improve wellbeing.Sammy is an attention to detail aficionado from the land down under who's been with Fitspot from the very beginning. With a BA in Fine Arts from the University of Miami, she's a nationally certified Pilates instructor who brings a blend of grit and imagination to the zillions of tasks that confront every startup. While she wears many hats at Fitspot, doing everything from sketching app screens to managing the customer experience, she can't leave the house without her Akubra.
Dr. Jennings is an Associate Professor in the Department of Psychiatry of the Warrant Alpert Medical School of Brown University. She provides individual treatment focused on activating health behavior change and coping with chronic illness. In addition, she leads weight management groups in The Miriam Hospital Weight Management Program. Dr. Jennings' research has focused on using behavioral interventions to improve physical and mental health in both apparently healthy and known disease populations as well as developing smoking cessation interventions for women.
Heather Sweeney is a Registered Nurse, Wellness Coach, and the creator of "Dive In", a blog providing inspiration and promoting overall wellness through story telling. Through her Wellness Coaching, Heather guides individuals toward personal growth with her "inside-out" approach, believing that to achieve real transformation, we must first look inside ourselves. Heather resides in New Hampshire with her two children. She is an eternal optimist, avid fundraiser, traveler, runner, hiker, and lover of all things adventurous and outdoors.
Brett Cotter is a stress relief expert with 20years experience specializing in group facilitation, one-on-one coaching and instructional design. He is the founder of Stress Is Gone and author of "The 3 Keys to Managing PTSD". Brett is member of the Amercian Academy of Experts in Traumatic Stress, National Center for Crisis Management, International Honor Society of Psychology, and the Stress Coaching Association. His approach to relaxation is a blend of Eastern and Western philosophies. The Stress Is Gone program is certified by The American Institute of Stress.
Allison is currently leading People Operations & Talent for connectRN, which provides on-demand staffing to healthcare facilities in the long term care space. Prior to her current position, she was Head of Recruitment & HR at CozyKin. She has also been awarded the title of Senior Certified Professional from the national Society for Human Resources Management. Allison is excited to join us to share her experience in supporting employees through COVID-19, layoffs and other challenges.