Event Information
Location
Jersey City Free Public Library: Five Corners Branch
678 Newark Avenue
Jersey City, NJ 07306
About this event
On February 28, GABRIELA New Jersey, in collaboration with Hudson Pride Center, will be screening "Call Her Ganda" —a documentary that sheds light on the life and case of Jennifer Laude and her family's struggle for justice.
Jennifer Laude was a 26 year-old trans Filipina woman who was brutally murdered by US marine Joseph Scott Pemberton on October 11, 2014 in the Philippines.
Jennifer's death is one example of the violence committed against Filipino women, as their rights, safety, and Philippine sovereignty are sacrificed for unfair military defense agreements between the US. Such human rights violations and violence against women, children, and the LGBTQIGNC+ community will only continue to worsen in the Philippines.
Let us honor Philippine Solidarity Week by exposing the harmful impacts of US militarization in our communities back home, especially on Filipinas.
Call Her Ganda (Dir. & Prod. PJ Raval) was an official selection of the 2018 Tribeca Film Festival, 2018 Hot Docs Canadian International Documentary Festival, Best Documentary Grand Jury Award Winner at the 2018 Los Angeles Asian Pacific Film Festival, and Grand Jury Best Documentary Special Mention at Outfest 2018. Raval has partnered with GABRIELA USA chapters to ensure Jennifer's story is told.
Let us RISE against transmisogyny and violence against women, RESIST US militarization, and UNITE for the liberation, safety, and self-determination for all women!
This event is FREE and OPEN TO THE PUBLIC!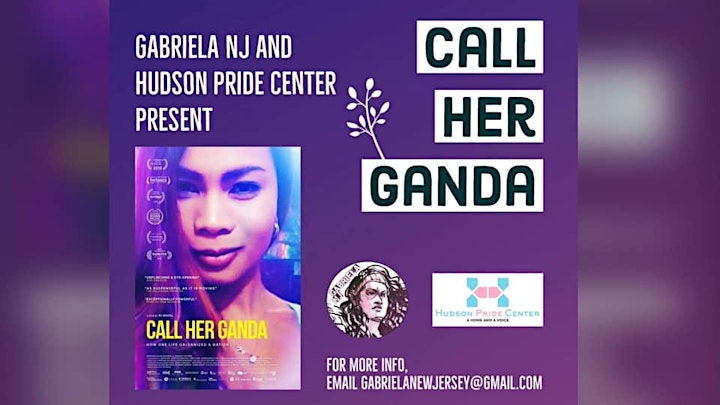 Date and time
Location
Jersey City Free Public Library: Five Corners Branch
678 Newark Avenue
Jersey City, NJ 07306