California-Netherlands Climate Smart Agriculture Seminar
Description
"Climate Smart Agriculture in Times of Water Shortage & Water Quality Challenges" - a
California-Netherlands Seminar
The current prolonged drought and water quality issues in California highlights a number of interesting challenges related to the water/food/nutrient nexus. There is a need for smart, innovative, and sustainable approaches and solutions at various scales: from plot level to a complete watershed. Optimal management of land and water resources is conditional for a sustainable agricultural production system that has a long-term profitability.
On December 10, 2015 The California Department of Food and Agriculture and the Ministry of Economic Affairs of the Netherlands signed a Letter of Intent, pledging to cooperate on shared agricultural issues and strengthening the mutually beneficial partnership. This Climate Smart Agriculture Seminar presents the platform to engage the academic, research, governmental, private, and public sector within the Netherlands and California, as stipulated in the LOI.
We look forward to welcoming you!
AGENDA
Opening Keynote
CDFA Deputy Secretary, Jenny Lester Moffitt
Keynote

Netherlands Ministry of Economic Affairs



Director General of Agro and Nature, Marjolijn Sonnema
Panel Discussion "Managing Water: Quality & Sustainability of Supply"
CDFA (Amrith Gunasekara, Science Advisor to the Secretary)
DWR (Peter Brostrom, Section Chief Water Use Efficiency)
UC Davis (Thomas Harter, PhD)
Moderated by Josette Lewis, Associate Director World Food Center at UC Davis
Presentation by JustDiggit "If we can warm up the planet, we can also cool it - a perspective from a global scale."
Dennis Karpes, Co-Founder
Presentation Stories from the Field
Presentation "Enabling climate-smart agriculture production without compromising water and soil resources and ecosystems. Tools and experiences from The Netherlands"
Deltares / Wageningen University & Research / Priva
Breakout Sessions
Soil Health and Agriculture
Smart Water Use in Micro Irrigation
Nutrient Losses and Eutrophication
Lunch and Networking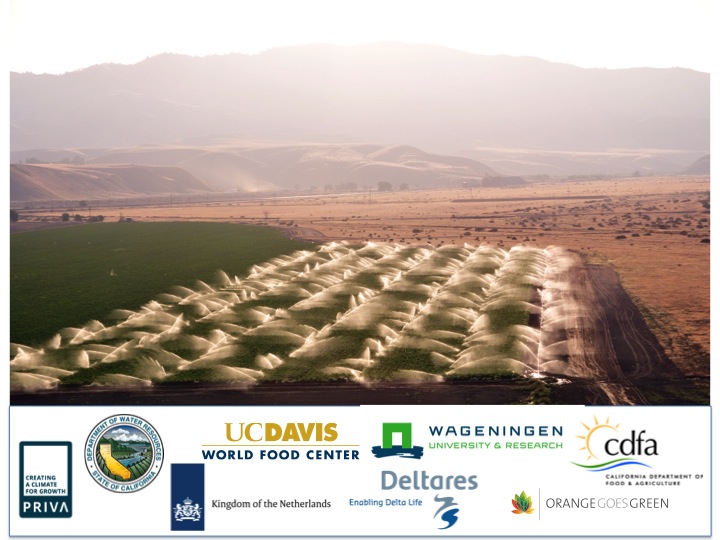 FAQs
What are my transport/parking options getting to the event?
Parking is available in the parking lot at the front entrance to the Activities and Recreation Center. The rate is $9/day, payable at the kiosk situated at the left-side entrance lane as well as in the parking lot itself.
You will find signage leading you to the Ballroom on the right hand side of the main entrance door.