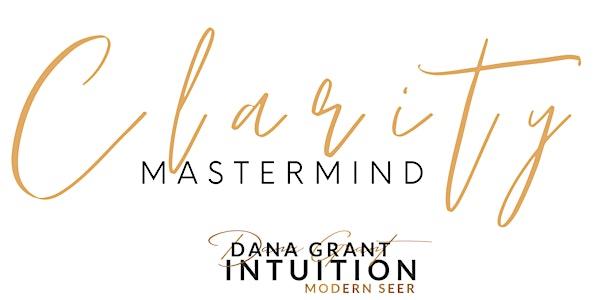 C L A R I T Y Mastermind ONE DAY TICKETS
Welcome to C L A R I T Y. This is another 6-week event that we have specifically designed to help you reach CLARITY in your life.
Refund Policy
Contact the organizer to request a refund.
Eventbrite's fee is nonrefundable.
About this event
2020 has brought us all back to the fundamentals. To our foundations. And every day, you are faced with fresh choices … in unchartered waters.
You may feel capable, but confused.
Inspired, but uncertain.
Hopeful, but inhibited.
Or, you may even be starting over, with new challenges.
But, you know what?
Your circumstances don't dictate your success.
So, what's missing?
You need C L A R I T Y.
The journey through self-discovery and healing will bring freedom. Wholeness. Purposeful focus to take on the challenges of each moment.
Let's get to the nitty-gritty: T R U T H = C L A R I T Y
C L A R I T Y is a mastermind made for experiencing deep, meaningful revelations and connections with like-minded individuals who want more.
Powerful decisions are still possible in the midst of problems. 2020 isn't over yet. And it has incredible opportunities for those eager to pull back the layers of chaos around them to delve deeper into themselves and their purpose.
TOGETHER, we will clear the clutter.
This is not a digital product. This is an immersive, committed experience, where we meet weekly to encounter and overcome any blocks impacting your growth.
You can expect:
* A carefully curated curriculum designed to make you shine
* Laser-focused sessions that develop tools for your success
* Powerful coaching from Dana to zoom in on your clarity needs.
* Intuitive hotseats and guidance from Dana
* Incredible guest speakers
* Interactive worksheets specially designed to help you break open and break though
* Break-out groups
* Connection & Celebration with other beautiful souls
* Identification of toxic traits
* Successful work ethics and money relationships
* Tools for healthy boundary building
* Amazing swag curated by yours truly!
* Plus so much more!!
Finding clarity in our daily life transforms your inner world and outer world.
Harmony will come. Focus will begin. And clarity will catapult you towards your best life and clear, divine purpose. Love will lead.
This is a LIVE event, on Zoom, every Sunday morning, from 11 am to 1 pm. This Soul time will be divine. Refresh your life and find the deeper purpose in these days ahead as we journey together for our truest meaning in a flow of ease and truth.
Payment plans available upon request.
2020 does not have to be awash or a loss.
Let's make it purposeful, together, with C L A R I T Y.