BUSINESS & CROWDFUND EXPO - Q1
Sat, February 18, 2017, 9:30 AM – 5:00 PM CST
Description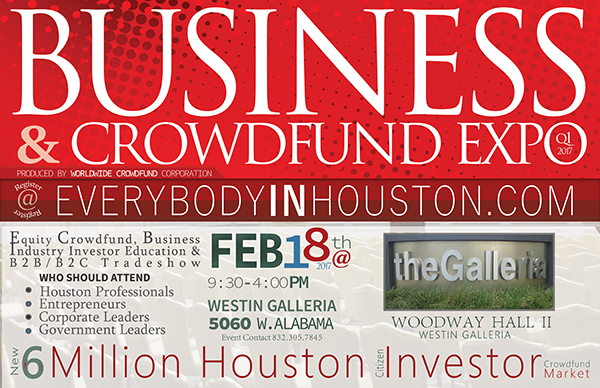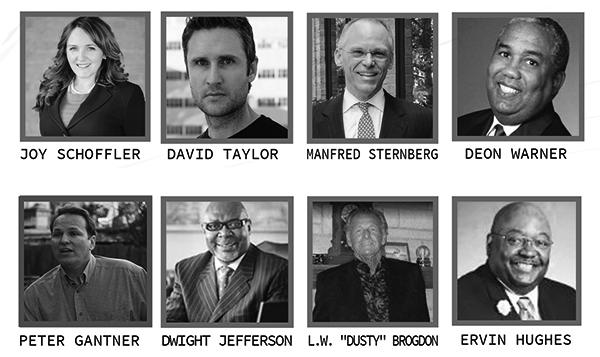 NATIONAL  & TEXAS LAW  ALLOWS ENTREPRENEURS TO RAISE EQUITY CAPITAL DIRECTLY FROM THE PUBLIC, UP $1,000,000 PER YEAR @ $5,000 PER TEXAS RESIDENT INVESTING INTO A STATE-BASED BUSINESS UTILIZING THE NEW EQUITY CROWDFUNDING LAWS. THERE ARE 6 MILLION RESIDENTS (CITIZEN INVESTORS) IN THE GREATER HOUSTON AREA ALONE AND 20 MILLION STATEWIDE, OVER 300 MILLION NATIONALLY.  
JOIN US AT THE GALLERIA, SATURDAY, FEBRUARY 18, 2016 FOR A DAY OF NETWORKING, EXHIBITIONS OF VARIOUS BUSINESS TYPES & MERCHANTS IN A TRADESHOW & NETWORKING IN 14,000 Sq. Ft. SETTING IN ONE OF HOUSTONS MOST AFFLUENT & CENTRAL BUSINESS DISTRICTS. SO COME MAKE A DAY OF IT, IN WOODWAY HALL, INSIDE THE GALLERIA MALL. 
RESERVE YOUR EXHIBITOR BOOTH OR FREE TICKET(S) TODAY !
When: Saturday, February 18, 2017 | 9:30 am - 5:00 pm Central Time
Where: The Galleria - Westin Galleria "Woodway Hall II" | 5060 W. Alabama St., Houston, TX  77056
WHAT IS BUSINESS & CROWDFUND EXPO?
• Business & Crowdfund Expo is a traditional B2B trade show, conference & networking event dedicated to connecting exhibitions, commerce, capital formation education, and networking under the umbrella of crowdfunding both donation and equity.  
• The Expo will bring together many business owners and decision-makers to shop for products & services by vendors like you.
• In addition to our huge exhibitor hall, there are other networking opportunities .If you have a product or service that helps a small business, you should exhibit at the Expo. If you want qualified leads and want to increase sales, exhibiting at this show is a must.
• The Expo will feature a main stage overview of donation and equity-based crowdfunding.
• Learn how to raise money for you business or organization from top Houston crowdfund experts.
• The Expo brings the crowdfunding industry of portals, experts to present both national and state-based Equity crowdfund presentations to the general public for free!
Who Should Attend: Houston Professionals, Chambers of Commerce, Civic Organizations, Crowdfund Industry Participants, Entrepreneurs, Local Government, Networking Groups, Nonprofits, Professional Investors, Small Businesses, Startups, Venture Capitalists & CPA's.
 WHY EXHIBIT?
• Increase sales!
• Reach qualified buyers!
• Gain direct face-to-face contact with business owners and decision-makers
• Reach a captive audience and generate NEW BUSINESS.
• Make immediate sales and capture new leads.
• Introduce your company to great new prospects.
• Introduce new products and services.
• Reach a very large prospect pool in a short time!
• Brand your business.
• Distribute product samples.
• Give live product and service demonstrations.
• Conduct market research.
• Gain direct access to the press.
• Promote & build your crowdfund investor and backer network
 GET YOUR COMPANY INVOLVED:
• Exhibitor Space - sell your product or service face-to-face
• Sponsor the entire event or specific areas of the show
• Send Dedicated E-mail Blasts to our list of Houston subscribers
• Marketing Publication Print Advertisements
• Gift Bag Inserts distributed to attendees
• On-Site Display Ads
• Join our continuous marketing program
• Banner Ads on our website
• And much more!
 MAIN STAGE PRESENTATION ITINERARY  (Subject to updates)
Presentations from business experts, financial services,  crowdfunding industry professionals & more
Event Objective(s)
Entrepreneurs and professionals seeking to raise capital will gain an understanding of donation, equity-based crowdfunding law, platforms, as well as campaign best practices necessary to successfully achieve one's fundraising goals. Event experts will help you learn how to stay in compliance with equity crowdfunding law
Stage Itinerary  10:00 am - 5:00 pm Central Time
Brief Jobs Act Overview

Exploring Donation Crowdfunding

Exploring Equity-Based Crowdfunding 

Synergizing Alternative Finance & Equity Based Crowdfunding Strategies

How to choose a fundraising portal

How to market your campaign

Launching a Campaign

Startup Pitch Competition


Join Business & Crowdfund Expo - Meetup Group: 
http://www.meetup.com/Houston-Business-Crowdfund-Expo/
Join Business & Crowdfund Expo - Facebook Group:
https://www.facebook.com/groups/texascrowdfund/
Join Worldwide Crowdfund - Facebook Group:
https://www.facebook.com/groups/worldwidecrowdfund/
Join Everybody In Houston - Facebook Group:
https://www.facebook.com/groups/everybodyinhouston/
For Event Sponsorship call:(832) 305-7845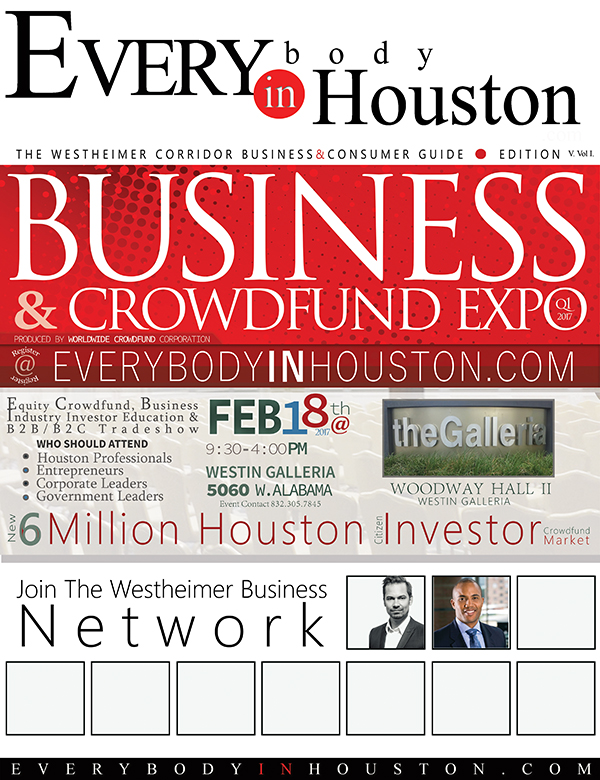 EVERYBODY IN HOUSTON is comprised of like minded Houston business owners collaborating to crowdsource business development in the countries third largest city, Houston, Texas. Everybody In Houston and Business & Crowdfund Expo is divisions of Worldwide Crowdfund Corporation, Houston, Tx www.worldwidecrowdfund.com