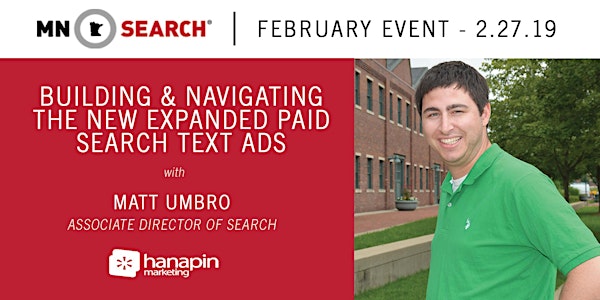 Building & Navigating the New Expanded Paid Search Text Ads (PPC)
Event Information
Location
Rocket55
807 Broadway Street Northeast
#170
Minneapolis, MN 55413
Description
Vastly larger text ads, both in content and the real estate they occupy, have made their way to Google and Bing. Ads can now have up to three, 30 character headlines and two, 90 character description lines. Along with ad extensions, the entire ad unit is now an even greater pitch than ever before for users to click. Making the right use of this extra ad space is crucial to gaining the right clicks. Though advertisers have always used the latest and greatest features, these larger text ads present an excellent opportunity to include additional pertinent information in your copy.
KEY TAKEAWAYS:
Account data findings revealed of the accounts Matt's been testing. What type of content has worked, what hasn't, and how these ads have performed against the standard expanded text ads

Testing process. From the order of the headlines to how many ads should be utilized in each ad group, Matt will explain how advertisers should implement and review performance of their larger text ads.

What these ads mean for the future of Paid Search. This new format is the second time in the last three years that Google has fundamentally changed the parameters of ad copy. Along with a shift toward audience targeting, traditional Paid Search continues to change and what that means in terms of PPC evolution.
ABOUT MATT
Matt is the Associate Director of Search at Hanapin Marketing and has been in the PPC industry since 2007. He works and collaborates with clients across several industries to attain better ROIs, improved lead generation, and increased brand awareness. He writes about paid search and leadership tactics for Search Engine Land, Marketing Land, PPC Hero, and Stukent. He is also the founder of #PPCChat, a weekly Twitter chat where industry specialists discuss various PPC topics.
Date and time
Location
Rocket55
807 Broadway Street Northeast
#170
Minneapolis, MN 55413