Description
Women of Meraki has partnered with groups across Meraki and Cisco, as well as outside parties to bring you the first of its kind - an expert panel of speakers focused on how individuals can create more inclusive environments.
The session guests will be sharing personal stories along with research knowledge to provide tools and insight into how to create an inclusive environment in day to day work.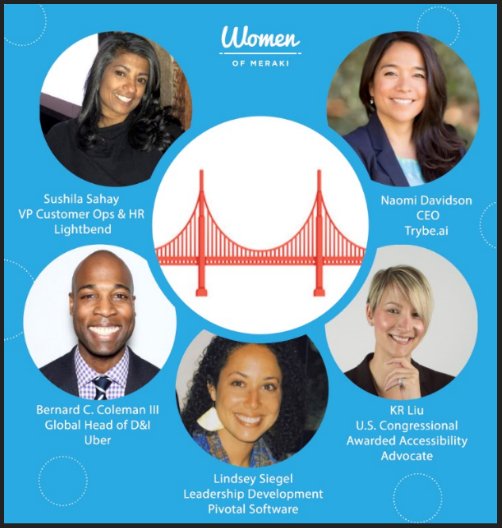 ---
Speakers include:
Sushila Sahay, Vice President Customer Operations & HR, Lightbend
As a Peruvian born Canadian of Indian heritage with a passion for business, technology, and human connection, Sushila is often the only woman of color in the room. Striving to have a positive impact on everyone with whom she interacts, she has spent over 25 years with tech companies and forged a successful career leading global teams and initiatives for Silicon Valley startups. Currently she leads all Customer and Employee Success teams globally, as VP, Customer Operations and HR at Lightbend, Inc. A classically trained singer, she holds an MBA with Honors in Strategic Management from the University of Alberta.
Naomi Davidson, CEO, Trybe
Naomi Davidson is the CEO & co-founder of Trybe.ai a startup building tech to fuel a more inclusive & meritocratic workplace. Naomi brings 13 years of business leadership to her role as CEO from McKinsey, Pixar, Khan Academy and LinkedIn.
Bernard C. Coleman III, Global Head of Diversity & Inclusion, Uber
Bernard is the Global Head of Diversity and Inclusion (D&I) and he drives the D&I programs through meaningful relationships, both internally and externally, as well as promotes Uber as a leader in ride sharing, and as a forerunner in D&I engagement. Prior to Uber, Bernard led Hillary for America's D&I and HR initiatives, as the first ever Chief Diversity and Human Resources Officer in U.S. history for any presidential campaign and political party.
Bernard's written for Forbes, Catalyst, SHRM and his insights have appeared in the Nasdaq Government Clearinghouse and the Huffington Post. Bernard holds an M.B.A. from Trinity University, a B.A. in psychology from Hampton University, a Strategic Diversity and Inclusion Management certification from Georgetown University, and is a graduate of the University of Virginia's Sorensen Institute for Political Leadership.
KR Liu, Board Member, U.S. Congressional Award Winner, Top 40 Under 40
Diagnosed with severe hearing loss at the age of three, KR has spent the last two decades as technology executive and a strong advocate and voice championing new products that enhance the way we hear the world. KR spent the last two years and a half years collaborating with Senator Warren's team on new legislation called the OTC Hearing Aid Act of 2017, which was signed into law on Aug, 18th 2017.
KR is actively involved with industry organizations that are working toward accessibility innovation in technology and inclusion for people with disabilities. KR is on the board of the Hearing Loss Association of America, Deaf Kids Code, the Consumer Technology Association Foundation, and World Wide Hearing Foundation International. She has been awarded a U.S. Congressional award; Silicon Valley's Top 40 Under 40 and 2017 Women of Influence; and 2015 Women on the Move by Women's Business Journal for her advocacy work in hearing health and technology.
Lindsey Siegel, Senior Program Manager at Pivotal Software, Inc.
Raised in the San Francisco Bay Area, Lindsey found diversity and disruptive innovation to entertain her worldview. She has incorporated her passion for connection, civic engagement and community with Pivotal, a company that is transforming how the world builds software. With experience in partnering with early-stage startups to a Fortune 500 company, she examines leadership.