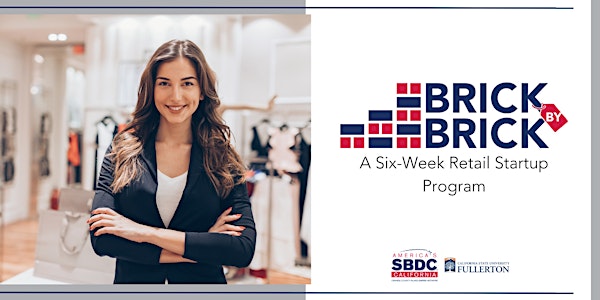 Brick-by-Brick: Retail Startup Program
Wednesdays: August 10 - September 14, 2022 10 AM- 12 PM PST. **Registration closes at 12:00 AM PST August 09, 2022
About this event
* If registered, an email will be sent out August 09 at noon with the Zoom link- please be on the lookout for this and check your spam folder*
Event Type: Virtual (Zoom)
The Brick-by-Brick Retail Start-up program is for entrepreneurs looking to open a brick and mortar business. Over a six-week period, participants will be guided through building a retail growth/launch plan to propel them into their business. The program will cover key concepts such as lease negotiations, projections, creating a unique customer experience, building a digital presence, utilizing paid and non-paid advertising, hiring employees and creating key performance indicators (KPIs) to drive the business. The program will help each participant to build a concrete plan in opening, driving sales, and creating processes to manage the business.
Brick-by-Brick is a California Dream Fund approved program available only for businesses registered in Orange County and the Inland Empire. As a California Dream Fund program, your business will be eligible to receive a grant of up to $10,000.
Have started on or after July 1, 2019
Have no more than 5 full-time-employees
Have no more than $1M in revenue
Learn more about the California Dream Fund and its requirements here.
Class 1 ( Aug 10)– Developing a Brick-and-Mortar Growth/Launch Plan
Key aspects of owning your business
Introducing the growth/launch plan
Developing Key Performance Indicators (KPIs)
Using Market Research to grow the business
Competition Analysis – What are your competitors doing?
Components of a solid growth/launch plan
Class 2 (Aug 17) – Understanding your Cash
Projecting (Cash Projections) out the launch and future of your business
Understanding financial benchmarking and comparing your business to the industry
What types of financing are available to your business?
Class 3 (Aug 24) – Who are my Customers?
Building a marketing plan for your business
Where are your customers and how do your reach them?
Creating a unique customer experience
Understanding your sales channels/cycles
Using your Point of Sale (POS) for marketing
Class 4 (Aug 31)– Building a Successful Digital Presence
How will customers find you?
Everything you need to know about:
- Social Media
- Digital Marketing
- Your Website
- E-mail Marketing
- Online Directories
What type of content works for your business
Building a content calendar
Class 5 (Sept 7)– Utilizing Paid and Non-Paid Advertising to Drive Sales
Everything you need to know about digital – Continued
How do you pay for successful advertising?
What are the right channels for your business?
How do you measure success?
Class 6 (Sep 14)– Putting all the Pieces Together
Lease and Lease Negotiations
Identifying gaps and opportunities within your workforce
Hiring employees/Hiring Subsidies Available to you
Finalizing the growth/launch plan