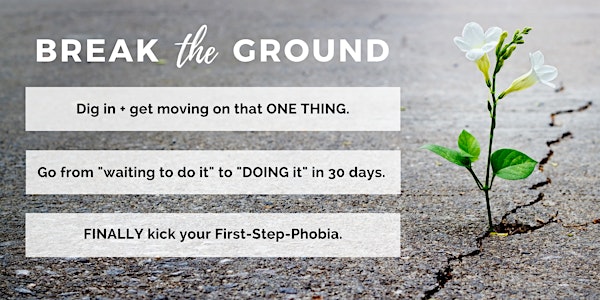 Break the Ground
Description
We all have that One Thing we keep putting off.
the book.
the job change.
losing the 10 pounds.
the taxes.
the painting.
the biz idea.

...hiring an assistant.
...training for the tri.
...drinking less wine.
...creating the program.
...resting + playing more.
...stopping the birth control.
...organizing that closet.


What's yours?

You know you've got one.
Whether it's a big creative project or a little habit you want to form -- every day, month and year that goes by without *starting* is another day, month, year, DECADE that you spend wondering...
...how you'd FEEL if that hall closet was finally free of all that STUFF.
...how you'd FEEL if people were finally hanging YOUR art on their walls.
...how you'd FEEL at your goodbye party from your 9-5, because you were finally taking your biz full time.
...how you'd FEEL finally knowing you were debt-free.

And the rational part of you knows -- from anything that's ever been scary / hard / new / overwhelming / time-consuming / good for you -- that once you get started, it's always a case of:

"Why didn't I just jump in sooner?"

But you know the answer.
It's because of this:

That FIRST friggin' step is the HARDEST PART.

It's like breaking ground with a shovel. (If you're the indoors type, stick with me.) The first few digs are tough. And then, the dirt starts to loosen up. And the digging becomes so easy!

What if you could get that first dig / step / leap over with?
What if you could be at the "doing it" stage instead of "waiting to do it" or "gotta start doing it"?

Welcome to BREAK THE GROUND.
Taking you from "I've gotta start doing it" to "I'm doing it" in 30 days.

(And if you think of how long you've spent in "I've gotta," you know 30 days is nothing.)

In just a month, you'll:

Make space in your life for what you really want to do
Detox from the distractions and negative self-talk that keep sabotaging you
Learn to turn fear into fuel, so it never stops you again
Get over First-Step-Phobia, so you have a jump-in mentality (and habit) for life
Find yourself easing into your One Thing, without feelings of pressure, panic, or rushing
Learn to trust your gut and override what everyone else is telling you to do
Pinpoint your manageable, galvanizing first step -- and take it!


:: THE FORMAT
:: Every Monday, you'll receive an encouraging "nudge" email for the week.
:: All week, you'll receive unlimited support + additional inspiration in a secret Facebook group.
:: Every Thursday, you'll receive an email with curated highlights from the Facebook group + new angles to consider.

:: THE SCHEDULE

WEEK 1: barriers + breakthroughs
>>> Monday - Wednesday // Face your fear from the very start! Post an introduction video in the Facebook group about 1) your One Thing you've chosen to dig into and 2) what's been blocking your momentum.
>>> Thursday - Sunday // You'll reflect on something you HAVE moved forward on and what lessons you learned from the process.

WEEK 2: make S P A C E
>>> Monday - Wednesday // We'll dig into the art of saying no. We'll look at what's on your current plate and get brutally honest about what's not serving you. Saying no to something else means saying YES to your One Thing.

>>> Thursday - Sunday // We'll dig into soul-care, self-talk and stillness. That weekend, you'll be encouraged to digital detox from ONE thing of your choice (Facebook, news, cell phone before bed, Netflix, what-have-you). With this extra brain space, you'll be encouraged to rethink what it means to take a manageable first step on your One Thing.
Remember: Failure is feedback with a mask on. It's a lesson in disguise.

WEEK 3: lez DO THIS
>>> Monday - Wednesday // Time to go into the dressing room. Time to try all the ice cream flavors. Time to dabble, experiment and MOVE forward! You can DO this!
>>> Thursday - Sunday // Now that you've realized that you didn't die from trying and you CAN do scary things, it's time to take another step forward... (Stay tuned!)

WEEK 4: Trust your GUTS
>>> Monday - Wednesday // We'll dig into the WHY behind the WHAT and the power of gut checks. By moving forward on the WHAT, sometimes the *why* is something that surprises you.
For example: Mark Manson dreamed of becoming a rock star because he craved attention, a voice and a following. He finally moved forward on learning guitar. BUT. In the process, he realized it wasn't the *guitar* that pulled him. It was actually blogging + writing. (SUCH a good story!)

>>> Thursday - Sunday // We'll explore one of my favorite topics: the best things in life aren't goals. It's not *really* about the accomplishment. It's not about the destination. It's about embracing the in-between + learning. It's about appreciating what happens in the process. THIS is what shifts the debilitating pursuit of perfection and therefore kicks First-Step-Phobia.

BEGINNING OF WEEK 5: Progress Party!
>>> Monday + Tuesday // You'll share your progress and AHAs and momentum!

This IS a good fit if...
You're too busy for this. (That means you NEED this.)
You know you need a change, but don't know where to start.
You'd like a safe place to take risks.
You own your own biz.
You're thinking of starting your own biz.
You're in a career rut.
You have a million amazing ideas but don't know how to shape 'em.
You're exhausted + stretched thin.
You're SO connected yet feel disconnected.

This is NOT a good fit if...
You're not open to change or growing.

You're not willing to shift expectations on your goals.
You're not ready to see things from a different perspective.
Facing fears and deep-seeded "stuff" is not something you're ready to explore.

You don't like having accountability.
You can do everything on your own.
You're not into online communities.

You hate reading.
Getting more productive is not inspiring to you.
You're not willing to slow down and look deeper into your life.
You're VERY set in your ways and pleased with every corner of your life.
You're a cat. (Still with me?)

FAQs
What's your refund policy?

With all the information provided for you on this page, I trust that you'll make the best decision. Not one person has requested a refund yet, but should you be unhappy with your experience, I'm open to discussing with you after the program. Not every week will be the same, so I want you to give this a full shot!

And, most importantly, what you put into this will determine what you get out of it. If you aren't feeling an impact after the six weeks, I will ask for proof of participation and completion of the assignments/nudges. If you don't do the work, you likely won't see results, and if that's the case, I unfortunately can't issue you a refund.
I'm not on Facebook. Will that matter?
Nope! I mean, tons of AHAs and connecting happens in the Facebook group, but on Thursdays, I send curated highlights of what's been surfacing in the group with some fresh angles/activities, too. Plus, I'm available to support you via email at any time.
I'm gonna be traveling for some of it. Will I miss out?
ALL is not lost. The Facebook group will not go anywhere and all the content will be available to you after the program is over. Many participants dig into (or back into) certain sections in weeks and months following the program. You got this. Don't let this stop you.
I'm too busy for this. Can I do it later?
If you're too busy for this, that means you NEED this. If you're procrastinating a program that's about moving forward...again, you NEED this. Every time I haven't taken no for an answer and have encouraged the most hesitant people to join, THEY have benefited the most. Just some food for thought…
Hmm...I'm a dude, and this seems really targeted to women. Is it worth it for me?
Even though most participants of TBC programs are women, that does NOT exclude men at all. There are plenty of guys who've benefited from The Break Changer.
Here's what some of 'em had to say:
"This has always come at a time when I've been overwhelmed with life…so having some quick and easy prompts to be more intentional, share some new experiences and explore the world around me more has been pretty life-changing. Growing up as a man, I was taught to just keep going, be tough and push through no matter what. But I've never felt healthier and more joyful until I started actively creating more joy in my life. Brit helped me do that." — Josh Solar, founder + artist at Hello Happiness Card Company
"Having recently entered the often mentally exhausting world of inside sales, Brit's most recent series couldn't have arrived at a better time. The simple but effective tasks offered a much needed respite from the hectic workload I've been tackling recently. It also gets you out of your comfort zone in unexpected and approachable ways. It makes the arduous seem a little bit more digestible."
— Cameron Prendergast, former sales manager, yoga instructor, blogger, health expert
"If you shift focus and change your vantage point, you will discover new things. Things that'll help you perform better in your business and your private life. The Break Changer is a perfect tool to discover all sorts of ways to shift perspective, and find the one that fits you best. Challenge the status quo, challenge routines, challenge yourself. And be a better version of you. Man or woman, that's what it's about."
— Arjan Tupan, Chief Storyteller at Start in DUS, Owner at Impactioneers

I have a question that's not addressed here. What shall I do?
Email me directly at brit@britstuevenpr.com

What are some of the outcomes that have come from your programs?
How much time do you have? ;) I've witnessed participants...

improving their posture simply by lying on the ground on a regular basis.
leaving their job of 19 years to try a new industry.
realizing they need therapy and bravely signing up for it
realizing that it only takes a MINUTE to START making a change. "It's easy to get caught up thinking there isn't time but Brit helped me realize that you truly can start with just 1 minute of time."
gaining a new lease on time management.
finding a more calming life after a Facebook fast.
implementing regular sunrise hikes into their routine.
drinking more water on a daily basis and continuing to. (Seriously. The smallest things can have BIG impacts!)
starting to meditate/pray every day and continuing to.
ditching their phone at bedtime…and it changing *everything.*
feeling happier than they have in a long time.
finding gratitude in their day job AND their side hustle…for once.
starting that memoir they put off for 7 years because they were afraid to talk about infertility and didn't feel worthy of sharing their story.
starting to write a children's book they've always dreamed of doing.
leaving their job, going to school and pursuing their biz idea.
being more productive than they THOUGHT they could be.
discovering new business ideas (Countless examples of this one!).
realizing that having too much on their plate is a CHOICE!
intentionally spending more time with their kids and loving it.
connecting with their significant other in deeper ways.
sharing ideas + dreams with a group of "strangers" in ways they never intended to…and loving it.
taking an up-close look at the pursuit of perfection only to realize it's a distraction from their REAL "stuff."

embracing their imperfections.

living a more authentic life.

setting more realistic goals.