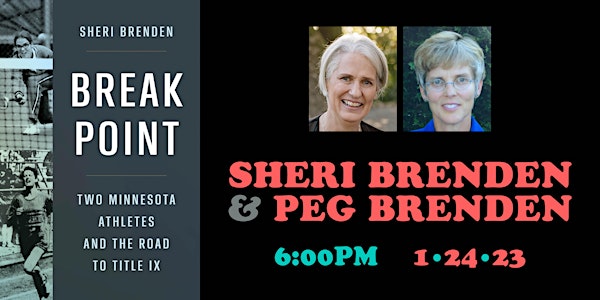 BREAK POINT book launch event with Sheri Brenden
A book launch event on Tuesday, January 24 for BREAK POINT by Sheri Brenden
When and where
Location
Hopkins High School 2400 Lindbergh Drive Minnetonka, MN 55305
About this event
Please join us to celebrate the launch of Sheri Brenden's new book, Break Point: Two Minnesota Athletes and the Road to Title IX, on Tuesday, January 24 at 6:00 p.m. in the Little Theater at Hopkins High School in Minnetonka, Minnesota.
Brenden dug into the historical record to uncover the details of a 1972 gender equity lawsuit. She pieced together the athletic experience of two girls trying to compete on their high school teams—one was her sister, Peggy Brenden, a St. Cloud tennis player, and the other Toni St. Pierre, a Hopkins cross-country athlete. Their lawsuit would break ground for Title IX. Sheri will talk about the case and read an excerpt from her book. The sisters will team up for a Q&A moderated by Nicole M. LaVoi, Director of the Tucker Center for Research on Girls & Women in Sport. Book signing will follow. Cream & Amber Bookstore will have copies of the book available for purchase.
More details:
The event is free and open to the public, but registration is required.
Masks are not required, but they are recommended.
Free parking is available in the school parking lot. We recommend entering through Door A to get to the Little Theater.
We strive to host inclusive, accessible events that enable all individuals, including individuals with disabilities, to engage fully. To request an accommodation or for inquiries about accessibility, please contact Heather Skinner at presspr@umn.edu.
More about the book:
Break Point tells the story of how two Minnesota teenagers took on the inequitable system of high school athletics, setting a legal precedent for schools nationwide before the passage of Title IX. This scrupulously reported book is at heart the story of the girls whose pluck and determination—and heartache—led to a victory much greater than any high school championship.
Sheri Brenden is a former research librarian who worked for two of Minnesota's largest law firms and, as a reporter, for the St. Cloud Daily Times. To support her writing of this book, her sister entrusted her with the now-fragile scrapbook she compiled of news articles, letters, and her light-hearted narrative How to Play High School Tennis—An Instructional Manual.
"This engaging and meticulously researched book gives readers insight into a crucial milestone in the history of women's sports: a 1972 federal court decision that changed the lives of two Minnesota high-school girls and paved the way for future generations to fully participate in sports. Those two young women, Peg Brenden and Toni St. Pierre, believed they shouldn't have to sit on the sidelines, and they challenged the naysayers and courageously fought for gender equity across the sports world. We are forever in their debt." —Mary Jo Kane, director emerita, Tucker Center for Research on Girls & Women in Sport, University of Minnesota
"Wonderfully readable and engaging, Break Point brings Peggy Brenden and Toni St. Pierre to life, showing how personal Brenden v. ISD 742 was. The court's decision changed lives, and we should never forget the stories of the young women who had the courage to stand and fight for their opportunity to play high school sports." —Sarah K. Fields, author of Game Faces: Sport Celebrity and the Laws of Reputation
Read more about the book here.
This event is sponsored by the University of Minnesota Press and The Tucker Center for Research on Girls & Women in Sport.