About this Event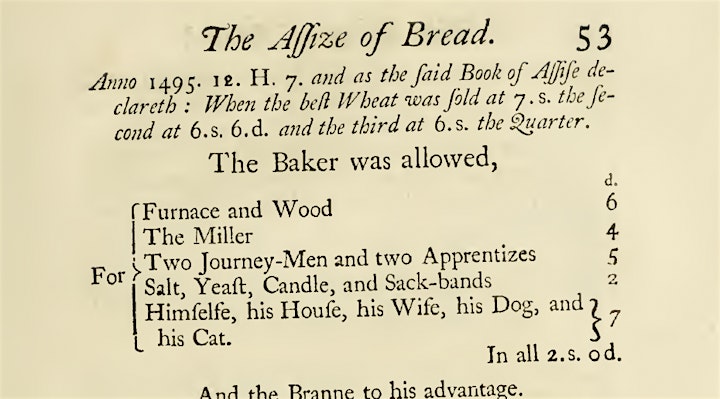 I am very excited to announce my Bread History Seminar #13.
The subject for October 8, 2020, 9am Pacific Time, is the English Assize for Bread. The Assize was the regulatory regime controlling the sale and pricing of bread. The Assize laws offers a valuable source of insights into how society was organized, including cultural attitudes towards bread and poverty.
The Assize laws often include data relating to the size and price of loaves. I think that data can be used to derive the underlying recipe for the regulated breads. If I am right, then the Assize offers us a source of bread recipes that is outside the cookbook literature.
Based on my system for deriving recipes from the Assize tables, we will be working on three breads -- the white bread, the whole meal bread, and the breads that was in between the two.
You will find more information about the Seminar/Workship at my website: williamrubel.com.
Who is this Seminar/Workshop for?
This Thursday Seminar/Workshop is for culinary historians, reenactors, anyone interested in food, bread, and culture. If you don't know much (or anything) about culinary history and the history of bread, but would like to learn, then this is also the right event for you.
Who is this not for?
This is not a baking class in the sense that this is not a class for learning how to make bread. We do make a bread dough during the Seminar, but I do not offer much guidance on actual technique, unless it is a technique, like kneading bread with our feet, or baking a bread around a hot rock, that is no longer practiced.
Who leads the Seminar/Workshop?
Most of the Seminars are organized and lead by William Rubel, an independent scholar with a specialty in bread history. There are ocasstionally guest speakers.
How often are there Seminars?
The Seminars were weekly during the height of the Cornovirus lockdown. They are now organized into sessions of four to six Seminars spaced at weekly or bi-weekly intervals, depending.
How long is the Seminar/Workshop?
Plan on 1/12 hours. It will never be longer, but could be shorter depending on the week's topic.
How do we share what our bread turns out like and how do we continue the discussions started in the Seminar?
Discussions begun in the EventBrite event continue at my Facebook Group, Bread History and Practice. If you are not already a member I invite you to join.
Will I be able to meet others with my interests? Or, more to the point, can I network?
I keep the Zoom room open for 30 minutes after the program is over so you can speak with me directly. There are also two additional Zoom rooms you can join after the meeting. These are open to amateurs and specialists alike. One of the rooms is for bakers professional while the other is for millers, reenactors, and museum people, and culinary historians. These rooms are where you can ask questions and network.