Description
10 Strike Fair Strikes!!
THIS EVENT ENTRY FEE INCLUDES ONE FREE GATE PASS FOR THE EKKA SHOWGROUNDS
All event tickets, lanyards, pre-purchased merchandise, swag bags and gate entry passes must be collected from Netherworld prior to heading to the showgrounds. All items can be collected from Netherworld from Monday the 6th of August.
The barcode from each gate pass will be logged to the relevant competitor so gate passes can not be sold, swapped and if lost can be easily cancelled and replaced.
Further information regarding formats, ticketing, sponsors and merchandise can be found at bnepac.org
By purchasing this ticket you agree to abide by the BPAC code of conduct and etiquette guidelines transcribed at bnepac.org/general-etiquette and bnepac.org/pinball-etiquette.
Remember mates:
Yellow and red card system in use throughout the BPAC Showcase
- no load swearing
- aggressive or intimating behaviour
- rage tilting or shoving a machine after a ball has drained
- machine abuse or slapping/hitting the glass or lock-down bar
Also
- have fun
- be kind
- introduce yourself
- the machine you're playing is someones baby
- have fun
- play well
- play fair
- play better
- have fun
- be kind to the TD's
- be kind to the Ekka staff
- be rad
- have fun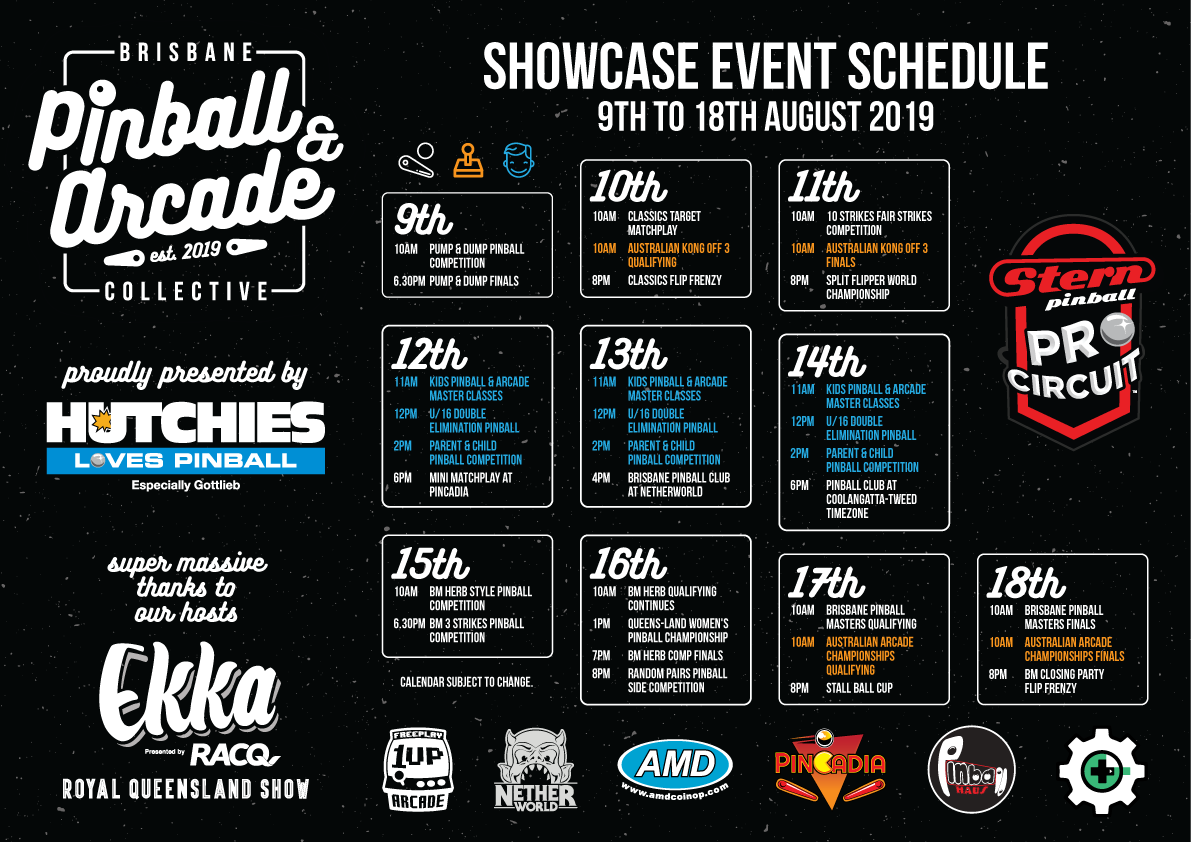 Tournament Name: BM Fair Strikes
Tournament Date/s: Sunday 11th August, 2019
Tournament times: 10am-5pm
Tournament fee: $30
Tournament format details:
- The fair strikes system will be used for this event. 0 strikes for a win, 2 strikes for last place, and 1 strike for any players in between.
- Players will be placed into groups of 3 or 4 at random each round using Matchplay.events.
- The software will allocate order of play and machine choice for each match.
- Once a player has received 10 strikes, they are eliminated from the tournament