Description
Welcome to the first ever Botathon 1.0!
Bots have become the latest paradigm for content distribution and e-commerce on messaging platforms. Some say that bots are the new apps. The purpose of this two day Botathon , a hackathon for building bots, is to educate, inspire collaboration and team building, and to develop innovative use cases within a conversational interface.
We are very grateful to have partnered with LA's BEST to help us organize this event at the Impact Hub located in the Arts District of Downtown LA.
Saturday Oct 8th: (9am-6pm)
9:00-10:00 — Coffee + Snacks
10:00-10:10 — Opening Remarks By Todd Terrazas
10:10-10:40 — Keynote by Dr. Julie Albright
10:45-11:15 — Surprise Speaker
11:20-12:00 — Microsoft Workshop
12:00-1:00 — Lunch
1:00-1:30 — Pitch Ideas
1:30-2:30 — Form teams
2:30-6:00 — Work on projects, mentors will be available
Sunday Oct 9th: (12pm-6pm)
12:00-2:00 — Lunch
2:00 — Project Submissions
3:00 — Team Presentations
5:00 — Judging + Prizes


PRIZES
Oculus Rift
DJI Phantom Quadcopter
4 BLE Speakers
Visa Gift Cards
Free Consultation from Norwest Venture Partners
Free Consultation from Amplify.la
Thank you to our Sponsors + Community Partners: Microsoft, Kik, Sensay, Brainitch, Commerce.io, O'Reilly Media, Slack, Twilio, Norwest Venture Partners, Amplify.LA, Fritzi, Arts District Brewery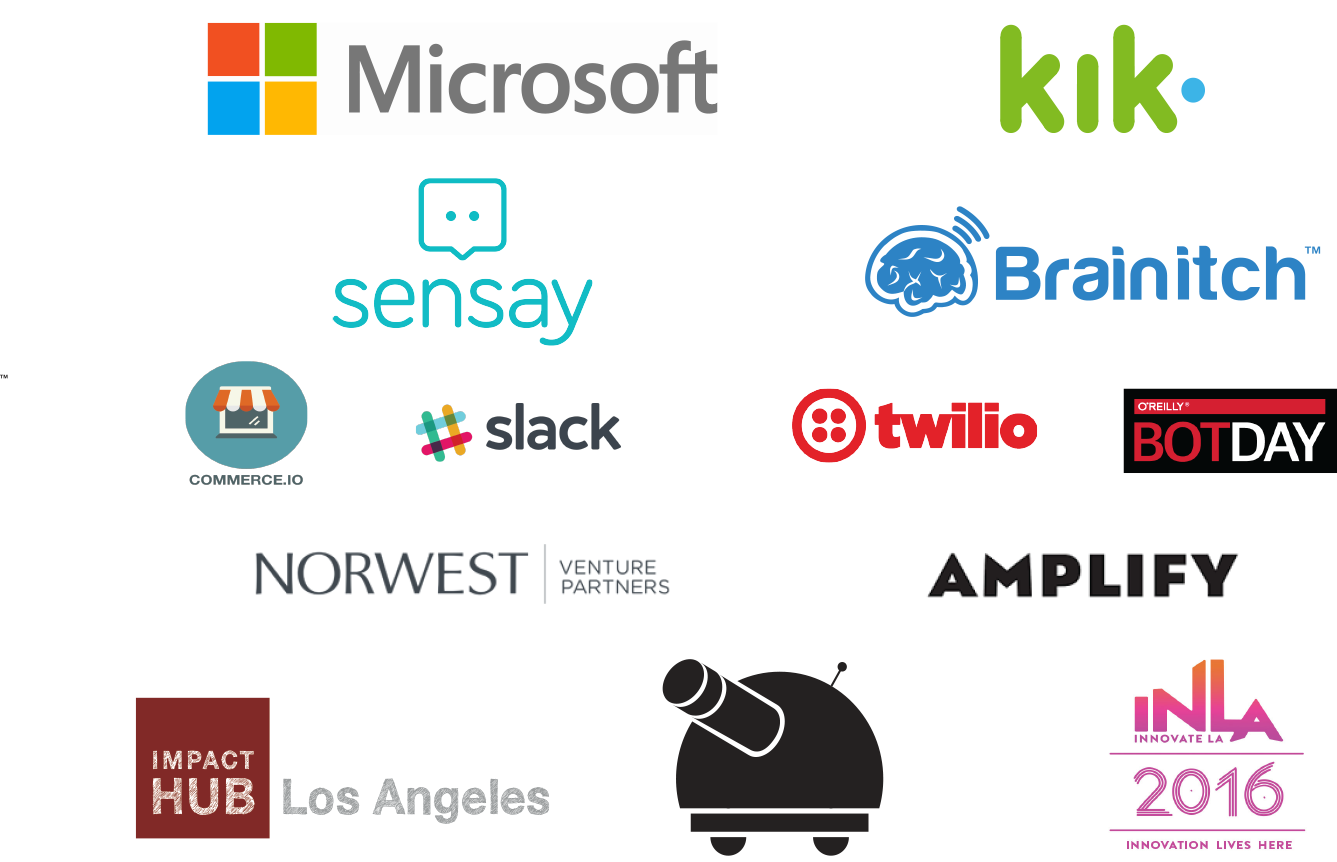 Organizer of Botathon 1.0
LA's BEST provides an enriching after school program to 25,000 kids each school day at 193 elementary schools across Los Angeles with the highest needs and fewest resources in economically distressed neighborhoods.
Their programming goes beyond basic education to instill healthy values and to build skill sets in fields such as digital learning, science and the arts. LA's BEST students are more likely to stay in school and graduate high school.
Your donation will help expand LA's BEST Digital Learning programs at elementary schools across Los Angeles.