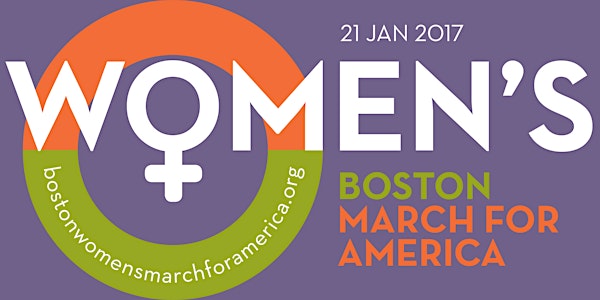 Boston Women's March For America
When and where
Location
Boston Common At the corner of Beacon and Charles Street Boston, MA 02111
Description
On January 21, 2017, we will unite in downtown Boston to march in solidarity with communities most affected by the hate, intolerance and acts of violence being perpetrated throughout the nation—among many are communities of women, immigrants, people of color and people who identify as LGBTQIA. Together, we will send a message to our leaders and the world that the United States of America stands for values of human dignity, equal rights and freedom from discrimination. Ours is a peaceful, nonpartisan march.



ALL ARE WELCOME. This is a march for ALL of us. Our goal is that on the day after the Inauguration, people from Massachusetts and hundreds of thousands of Americans from other cities, towns and schools across the nation will march together. FAQs below.


PLEASE NOTE
The Massachusetts Organizers for the Boston Women's March for America are volunteers and are not being compensated in any manner for their time and dedication to this event. The March is a grassroots movement that is fluid and has many moving parts. Information is shared and disseminated as quickly as possible by the Massachusetts Organizers. Nothing in the information provided is intended to create a contractual relationship and organizers are merely acting as facilitators to aid in the success of the event. Any community partnership or person participating in the Boston Women's March for America does so at their own risk and at their own expense. No warranty of any kind, express or implied are made by the Massachusetts Organizers nor are Organizers liable for any monetary loss, personal injury, cancellation of event or misinformation. Participants release the Massachusetts Organizers from any and all legal liability and acknowledge that participation is at their own risk.
FAQS
When is the March?
TIME

:

11am - 3pm

PROGRAM:

11am - 12pm on Boston Common

PEOPLE'S OATH and CALL TO MARCH

:

12pm




MARCH

:

12:30 - 2:00pm Commonwealth Avenue

GATHER:

2:00 - 3:00 Boston Common for community building
Where is the March taking place?
Marchers will gather in the Boston Common "Carty Parade Ground", at the corner of Beacon and Charles Streets. See map here. We'll also email everyone who has registered in advance when we have all the details.
What's the route and how long is it?
The March route will be approximately 1 mile. The route is accessible to wheelchairs and scooters. There are benches in the Boston Public Gardens and along Commonwealth Avenue where you can rest. We recommend for people who want to process slowly or take breaks during the March to march at the outer edge of the crowd close to the sidewalks so it will be easier to get to the benches. To discuss questions or additional options speak with a volunteer in the seating area. Participants are also welcome to stay in the seating area during the March if they wish. See March route here.
Why January 21?
Women's marches are taking place on Saturday, January 21, across the nation and worldwide to send a message to our leaders that the United States of America stands for values of human dignity, equal rights and freedom from discrimination.
Why not march in DC instead?

You can, but many of us will not be able to make it to the march in Washington, DC due to logistics and costs. But we can come together in our local communities to march for our shared values. The Women's March provides an international directory and statistics for all women's marches on that day, including over 100 marches worldwide with 357,000 marchers currently registered. See "FIND YOUR MARCH" and search by state to locate an event near you. Visit the website for more details and information. https://www.womensmarch.com/sister-marches/

Can I attend the Boston Women's March for America if I am not a woman?
Yes, everyone who believes that women's rights are human rights is invited! We march in solidarity with all communities most affected by the hate, intolerance and acts of violence being perpetrated throughout the nation—among many are communities of women, immigrants, people of color, people who identify as LGBTQIA and people with disabilities.

Can BWMFA accommodate people with disabilities?
Yes, BWMFA is inclusive of people with disabilities in a range of ways, including, but not limited to an accessible transportation drop-off site, accessible march route and accessible seating area. Visit our page at http://bostonwomensmarchforamerica.org/accessibility/. If you have questions about accessibility please contact access@wmfa2017.org.
Is this a family friendly event?
We are expecting a very large crowd on January 21st and we are working closely with the City of Boston and Public Safety Officials to deliver the safest day possible. Children are welcome but we encourage adults to carefully plan for the long day, crowded streets and sidewalks, delayed transportation and time spent in January weather. Please know there will be no indoor facilities, nursing stations or diaper changing areas on Boston Common. Bathrooms will consist of porta-potties. The Boston Common will be very crowded. The decision to bring children is a personal one and should be carefully considered.
What can I bring?
You may bring signs, banners and apparel that help you identify with your group or cause. Please note that in the interest of public safety, the City of Boston has requested no backpacks, large bags or banner/signs on wooden sticks or poles. Instead please consider clear backpacks or plastic bags to carry your belongings. We encourage people to use cardboard sign posts or to hand carry signs. Please be respectful and follow the example set by our mission statement. Your common sense will ensure a successful experience. Keep in mind that public safety officials always reserve the right to prohibit items they feel may impact public safety.
What about safety and security?
Safety and security issues are at the forefront of the planning process. Volunteers and Organizers will wear credentials and navy hats with an orange pom pom and can assist you. We are here to help. We have guidelines on what people may bring to the March. Bags may be subject to random inspection.
Please do not bring the following items to the Boston Women's March for America:
Aerosols

Ammunition

Animals other than helper/guide dogs

Bicycles (restricted in the rally and march areas)

Balloons

Coolers

Explosives

Firearms

Glass or thermal containers

Laser pointers

Mace / Pepper spray

Packages

Tents

Weapons of any kind

Any other items determined to be potential safety hazards

Drones

Signs on sticks or poles

Backpacks or large bags (clear packs and bags are recommended)
Can I bring a large group of people?
Yes, you can register as a group or an individual at: https://www.eventbrite.com/e/boston-womens-march-for-america-tickets-29650185503 However, you are responsible for coordinating with your group for the march. If your group is traveling by bus, you must register that bus for the staging area: https://docs.google.com/forms/d/12JdaA99Z_vnqLJNb5Mi--NPFIYKZIJ9qt9X3XkPOyRs/
Is it just a march or will there be a rally and speakers?
The program will showcase nationally recognized advocates, performing artists, thought leaders and the passionate voices of community leaders who speak to the issues reflected in our mission statement. Please check our website and register to receive event update details.
What happens if there is a snowstorm?
The weather is very unpredictable in January. If the event needs to be cancelled due to unsafe conditions, we will provide updates via email immediately if you have registered and post information on Facebook, Twitter, Eventbrite and our website. Please plan to dress for winter weather.

Who can I reach out to if I want to volunteer?
The March is a 100% volunteer effort and we are grateful for the support we have received. We have filled all of our volunteer positions at this time. We invite you to come march with us on Saturday January 21st!

What happens during and after the March?
The program will take place on Boston Common's "Carty Parade Ground" area at the corners of Beacon and Charles Streets. We will then march along a Back Bay route in a tremendous show of unity and strength. In the days following the event, we will be in touch with ways to promote our shared goals with ongoing engagement.

Where do we park?
We strongly urge people to use public transportation via MBTA Commuter Rail or T. More details can be found on our Transportation page. Our website and Eventbrite registration emails will provide parking locations and transportation updates. Please note that on Charles Street between Beacon and Boylston on the Garden side is bus drop off only. We cannot allow any other live drop off due to the high volume of registered buses.
Will there be food?
There will be food trucks and vendors near the Boston Common. Please eat a good breakfast, dress for weather and bring snacks so you are prepared for the day.

How can I contact the organizer with any questions?

Website http://bostonwomensmarchforamerica.org/
Email boston@wmfa2017.org
Facebook https://www.facebook.com/BosWomensMarch/
Twitter @BosWomensMarch