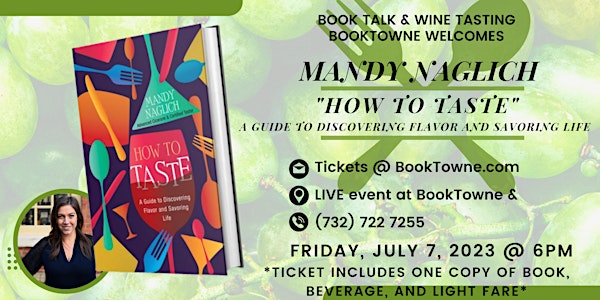 Book Talk & Wine Tasting: BookTowne Welcomes Mandy Naglich
Join us at BookTowne on July 7th for an evening of literary discussion and wine tasting as we welcome author Mandy Naglich
Date and time
Friday, July 7 · 6 - 7:30pm EDT
Location
BookTowne 171 Main Street Manasquan, NJ 08736
Refund Policy
Contact the organizer to request a refund.
About this event
1 hour 30 minutes

Mobile eTicket
Book Talk & Wine Tasting: BookTowne Welcomes Mandy Naglich
Join us for an evening of great books and fine wine as we welcome author Mandy Naglich to BookTowne! On Friday, July 7th, 2023 at 6:00 PM EDT, we'll be hosting an in-person event at our store located at 171 Main Street, Manasquan, NJ 08736.
Mandy Naglich will be discussing her latest book and answering questions from the audience. Attendees will also have the opportunity to sample a selection of light fare and enjoy a glass of wine.
Don't miss out on this unique and enjoyable event. We look forward to seeing you there!
About the book:
HOW TO TASTE is broken into three courses: an understanding and appreciation for how our senses function; how to hone and practice and improve our use of those senses; and how tasting impacts our life beyond what we consume. Learning how to taste can create daily opportunities for joy in the everyday, from a sumptuous chocolate drop to the nuanced flavors in a barrel-aged half-century year old spirit. After reading Naglich's fascinating adventure through taste, you may start to discern notes, think about compounds in aromas that impact flavors, and become curious about how foods are made and why flavors are put together. You'll think on your food and drink memories and realize your most vivid "palate memories" come from your unique chemical makeup.
In HOW TO TASTE, you'll learn the complexities of how to taste, including:
• Why food tastes different when your eyes are open v. closed (hence blind taste tests);
• If your mom had an adventurous diet when she was pregnant with you, you were born more adventurous, too; • Why people will believe a more expensive glass of wine tastes better than a less expensive one; • About the 1976 wine tasting event that shook the entire world;
• The multi-faceted criteria for Michelin-starred restaurants and reviews;
• Why a carefully curated playlist will make your meal a more memorable experience;
• How food and drink competitions are structured, how their judges qualify, and what they look for; • The four different styles of chewing – are you a Simple, Manipulator, Taster, or Tonguer?
• How your culture impacts your sensory experiences and preferences;
• Why mustard brownies are absolutely delicious (see pg. 159)
• And so much more!
About the author:
Mandy Naglich (New York, NY) is an Advanced Cicerone, National Homebrew Competition Gold Medalist, and writer. She covers food, travel, and beer for a variety of print and online publications including Food & Wine, Vice, Taste of Home, VinePair and other outlets. She is the co-author of the desserts cookbook, Hello, Cookie Dough. As an AROXA Certified Beer Taster, her sensory expertise and wildly popular blind tasting classes have been covered in publications and podcasts like The Sporkful, The New York Times, SevenFifty Daily, Vice, and Mic.com. Mandy is also a Certified Cider Professional and has completed all levels of the Wine Spirits Education Trust (WSET) Spirits certification.
Mandy's homebrewed Belgian beers regularly win accolades at sanctioned competitions including multiple first place awards at the New York Regional Competition and the NationalHomebrew Competition held by the American Homebrew Association. She is the homebrew advice columnist for VinePair. Mandy lives, writes, and brews in New York City but you can follow her beer adventures around the world at @drinkswithmandy. Learn more at Mandy K Naglich.
About the organizer
A Local Independent Bookstore in Manasquan NJ, just minutes from the beach!