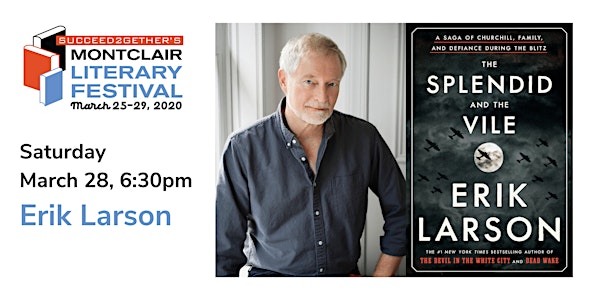 Book Talk – Erik Larson: The Splendid and the Vile
#1 NYT bestselling author Erik Larson talks about his new book, The Splendid and the Vile, at Succeed2gether's Montclair Literary Festival.
When and where
Location
The Sanctuary First Congregational Church 40 South Fullerton Ave Montclair, NJ 07042
About this event
THIS EVENT TOOK PLACE ONLINE ON MAY 9 AT 3:00 PM. PLEASE CONTACT MONTCLAIRLITERARYFESTIVAL@GMAIL.COM FOR ANY QUESTIONS.
For our closing event on Festival Day 2020, we welcome Erik Larson, #1 New York Times bestselling author of The Devil in the White City and Dead Wake, to talk about his latest book, The Splendid and the Vile: A Saga of Churchill, Family, and Defiance During the Blitz.
Join one of "the modern masters of popular narrative nonfiction" (New York Times Review of Books) for an insightful conversation with longtime Montclair resident and bestselling author, Christina Baker-Kline.
On Winston Churchill's first day as prime minister, Hitler invaded Holland and Belgium. Poland and Czechoslovakia had already fallen, and the Dunkirk evacuation was just two weeks away. For the next 12 months, Hitler would wage a relentless bombing campaign, killing 45,000 Britons (30,000 of them Londoners) and destroying two million homes. It was up to Churchill to hold the country together and persuade President Franklin Roosevelt that Britain was a worthy ally – that she was willing to fight to the end.

The Splendid and the Vile takes readers out of today's political dysfunction and back to a time of true leadership, when – in the face of unrelenting horror – Churchill's eloquence, strategic brilliance, and perseverance bound a country, and a family, together.
Tickets ($40) will include a copy of The Splendid and the Vile, pre-signed by Erik Larson. There will also be an opportunity to have your book personalized by the author after the event.
Doors open at 6.15pm.
***Payment is set to use Paypal or when you click on Paypal as the payment method, you can also use a debit or credit card without having a Paypal account.***
Erik Larson is the author of five national bestsellers: Dead Wake, In the Garden of Beasts, Thunderstruck, The Devil in the White City, and Isaac's Storm, which have collectively sold more than nine million copies. His books have been published in nearly 20 countries.
A #1 New York Times bestselling author of eight novels, including Orphan Train, A Piece of the World, and Tin Ticket (9/2020), Christina Baker Kline is published in 40 countries.
This event is part of Succeed2gether's fourth annual Montclair Literary Festival, which will take place from March 25 to 29, 2020. Please visit succeed2gether.org/montclair-literary-festival/ for more details of the program, which will feature more than 100 authors. The festival is a fundraiser for Montclair-based non-profit Succeed2gether, which offers after-school one-on-one tutoring and enrichment classes with the aim of closing the education opportunity gap in Essex County.
The festival organizing committee wishes to thank event partners Succeed2gether staff, Montclair Public Library, First Congregational Church, and Watchung Booksellers, and festival sponsors Rao's, Montclair State University, West of Hudson Realty Group, and community members.