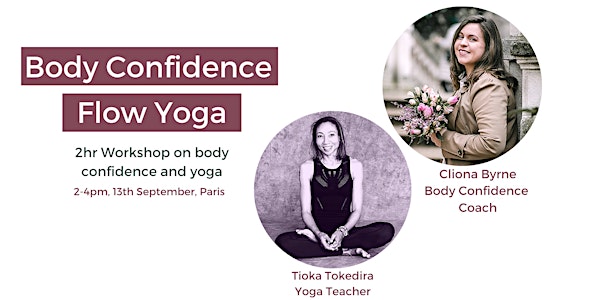 Body Confidence Flow
This 2-hour workshop is designed to have you feeling body confident in and out of the yoga studio!
Date and time
Sunday, September 13, 2020 · 2 - 4pm CEST
Location
13 Rue du Vieux Colombier 13 Rue du Vieux Colombier 75006 Paris France
Refund Policy
Contact the organizer to request a refund.
Eventbrite's fee is nonrefundable.
About this event
***This event is sold out. If you would like to find out about other upcoming events then you can contact the organiser through www.clionabyrne.com***
Your body deserves to be loved and feel good! This 2-hour workshop is designed to have you feeling body confident in and out of the yoga studio. Join Tioka Tokedira, yoga teacher and Cliona Byrne, Body Confidence Coach for a Body Confidence Yoga Flow designed for you and your curves. Feel completely at ease, accepted, and fabulous in your body while doing yoga.
Body Confidence
Are you ready to feel body confident in the yoga studio? Yes, you are! Cliona Byrne will take you through easy to do tips and tricks on how to feel confident in your body both in and out of the studio. Stop thinking that yoga isn't for you and let go of feeling like you need to "look" or "be" a certain way to enjoy the practice. Yoga is body inclusive and ALL bodies are yoga bodies! This workshop is for you if you want to feel good and give your body the love it deserves.
Yoga Flow
During this workshop you'll explore a yoga flow designed for you and your body. Learn how to make the props and equipment work for you so the practice feels good — or even better than good! Tioka will show you personalized adjustments to adapt the postures in every situation. There will even be a few tips on what you can wear to feel good while doing yoga (from a yoga teacher who has seen it ALL ;-) The yoga session will end with a soothing meditation to reinforce self-love. When you leave, you'll have what it takes to never feel intimidated by going to yoga class again.
Book your place now and join us on September 13th at the beautiful Kstanti Yoga Studio. This soothing and welcoming studio is wonderful and has been featured in Vogue France.
Reservations will be limited to 15 participants, so we'll have more than enough space to social distance together.
About your hosts
Cliona Byrne
Lover of curves, carbs, and colourful clothes, Cliona Byrne is an Irish Body Confidence Coach in Paris. Cliona' helps people to shush their inner critic and boost their self-esteem. Her mission is to help people to accept their bodies, feel incredible in their own skin, and to truly live their one wild and wonderful life. Cliona provides one-on-one body confidence coaching, workshops, and courses. Find her on Web, Instagram, Facebook, Linkedin, and Pinterest.
Tioka Tokedira
As a New Yorker living in Paris, Tioka has practiced Yoga for more than fifteen years. She started teaching Hatha, Vinyasa, Nidra, and Meditation after a trip to Mysore where she fell in love with training and living a life dedicated to Yoga. Tioka is passionate about exploring ancient rituals and traditions, contextualizing them through science and today's wellness options, to create curated classes. With a university degree in Education and a masters in Anthropology from Columbia University, Tioka blends her experiences to move students through physical, emotional, and philosophical alignment towards a connection with their truest selves. Find her on Web, Instagram, Facebook, Youtube, and Insight Timer.