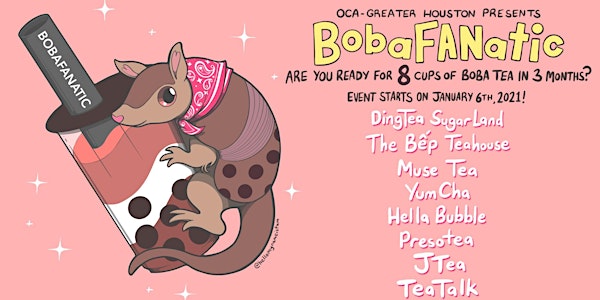 BobaFANatic
OCA-Greater Houston is coming back with BobaFANatic to celebrate AAPI identity with irresistible tapioca drinks from Taiwan!
About this event
OCA-Greater Houston is kicking off 2021 with a boba tea fundraiser, BobaFANatic, that is clean, efficient, and absolutely bobalicious!
A full BobaFanatic voucher ($35): 8 QR codes that correspond to 8 curated cups of boba.
A half voucher($17.5): 4 QR codes for 4 cups of boba of your choice.
You will receive an email with a digital voucher with 4 or 8 QR codes within 48 hours after making a purchase.
The last day for BobaFanatic redemption: March 31, 2021.
When you walk up to the cashier of any BobaFanatic partners, show him/her the corresponding QR code of that boba shop. The cashier will scan it with a smartphone to complete the voucher redemption.
Enjoy your boba tea 😍
BobaFanatic Partners & Drinks
Ding Tea - Taro Mash with Golden Boba (500ml cup)
The Bep - Magical with Crystal Boba
Muse - Rose Milk Tea with Honey Boba
Presotea - Panda Milk Tea with Black and White Pearls
YumCha - Vintage Black Milk Tea with choice of topping (700ml cup)
JTea - Green Milk Tea with Milk Jello
TeaTalk - Signature Milk Tea with Coconut Big Bear (Medium cup)
Hella Bubble - Hella Bubble Milk Tea with regular and mini Boba
BobaFANatic Interactive Map
Disclaimer
The QR codes are unique for each voucher. Please have the participating boba tea store staff complete the voucher redemption for you. Note that all digital vouchers are "Final Sale". No reimbursement or refund will be made for accidental redemption.
---------------------------------------------------------------------------
[國語版]
錯過2019年的台灣奶茶節了嗎?不要怕!我們休士頓也有!OCA休士頓分會隆重推出第一屆2020珍粉節~考驗您到底是真粉? 珍粉? 還是 貞粉?(有點母湯,口味略重。😅)


💛此次必須感謝休士頓廣大鄉親的熱烈支持,第一屆就推出八間珍奶店,有台灣之光薡茶精緻茶飲糖城店( DingTea Sugar Land)、Hella Bubble 與Presotea鮮茶道(中國城店)、越南城代表The Bep、TeaTalk與JTEA ,以及新穎時尚的YumCha 雅沐茶與Muse Tea。


由於疫情問題,2020珍粉節的珍奶券全面電子化,在Eventbrite窗口執行完成付款動作,請耐心等待一至兩天作業時間,您將收到一份電子券內含有八張QR二維碼,每一張QR二維碼都會對應到一杯飲料。2021年元月六號起請持有電子QR券到各店家兌換相對應的飲料,店員會掃碼後直接在自己的手機上操作兌換作業,您只需耐心等候飲料製作完成。

八張二維碼、八家店家、八杯飲料,換錯或是按錯,皆恕不受理。眼睛請睜亮,不要當我們的奧客,好嗎?


歡迎您與家人、朋友、男朋友女朋友共襄盛舉💛!
📍


FAQ(常見問題)

1. 可是我就想要八張都用在同一家上面,不行嗎?

很抱歉,我們的規則就是一家一張一杯指定飲料。想喝八杯自選飲料,請左轉出去兩個紅綠燈之後右轉。


2. 為什麼不能自選飲料💔?

每杯飲料的成本和價格各異,為了用店家和我們達成協議,並成功建立契約關係,我們必須簡化作業流程。


3. 買你們的券有什麼好處?

換算下來每一杯都是八折價格,而且免除德州交易稅,你每買一杯都賺到啦!除此之外,每張券都是對OCA休士頓分會的肯定,讓亞裔族群與移民團體在美國得到更多法律與政策上的支援💪。
4. 那這八家飲料都在哪裡呢?
我不想一間一間查,好累。

別擔心,我們製作了互動式地圖,清楚名列店家資訊。
5. 請問有哪些飲料?
1) Ding Tea薡茶 - Taro Mash with Golden Boba (500ml cup)
2) The Bep - Magical with Crystal Boba
3) Muse Tea- Rose Milk Tea with Honey Boba
4) Presotea 鮮茶道- Panda Milk Tea with Black and White Pearls
5) Yumcha 雅沐茶- Vintage Black Milk Tea with choice of topping (700ml cup)
6) JTea - Green Milk Tea with Milk Jello
7) TeaTalk - Signature Milk Tea with Coconut Big Bear (Medium cup)
8) Hella Bubble - Hella Bubble Milk Tea with regular and mini Boba
6. 請問可以退款嗎?
不好意思,每張券都是以售後「不予以更換或退款」處理。
#一人一券save小編