The Networking Event where we let the Sponsors pay for it all and let us network and assist each other to make it a better and fun business
About this event
BLUE MIDTOWN. indoor/outdoor rooftop lounge. 220 West 44th Street (btwn 8th & 9th Ave), Times Square, NYC. Doors at 5 pm
Happy Hour Reception with RSVP! Drink Specials 5pm - 8pm! DJ ENUFF(hot 97, 107.5 and Shade45) rock the best in top 40, hip-hop, house, rock, EDM, latin and old skool classics.
Blue was designed to be a vibrant social club in the vein of New York's vinyl age for those who wish to extend their evening after dining at The Ribbon, grab a pre- or post- theatre snack, or listen to some late-night tunes. Music serves as the universal theme, with a design celebrating NYC's great musical heritage and paying homage to some of the city's most iconic recording artists. Specially commissioned murals from artist Alex Yost encircle the space, creating a gallery of NY musical icons with a nod to Picasso's "blue period" of the early 20th century. Blue will be a neighborhood destination for those seeking a more refined and curated entertainment experience, coupled with a relaxed yet elevated atmosphere of a boutique lounge, Blue seeks to eschew the trappings of "traditional" nightlight in favor of a more cultured and inclusive approach.
RSVP is required for VIP Entry to the venue, access to the networking event area, VIP courtesy and more. With your RSVP you will receive free admission for everyone before 9pm. Ask about our birthday &/or group packages bottle specials & VIP reserved Area for your group! Please Dress Business Casual & fashionable(please no sandals, flips flops or too casual look). All admission is at Doorman Discretion. 21+ID.
About the networking part of the event, we will have several invited Loan Officers, mortgage lenders, attorneys, top agents, photographers as well as many other colleagues to chat about all things Real Estate. We will be having Raffles for Gift Cards, Movie Passes, Free Dinner and many more goodies to come. All this will be disclosed upon RSVP.
Special Thanks to our Sponsors:
Maz Hobbi - www.VirtualTourGroup.com @VirtualTourGroup (photographer/ 3D Tours)
Amrish Dias - United Mortgage Corp @rishd33 (Lic. Sales Manager/ Loan Originator)
About the Event Planner/ Promoter: Cris A.C. Inc has 27 years experience in planning events, collaborating with many promoters, celebrities, investors, nightclubs, hotels, movies, movie studios, liquor companies, actors and models. HE has planned events all over the world and had weekly events in Florida, La Vegas, Los Angeles, New Jersey and New York City.
RSVP:
- www.CrisAC.com
- Text keyword NETWORK to 83361 for RSVP
- Call/text 917.653.0768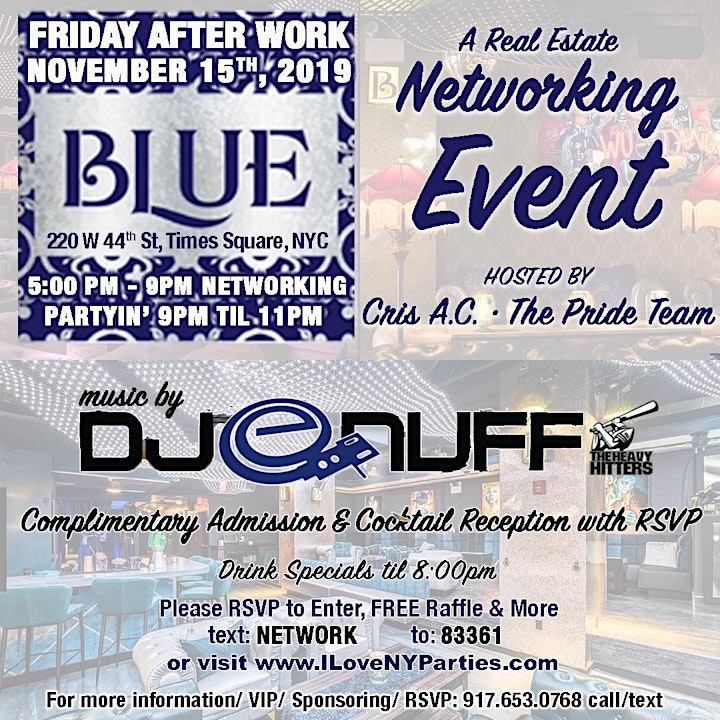 Organizer of BLUE After-Work RE Networking Event. No Cover with RSVP
About Cris A.C.'s Production
Cris A.C. has been promoting for 27 years! He has been hosting and working for the people to make sure everyone has a great time, every time. Considered to be one of the true NYC event planner/ promoter. He gives out his number to all to contact him when things aren't going for his patrons like he promises.
About Cris A.C.'s Production
Events All his events is a mixed crowd, with a diversity of music and genre that all love to go to. The dress code is always the same for Cris A.C. List, no dirty sneakers, over baggy attire, hats or hoodlum look. It's preferred that guys wear fashionable attire (button down shirts, nice jeans and shoes or clean sneakers). All events you MUST ask for Cris A.C. List for preferred admission.