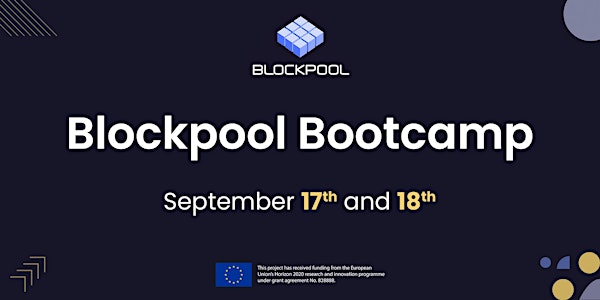 Blockpool Bootcamp
Blockpool Bootcamp — September 17th to 18th.
About this event
Welcome to the first Bootcamp of Blockpool. We are proud to host this event on 17th and 18th September 2020 and invite everyone to join.
Agenda
Participants have the possibility to register for individual sessions of the Bootcamp. For this, it is necessary to tap on the desired session to visit the registration page. If you want to participate on the two days of the Bootcamp or in one of the days you can do it via this page.
September 17
9:00 am - 10:00 am : Blockpool Bootcamp: Introduction and elevator pitches. (Philipp Sandner/ Robert Richter + SMEs)
Quick introduction and overview of the agenda and then each SMEs will give a 1min elevator pitch.
10:00 am-11:00 am: Navigating European networks and innovation investment streams (N-ABLE)
11am - 12pm: Financing instruments based on EU ERDF & other programs. (ERFC)
Break
2:00 pm - 3:00 pm: Crowdfunding Guide (ECN / Conny Weber)
3:00 pm - 4:00 pm: Risks of implementing Blockchain & DLT (Robert Richter)
The results of the risk assessment will be presented and SMEs will be given the opportunity to provide input.
4:00 pm - 5:00 pm: Round table: Key challenges for Blockchain and DLT SMEs. (Robert Richter, Carmen Serna, Miltos Koustas, Leonidas Katelaris, Conny Weber)
Sectors: Environmental, Data management/ analytics, Identity management, Tokenisation, Custody.
This meeting will be held as a round table for SMEs to share their experience operating in the Blockchain and DLT space. The findings of this session will be collated and included in policy recommendations for the EU.
September 18
9:00 am - 10:00 am: Product-led growth fundamentals: the rise of the user. (Maja Žikić)
10:00 am- 11:00 am: How to use smart contracts without being a developer with the Ignis Blockchain wallet. (Francisco Sarrias, Partner at MSI floating structures)
- Ignis blockchain runs on top of the Proof of Stake Ardor public multichain platform, one of the more environmentally friendly platforms available right now.
- One of the main barriers for blockchain adoption for SME's is the lack of in-house developers for smart contracts, Ignis blockchain provides templates for the most common smart contracts so SME's can use them in their decentralized applications using a web wallet or an easy Rest API interface.
- The talk will describe the Ignis and Ardor architecture and will demo some of the smart contracts available on the platform.
11:00 am - 12:00 am: Resize your Value Proposition from the Social Impact (Belén Suarez, CEO Social Innovation / ISO 56008 Expert Member, Team Leader Blockhub.eu)
Break
2:00 pm - 4:00 pm: Regulatory workshop (Valeria Hoffmann, Dentons)
2:00 pm -2:20 pm: The current European regulation in a nutshell (Valeria Hoffmann, Dentons)
2:20 pm - 2.40 pm: Discussion round and experience exchange
2:45 pm - 3:15 pm: Workshop in small groups. Based on prepared questions and answers participants consolidate their views/answers.
3:15 pm -3:45 pm: Presentation of workshop results, 10min per team
3.45 pm - 4:00 pm: Closing
Bootcamp finished
We look forward to seeing you all during the Bootcamp!
Details
Location: Zoom (access data will be emailed shortly before the start of the event)
Language: English
Registration required via Eventbrite; dial-in via zoom (installation required); maximum number of participants: 300.
Disclaimer: This project has received funding from the European Union's Horizon 2020 research and innovation programme under grant agreement No 828888.