Description


BLOCKCHAIN CRYPTO SUMMIT
The State of Blockchain Technology and Cryptocurrency
WEDNESDAY, MAY 15, 2019
5:30 pm - 9:00 pm
CIVIC HALL, NEW YORK CITY
The Blockchain Crypto Summit is where industry experts converge to educate, inform and build consensus throughout the community. It's an opportunity for startups and established companies to seek out new opportunities and meaningful connections.
SPEAKERS: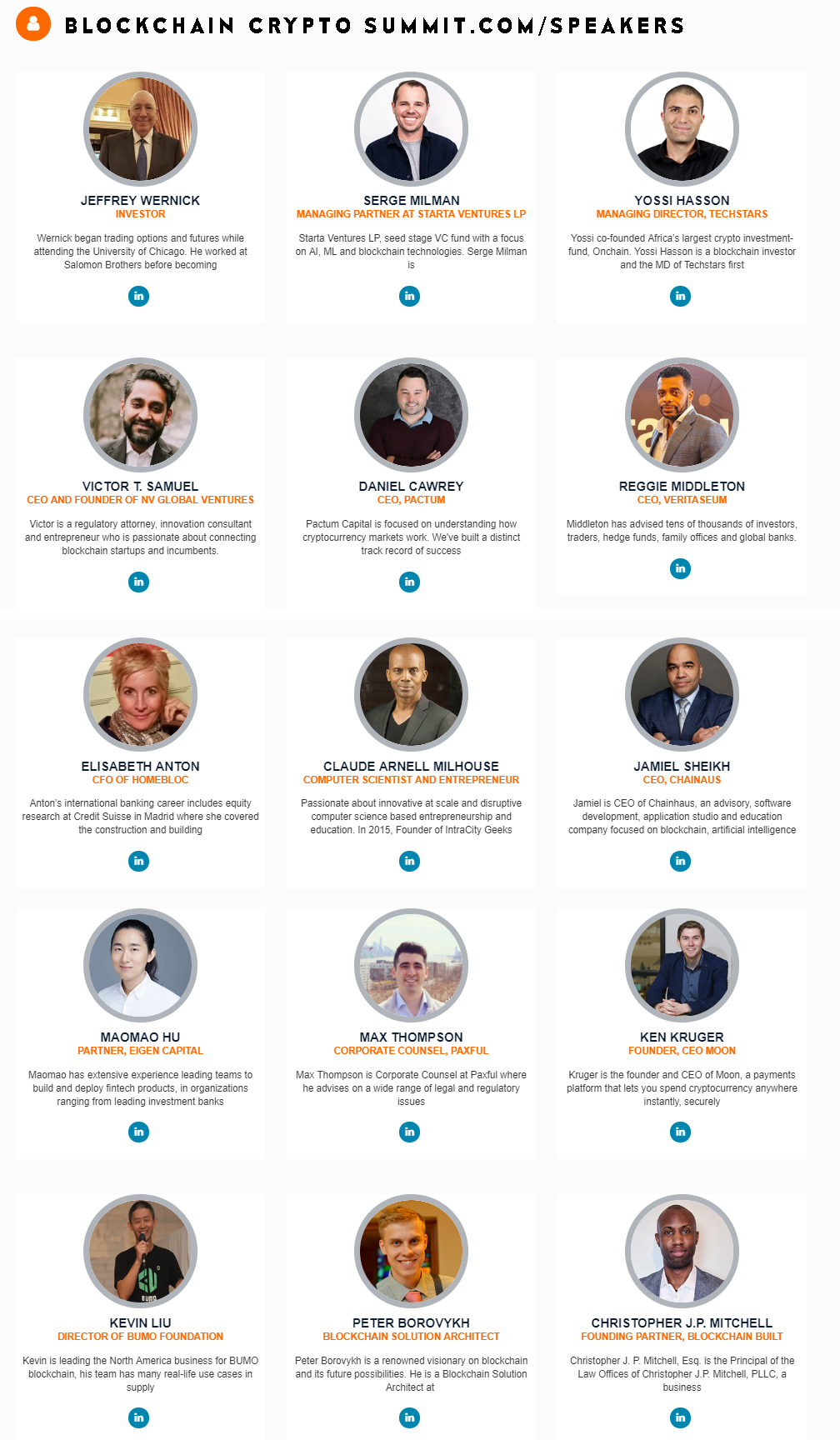 Jeffrey Wernick began trading options and futures while attending the University of Chicago. He worked at Salomon Brothers before becoming the youngest senior officer at The National Bank of Detroit. Jeffrey later founded AVI Portfolio Services Company, Inc. which he sold in 1984 to the largest insurance company in diversified financial interests. Today, Mr. Wernick is an independent investor whose portfolio includes early holdings in Uber, Airbnb and bitcoin. Jeffrey started mining bitcoin in 2009, the year it was created.
---
Serge Milman, Managing Partner at Starta Ventures LP
Starta Ventures LP, seed stage VC fund with a focus on AI, ML and blockchain technologies. Serge Milman is a New York City-based entrepreneur, founder, and venture investor. He has more than 15 years of experience in portfolio management, equities/options, and derivatives trading, startup investing and real estate investing. As managing partner at Starta Ventures, he focuses on bringing seed to series A round Eastern European tech startups to North America.
Serge Milman is the Co-founder and COO of Myriad Capital Partners LP, a fundamentals-driven digital asset fund. Prior to joining Starta, Milman founded Ronin Asset Management LLC, a proprietary trading firm, and Dellwood Capital Partners LP, a privately managed hedge fund with a niche focus on tech, telecom and media investing.
---
VICTOR T. SAMUEL, Founder, Managing Direct NV Global Ventures
Blockchain and Crypto Regulation, AML, Regulatory Risk Assessment and Management Professional Experience.
Victor Samuel has over 20 years of regulatory and executive management experience gained in senior compliance and operational roles with leading financial services companies and global consultancies. Victor is experienced in managing and leading complex AML and regulatory engagements and building out compliance management systems for financial institutions. His experience includes representing his client's interests with the various regulators, including the state banking authorities, OCC, FINRA, SEC, CFTC and the CFPB.
---
REGGIE MIDDLETON CEO, Veritaseum
Reggie Middleton has advised tens of thousands of investors, traders, hedge funds, family offices and global banks. Mr. Middleton publicly predicted the fall of Bear Stearns, Lehman Brothers, GGP (2nd largest US retail REIT), and the European sovereign debt crisis amid nearly 100 successful macro investment calls. Reggie's firm has been the first to settle a peer-to-peer blockchain swap, the first to apply for patent protection for the capital markets application of the technology in every major financial jurisdiction, and has heralded the merits of blockchain-based assets since 2013. He has been featured on The Keiser Report, Boom Bust, Bloomberg, BBC and CNBC on a regular basis.
---
Moderator: CLAUDE ARNELL MILHOUSE, Computer Scientist and Entrepreneur
Claude Arnell Milhouse Passionate about innovative at scale and disruptive computer science based entrepreneurship and education. In 2015, Founder of IntraCity Geeks (an innovative K-12 STEM education non-profit). CEO and co-founder of the CareerDevs Computer Science University.

We are disrupting how adolescents and adults learn computer science and entrepreneurship and find gainful 21st-century skills-based employment. CareerDevs DNA is rooted in critical, computational and algorithmic thinking. Self-learning, innovative problem solving and intellectual rigor are hallmarks of our culture. Our 12-month computer science education program supersedes the results coming out of many four year universities. We are proud of our relationship with the Nelson Center for Entrepreneurship at Brown Univ. and our relationship with Harvard Univ. CS50x. Our students are bold, instant impact software developers and engineers.
---
ELISABETH ANTON, CFO OF HOMEBLOC
Elisabeth Anton's international banking career includes equity research at Credit Suisse in Madrid where she covered the construction and building materials sectors, and private banking with HSBC in Dubai where she was Deputy Global Head of Investment Advisory. Ms. Anton was graduated from Yale University with a BA in English Literature, and from the Wharton School with an MBA in Finance.
---
Maomao Hu, Partner at Eigen Capital
Maomao Hu has extensive experience leading teams to build and deploy fintech products, in organizations ranging from leading investment banks to new startups, to solve both microstructure problems like market surveillance and macrostructure problems like capital allocation. Currently, he manages cryptocurrency market maker Eigen Capital, recipient of "Best Quant Trading Team" and "Best Technology" awards from Huobi in 2018.
---
MAX THOMPSON, Corporate Counsel at Paxful
Max Thompson is Corporate Counsel at Paxful where he advises on a wide range of legal and regulatory issues facing the company. Max began his legal career in the Office of General Counsel at the New York State Department of Financial Services where he was heavily involved in the creation of the "Bitlicense" regulation and the supervision of cryptocurrency entities subject to the Department's oversight. Prior to joining Paxful, Max practiced in the FinTech & Blockchain and Cybersecurity, Cybercrime & Incident Response practice groups at Murphy & McGonigle P.C. and also served as Assistant General Counsel and Assistant Corporate Secretary at Bank Leumi USA.
---
JAMIEL SHEIKH, CEO at Chainaus
Jamiel Sheikh is CEO of Chainhaus, an advisory, software development, application studio and education company focused on blockchain, artificial intelligence and machine learning. Jamiel has over 15 years of experience in technology, capital markets, real estate and management working for organizations like Lehman Brothers, JPMorgan, Bank of America, Sun Microsystems, SONY and Citigroup. Jamiel is an adjunct professor at Columbia Business School, NYU and CUNY teaching graduate-level blockchain, AI and data science subjects.
He is currently authoring a book on Corda with O'Reilly and runs one of the largest blockchain, AI and data science Meetups in NYC. Jamiel is a licensed real estate agent in New York and New Jersey with Douglas Elliman. Jamiel holds an MBA from Columbia University and BBA from Baruch College and is completing his second Masters in Artificial Intelligence from Georgia Institute of Technology. Jamiel enjoys coding in over 8 languages, travel and the elegant nuances of MMA.
---
KEN KRUGER, Founder and CEO at MOOD
Ken Kruger is the founder and CEO of Moon, a payments platform that lets you spend cryptocurrency anywhere instantly, securely and without fees. Prior to starting Moon, Ken ran a software consulting company that helped venture backed startups in NYC build products. Previously he worked at Lockheed Martin as a software engineer and product manager on military systems and sensors. Ken studied financial engineering at Columbia University and computer science at Cornell University.


---
KEVIN LIU, Director of BUMO Foundation, North America
Kevin Liu, Director of BUMO Foundation, North America - Kevin is leading the North America business for BUMO blockchain, his team has many real-life use cases in supply chain finance, supply chain traceability, reinsurance, and etc. Kevin is also leading the new Token Economy Institute, a "DAC" organization focusing on token economics research, practice, and application.
---
Peter Borovykh is a renowned visionary on blockchain and its future possibilities. He is a Blockchain Solution Architect at BlockchainDriven.com and has been featured in numerous publications such as Forbes, Business Insider, MSN, Future Trends, Yahoo Finance, Bitcoinist, Fortune, Inside Bitcoins, and many others. He is the author of "Blockchain Applications in Finance". Peter has spoken at conferences on blockchain and crypto markets around the globe New York Fintech Week, Blockchain for WallStreet and many more.
---
Pactum Capital is focused on understanding how cryptocurrency markets work. We've built a distinct track record of success no matter whether crypto is in a bull or bear market. We are a group of traders, programmers and technologists passionate about the crypto markets. Pactum CEO Daniel Cawrey earned his BS in Information Science from Central Michigan University. His background includes working in systems security and consulting work with Google in the Washington D.C. area. In 2013, he began working as Contributing Editor for CoinDesk, the largest cryptocurrency news and information resource. He is author of the upcoming book "Mastering Blockchain" to be published by O'Reilly summer 2020.
---

Join the conversation:
Lightyear Venture Talks

- Investors in blockchain and crypto share insight on investing in blockchain technologies and digital currencies.

Leaders in Crypto

- Hear from the pioneers, emerging and established crypto leaders as they share insight and intelligence on the crypto market.

Startups in Tech

- Discover the hottest startups in crypto and blockchain as they reveal growth, market penetration and dollars raised.
SCHEDULE
5:30 - 6:15 p.m. Registration & Refreshments
6:15 - 6:30 p.m. Opening remarks
6:30 - 7:00 p.m. Keynote
7:00 - 7:50 p.m. LightYear Venture Talk
7:50 - 8:30 p.m. Panel Talk - State of Cryptocurrency
8:30 - 8:40 p.m. Closing Announcements
8:40 - 9:00 p.m. Networking Wrap Up
---
BLOCKCHAIN CRYPTO SUMMIT NYC MAY 2019 is where we celebrate BLOCKCHAIN WEEK NYC!
Blockchain and Crypto businesses this is the moment to reach early adopters, target customers, and influencers. Brand and promote your technology-driven solution during Blockchain Week.
SPONSOR OPPORTUNITIES $399 - $1499
Email inquiries: BlockchainCryptoSummit@gmail.com
LEAD SPONSOR
Speaker Opportunities
Exhibit Table Top
Company Spotlight
Program Guide: 100 words description
Social Media Shares
On-Site Video Interview
Announcement
(3) VIP Passes
Logo, URL, and promo material on the website
Logo on Step and Repeat
Dedicated Branded Stand (you supply the graphics)

GOLD SPONSOR
Company Spotlight
Exhibit Table Top
Program Guide: 50 words description
Social Media Shares
On-Site Video Interview
Announcement
(2) VIP Passes
Logo, URL, and promo material on the website
Logo on Step and Repeat
SILVER SPONSOR
Exhibit Table Top
Program Guide: 25 words description
Social Media Shares
Announcement
(2) VIP Passes
Logo, URL, and promo material on the website
Logo on Step and Repeat
#blockchain #bitcoin #cryptocurrency #crypto #ethereum #btc #bitcoinmining #litecoin #eth #entrepreneur #cryptocurrencies #investing #ico #blockchainweeknyc #YossiHansson #Techstarts #JeffreyWernick #Qtum #Investor #SergeMilman #StartaVentures #ReggieMiddleton #Veritaseum
Organizer of BLOCKCHAIN CRYPTO SUMMIT NYC