Multiple Dates
■ Bitcoin & Cryptocurrency - Wallet Security (By Appointment - Please Call)
Description
Participating in the Blockchain Weekend NYC. https://blockchainweekend.org
Workshop is by appointment only - Call or Text 917-338-0645
- Purchase a ticket for any day, and we'll get in contact to pick a date and time that works for you. Or give us a call at (917) 338-0645 -
This workshop is in collaboration with SatoshiLabs, the creator of the Trezor Model T hardware wallets.
Since 2012, we at xCubicle have been helping to grow the cryptocurrency community here in NYC. Recently, we've noticed many non-technical users having a hard time using their hardware wallets that they've purchased online. Even after watching a few YouTube videos on how to use these wallets can leave many users with questions and anxiety about moving their coins onto them. We feel that new users of these devices would feel more at ease using them if we had a hands-on environment with someone nearby to help.
This hands-on workshop was developed specifically for the Trezor Model T hardware wallets. Users can bring their Trezor Model T for the workshop, or they can purchase one from us at a discounted rate only at the workshop ($130).
Watch a short clip of our previous workshops:
https://www.youtube.com/watch?v=MY4WrTZWCz8

Duration of Workshop: 2 hours
Max Students per Class: 10
Private lessons are available. Contact Us.

-.-.-.-.-.-.-.-.-.-.-.-.-.-.-.-.-.-.-.-.-.-.-.-.-.

WHAT WILL I LEARN?

You will learn the basics of Bitcoin wallets and how to secure them properly. This will also be a hands on wallet creation and walk though of using the Trezor T.

Below is an outline of what we will cover:

- Brief Intro to Bitcoin for newcomers
- The ABC's of a Bitcoin wallet
- What is a public / private key pair related to wallets?
- Types of wallet applications for each operating system
- What is hot/cold storage?
- Trezor Model T Features as compared to the rest
- Trezor Model T Walkthrough from start to end
- Understanding Threats to Wallets Security (Double Spend / Trojans / Ransomware / Worms )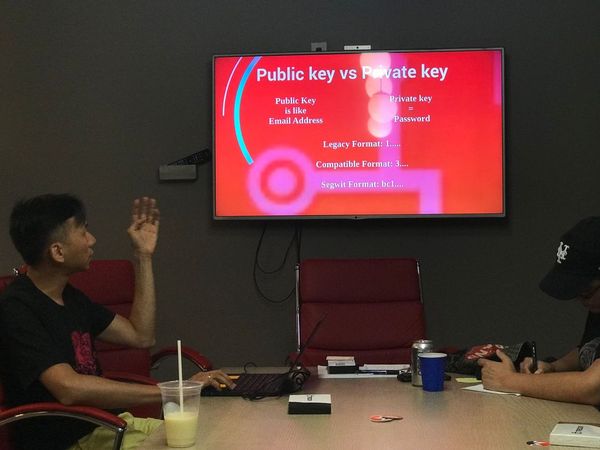 -.-.-.-.-.-.-.-.-.-.-.-.-.-.-.-.-.-.-.-.-.-.-.-.-.

IS THIS CLASS FOR ME?

This class is for anyone that is relatively new to the Bitcoin scene OR feel uncomfortable moving their coins from one wallet to another. This is also good for new users that wish to learn about the Trezor Model T or cold storage options.


-.-.-.-.-.-.-.-.-.-.-.-.-.-.-.-.-.-.-.-.-.-.-.-.-.

WHAT SHOULD I BRING TO CLASS?

Please bring a Trezor Model T or purchase one from us during the class.

-.-.-.-.-.-.-.-.-.-.-.-.-.-.-.-.-.-.-.-.-.-.-.-.-.

ABOUT THE SPEAKER

Pat Che is the co-Founder of xCubicle and a web / blockchain developer. He helped incubate the Bitcoin NYC community in early 2012 and spearheaded the Bitcoin NYC Fair back in 2013. Pat and his company has been featured in:
- CNN - https://www.youtube.com/watch?v=lcmuHr3K66g
- WSJ - https://goo.gl/snhpvk
- Reuters - http://goo.gl/GbRbVv

-.-.-.-.-.-.-.-.-.-.-.-.-.-.-.-.-.-.-.-.-.-.-.-.-.

PRIVATE LESSONS ARE AVAILABLE
(Please send inquiry)

-.-.-.-.-.-.-.-.-.-.-.-.-.-.-.-.-.-.-.-.-.-.-.-.-.

REFUND POLICY

Refunds are honored if notice is given to us 2 days in advance before canceling. If attendee cancels within 24 hours time, credit will be applied to a future event.

-.-.-.-.-.-.-.-.-.-.-.-.-.-.-.-.-.-.-.-.-.-.-.-.-.

This Bitcoin Workshop Developed by the XCUBICLE Team

-.-.-.-.-.-.-.-.-.-.-.-.-.-.-.-.-.-.-.-.-.-.-.-.-.