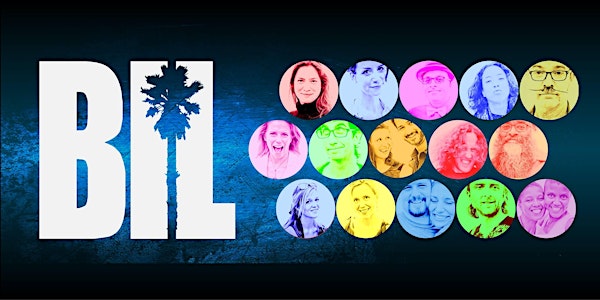 When and where
Location
Chicken Coup Studio 3001 West Jefferson Boulevard Los Angeles, CA 90018
Refund Policy
Contact the organizer to request a refund.
Description
Welcome to BIL LA 2018!
Come get your BIL on! Sign up to speak! Host an experience for your friends! Volunteer and help make this thing happen! BIL is Emergent and Inclusive!!
We will sell out at 400 people. $50 donation requested, $25 for students and low income, no one is turned away. You can fill in your own donation amount. Our goal is $3,000 to cover all costs.
---
Friday, June 22, 2018
- Set up the venue 10am
- All are welcome at our Meet and Greet at 8pm across the street at Harold and Belle's

Saturday, June 23, 2018
- Unconferencing at Chicken Coup Studio: 9am - 5pm
- BIL PARTY (BYOB): 8pm - 12am onsite!! Come back and play with your friends! EXPRESS YOURSELF in clothing!

Sunday, June 24, 2018
- Unconferencing: 10am - 5pm
- Break down the venue: 5pm - 7pm
---
SPEAKING ON SATURDAY OR SUNDAY
As one of the worlds longest running unconferences, this BIL will host 1 main stage over two full days in a raw studio, designed for filming. Visit our website to announce your talk to the community! This will be an uncurated event, so come early to sign up for your talk time on the white boards. The main stage will be indoors and fit about 100 chairs.
INTERACTIVE EXPERIENCES
The "Inside-Outside" interactive areas will be full of break-out session spaces and areas for games and experiences. This will be a highly artistic venue of a gifting economy! Makers, maker spaces, teachers, artists, and game leaders please sign up!!
UNCONFERENCING!
For those that have never heard of BIL or have never participated in an unconference, the important piece to know is that everyone who comes is responsible for creating what happens. We donate money to split the cost of the venue. We donate time and talent to potluck our best ideas with our community. We don't get paid, we give into the space to make a magical weekend. It is a gifting economy where we create an emergent event. Bring something to share! Invite your favorite person! This day is FUN.

We embrace thought provoking moments, breakthrough technologies, wisdom, inspiration, and solutions. BILders are out to make the world a better place. Music and art welcome! The Chicken Coup Studio is providing 4 10 x 10 shades in the space outside. We need more people to bring carpets, pillows, and ways to make the space beautiful! We need AV equipment and lights for the stage! The Chicken Coup will let us use their 6 work tables on rollers to provide interactive teaching inside. We need the community individuals and groups to sign up to teach/provide experiences! There is a lovely kitchen to make nourishing, delicious things! Any chefs feel like gifting somthing delicious? Invite your friends and join us at an event unlike any other!

Here's the THE SUPER RAW footage of the venue so you can plan where you can fit in the space!

Twitter: @bilconf
#bilconf #bilconferencela

Instagram: bilconferencela and #bilconference

Facebook: BIL USA

This year, we will be participating in the #thankslarry Global celebration in honor of the passing of Larry Harvey, the original founder of Burning Man. We encourage all BILders to express yourself in clothing and add the #thankslarry moments to your #bilconf #bilconference tags!