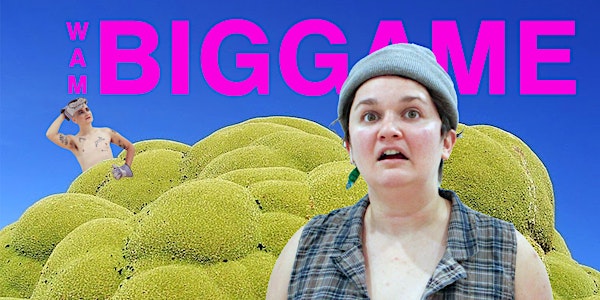 BIGGAME
WeAreMarried presents BIGGAME. I can't wait for this place to try and break me.
Refund Policy
Contact the organizer to request a refund.
Eventbrite's fee is nonrefundable.
About this event
BIGGAME
directed by Chelsie Newhard.
A/V engineering by Victoria Carpenter.
featuring Shelby Richardson and Jay Eisenberg.
How long do you think you could survive in remote wilderness? Two days? One year?
You sure do talk a big game.
While you consider if you've got what it takes, we invite you to sit back in your lawn chair and watch someone else give it their best shot. Get comfortable. It might not last long.
Welcome to the studio audience of BIGGAME, a live fever dream of a televised survivalist game show where one intrepid adventurer-turned-amateur filmmaker faces off with the elements. Armed with ten carefully selected items and what some might call "an absolutely unhinged level of expertise," our competitor still wonders: will a lifetime of preparation be enough? And with a life-changing sum of money on the line, will they come out on top, or get topped by nature itself?
Don't encourage them. They don't even know you're here. They're alone in this.
And so are you.
To learn more about the artists behind BIGGAME, visit www.wearemarried.org/teambiggame.
BIGGAME is a site-responsive, outdoor, multimedia show that, while immersive, does not include audience-performer interaction. BIGGAME includes strong language, crude humor, and unconvincingly depicted, fully clothed simulated sex. BIGGAME grapples with a variety of intense concepts, including extreme hunger, prolonged constipation, substance use, life, death, and loss. Violence is referenced, but not seen or heard onstage. BIGGAME is not recommended for audience members under 16. If you have additional questions about content, please email us.
This production of BIGGAME is sponsored by Iverson Law Office, P.L.C. and WAM's QFP (Queer Fairy Godparent).
Schedule and Locations:
BIGGAME takes place in backyards all over the Twin Cities, with a different performance location each weekend. Due to the residential nature of these locations and our limited audience capacity, walk-up tickets will not available, and tickets must be purchased in advance.
The specific address of each performance will be sent to ticketholders by 9:00AM the morning of the show. To help you plan, please note the general neighborhood where each performance weekend is happening.
September 16, 17, 18: South Minneapolis
September 23, 24, 25: North Minneapolis
September 30, October 1, October 2: South Minneapolis
**EXTENSION JUST ANNOUNCED!** October 14, 15, 16: South Minneapolis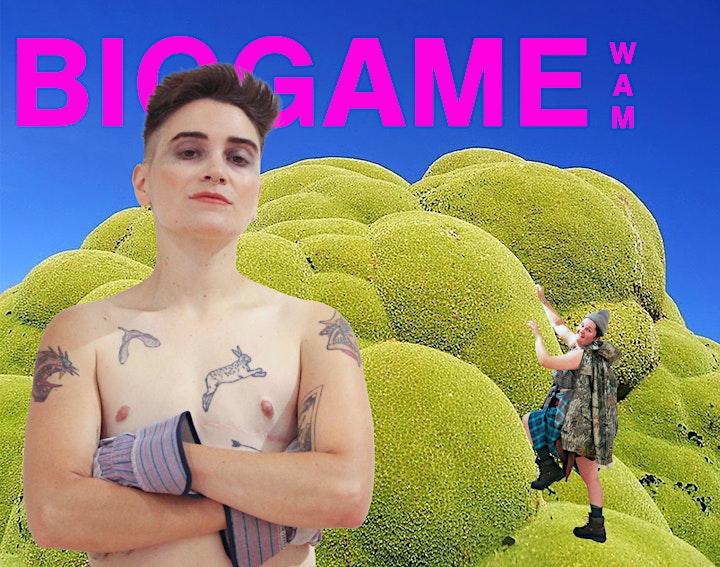 Accessibility and Sensory Advisories:
BIGGAME takes place outdoors at ground level. Audiences will move from space to space during one portion of the performance. Seating will be available in all performance spaces. Audience members are asked to bring their own low-backed camping chairs, lawn chairs, towels, or blankets in order to ensure their comfort while seated outdoors. In addition, WAM will provide 12 to 15 camping seats that can accommodate up to 225 lbs each. Sensory advisories are listed below.
VISUAL (Stimulation Level: Moderate to High) BIGGAME involves a combination of live performance and projected video on a large screen. There will be moments of bright light and one instance of flame. There are no strobes of any kind. Due to the outdoor nature of the show, there will be ambient lighting from the surrounding environment.
AUDITORY (Stimulation Level: High) BIGGAME includes some amplified sound from a small speaker, as well as occasional yelling, singing, and swearing from the performers. Although the overall volume of the show is not consistently loud, the combination of sounds from the surrounding environment (vehicles, passersby, etc.) and sounds of the show may be overwhelming at times.
TACTILE (Stimulation Level: Moderate) BIGGAME takes place outdoors, with the audience sitting on chairs, blankets, grass/dirt for up to an hour and a half. There are no moments of touch during the show, and the audience will not be asked to touch or interact physically with any of the set, props, or performers in the piece.
OLFACTORY (Stimulation Level: Low to Moderate) BIGGAME does not include theatrical haze, synthetic smells, or perfumes of any kind. Due to the outdoor nature of the show, audiences may experience smells from the surrounding environment, including car exhaust, grass, soil, dogs, other people, and firepits.
TASTE (Stimulation Level: None) BIGGAME does not include any food or drink.
MOVEMENT (Stimulation Level: Low to Moderate) BIGGAME includes one brief moment of the audience moving from one space to another. There are sitting options available in every space.
If you have any additional questions about sensory factors in BIGGAME, please email us.
COVID-19 Policies:
All performers are vaccinated and boosted, and will be performing unmasked. Performers will be testing 48 hours prior to each performance, and are required to test negative in order to perform. Due to the outdoor nature of BIGGAME, audience members will not be required to wear masks, but are invited to mask to their comfort and safety.
A Note on Ticketing:
General Admission tickets are priced at $25.00 per ticket. If ticket cost is a barrier, please email thisishowyoureachWAM@gmail.com and we will ensure that we get you into the show for free or at a reduced rate.
If you are interested in paying it forward and covering the cost of someone else's ticket, Venmo $25.00 to @WeAreMarried with the note "BIGGAME Pay it Forward." Email us for additional information.
About WeAreMarried LLC:
WeAreMarried is the collaboration of transgender theatremakers Jay Eisenberg and Shelby Richardson. WAM exists to make your life more bearable. WAM pays artists a minimum of $35/hr. WAM is for you. To learn more about WAM, visit www.wearemarried.org.