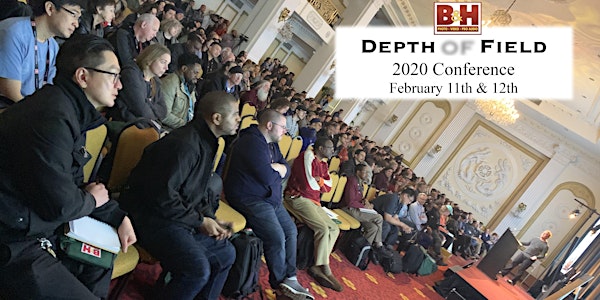 B&H Depth of Field 2020 Conference (View Live Stream)
Exploration of wedding, portrait and event based photography conference
About this event
B&H Depth of Field Live Stream Main Stage RSVP for Reminder
2020 Keynote Speakers:
February 11th Legendary Portrait Photographer Greg Gorman
February 12th "The man who shot the 70's" Mick Rock
Special Guest Speakers:
Ike and Tash are flying in from Oregon who specialize in high school senior, weddings and engagements, and family portraits. They also focus on empowering, community building, networking by providing programs that give back.
Alexis Buryk is the owner and operator of City Love Photography, providing wedding, elopement, and portrait photography services in the NYC area. Her work is cutting edge and inclusive.
RSVP Now to be notified of additional speakers and events and schedule for B&H Depth of Field.
This free to attend and live streamed event is a one of kind exploration of wedding, portrait and event based photography. Taking place over two days attendees can look forward to industry leading pros sharing; knowledge and inspiration, studios outfitted with the latest camera and lighting gear, models and sets to photograph, community networking including an opening night party, portfolio reviews, an expansive trade show and the return of the Depth of Field Challenge- who will be crowned the Depth of Field Champion?
Register now to receive event updates and reminders to the third installment of most engaging photo show happening this winter.