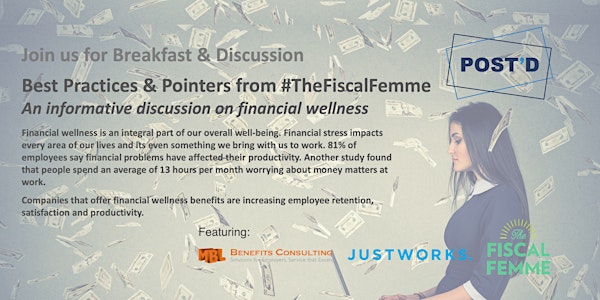 Best Practices & Pointers from the #FiscalFemme
This event will be a discussion on financial wellness led by Ashley Feinstein Gerstley, #TheFiscalFemme, author, entrepreneur and feminist.
When and where
Location
389 5th Avenue Suite 300 (between 36th & 37th Street) New York, NY 10016
About this event
Financial wellness is an integral part of our overall well-being. Financial stress impacts every area of our lives and its even something we bring with us to work. 81% of employees say financial problems have affected their productivity. Another study found that people spend an average of 13 hours per month worrying about money matters at work.
Companies that offer financial wellness benefits are increasing employee retention, satisfaction and productivity.
Join us for a discussion on financial wellness led by Ashley Feinstein Gerstley, #TheFiscalFemme. Ashley is an author, entrepreneur and feminist who is on a mission to end inequality through financial well-being. She is the creator of the 30-Day Money Cleanse program, which has helped thousands of people cultivate harmonious relationships with money and achieve their financial goals.
As a trusted money expert she will share best practice and pointers for financial wellness including:
• Ways you can integrate a successful financial wellness program into your company
• How financial wellness can impact the bottom line of organizations
• Tips and strategies you can implement immediately to improve your own financial well-being
• How our money mindset is the missing piece of most of our financial plans
Program:
8:00 - 8:30 am - Breakfast and Networking
8:30 - 9:30 am - Discussion
9:30 - 10:00 am - Networking
________
About Post'd People Group
The Post'd People Group is a national HR network founded by a group of woman who have built their careers in people operations. The group was founded with three primary objectives for its members: 1. Network - create a forum for high quality networking amongst professionals who can share best practices 2. Learn - build an environment conducive to learning and growth, both professionally and personally 3. Inspire - create thought provoking conversations through discussion and mentorship. The group meets over casual dinners and breakfasts to discuss timely and relevant industry topics. Recent topics include diversity & inclusion, family planning benefits, managing stress in the workplace, pay equity, learning & development and resource planning. There is also a weekly newsletter to keep members informed of the latest industry developments.