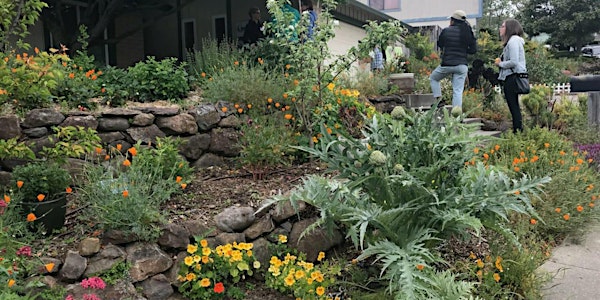 Benicia Garden Tour: Living & Learning Demonstration Food Forest
Tour the Living & Learning Garden in-person in Benicia, CA!
When and where
Location
Register For Location Register for Location Vallejo, CA 94510
About this event
Tour the Living & Learning Garden in person on April 24!
This is a rare opportunity to privately explore one demonstration food forest garden in person within the safety of your family/household bubble.
We are inviting individuals and people to tour the Living & Learning garden within their family/household bubbles for 30 minute intervals. This is a great way to learn simple techniques that you can apply to your own yard to create a vibrant, food-producing ecosystem using water wisely. You will get a chance to ask the food forest keeper questions, enjoy the garden, be inspired and get ideas on how you can work these design principles into your own yard!
Only one ticket is required per family/household up to 6 people
The address will be in your confirmation email
At the time of registration:
Day of Tour:
Bring ticket (either printed or on phone) to show homeowners and follow Tour Guidelines
Each attendee must be on time and only come during the registered time
Each attendee must follow safety COVID guidelines: maintain at least 6-foot distance from others, excluding other household members and wear a mask that covers nose and mouth
If you have any questions please contact nicole@sustainablesolano.org
About Living & Learning Garden:
written by Stacy
We joined the Sustainable Solano Food Forest Initiative because we instantly saw a match for our philosophies of living and community when we discovered this program. Our Living & Learning Garden is a "mature" Food Forest"- meaning that, for us, after 5 years, some of the original design elements have "moved along," either by not surviving, or we changed elements because needs have changed . However the bones have remained the same: greywater irrigation for our fruit trees and roof water retention via a large bioswale; we also try to reuse as much of the carbon matter produced on site as possible. This has made for some comical attempts at composting (and some very fat neighborhood rodents) but we ultimately have won and the compost is flowing. Our primary measure of success is. of course, water use: we remain among the lowest 20% of water use in Benicia (averaging between 90-120 GDP for a home with two teenagers!) versus well over 300 GPD for an average family of four. This is allowing us to greatly expand the backyard into a bigger raised bed garden using recycled pallets. We are focusing on foods we can preserve and can. We love meeting and enjoying conversations with people walking by- as well as those using our Food is Free Solano stand.
Sincerely, Leslie, Stacy, Jack, Ella, and Ruby"
This is the official site for all Sustainable Solano events. Please register for free classes or purchase tickets only through Sustainable Solano's Eventbrite listings. We never sell tickets that can be resold. If you notice another party claiming to sell our tickets, contact us at info@sustainablesolano.org
*$5-$20 per person suggested donation to Sustainable Solano. As a small, community-based organization, every little bit helps. Your donations will help support our offerings to the community and give us the ability to add more virtual classes. If you can donate at this time, we are very grateful! The donation is non-refundable