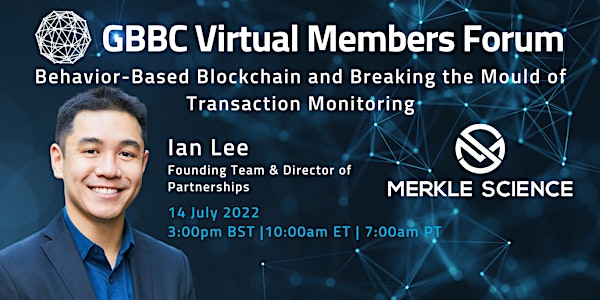 Behavior-Based Blockchain and Breaking the Mould of Transaction Monitoring
Join us for a presentation and live audience Q&A with Merkle Science on breaking the mould of transaction monitoring
About this event
Join us for a presentation by Ian Lee, Founding Team & Director of Partnerships at Merkle Science, on the Global Blockchain Business Council's (GBBC) Virtual Members' Forum, a bi-weekly webinar showcasing the innovative work of GBBC members around the globe.
GBBC member Merkle Science is the next-generation predictive cryptocurrency risk and intelligence platform that helps crypto companies, financial institutions, and government entities detect, investigate, and prevent illegal activities involving cryptocurrencies.
Merkle Science's proprietary Behavioral Rule Engine enables their tools to go beyond blacklists so that compliance teams may fulfill their local KYC/AML obligations and industry players may keep pace with the industry's increasingly complex illicit activities.
Event Time: Thu July 14, 3:00 PM - 4:00PM BST / 10:00 AM – 11:00 AM EDT (60 Min)
About Ian Lee:
Ian Lee is part of the founding team at Merkle Science and led its investigations team before taking over as Director of Partnerships and heading up Merkle Science's APAC operations. A Singapore qualified lawyer, Ian previously worked in the capital markets industry where he actively advised corporates for listings and corporate actions. Ian was recently named as a FinTech Leader Under 30 by the Singapore Fintech Association. Ian also serves as VP of the Institute of Blockchain, a SkillsFuture accredited social enterprise focusing on Blockchain education and certification, and sits on the ISO TC307 – Blockchain and Distributed Ledger Technology (DLT) Standards Technical Committee, where he is part of the founding team of the Compliance.
As part of his role at Merkle Science and Institute of Blockchain, Ian regularly conducts training on the topic of crypto-compliance and crypto-forensics for regulators, law enforcement, and corporate enterprises. Ian is a regular speaker at blockchain conferences on the topics of crypto-compliance, AML/CFT, and regulation. Ian graduated from the University of Warwick with a Bachelor of Laws (LLB).
Learn More:
https://www.merklescience.com/