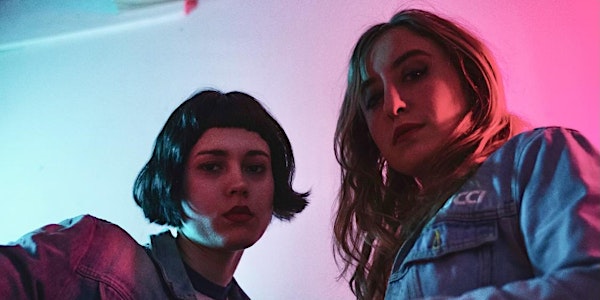 Location
DC9 Nightclub
1940 9th St NW
Washington, DC 20001
Beau

FACEBOOK | INSTAGRAM | TWITTER | SPOTIFY

New York City is known for being the center point for the merging of cultures, a hub for fashion, literature, art, and a fertile breeding ground for music of all genres. Alt-pop duo Beau, singer/songwriters Heather Goldin, and Emma Jenney are the amalgam of all that the artistic community has to offer. From punk rock to folk, to modern pop, Beau's reputation for creating atmospheric and catchy songs is directly influenced by their eclectic upbringing in NYC. Their music embodies the soul of the city's musical history pumping through each note.

"New York City will forever make us feel like we can do anything, be anyone, always change at any time. It basically gave us the freedom to explore ourselves," says Emma who met Heather when they were just pre-teens.

Heather reminisces on their childhood friendship, ****"Life was really thrilling when Emma and I first met. We were able to find inspiration from practically anything and we had each other every step of the way. Never alone and never a dull moment. It was a very lucky time." She continues, "We were raised by artists and eccentric/interesting characters in the heart of downtown NYC and ran around the city as kids with not much money in our pockets but massive flames in our hearts to create music and perform it. We had dreams that we didn't think would ever go this far but we never gave up. Everything we do is still informed with that passion"

Meeting at such a tender age allowed them to develop a "sister-like" relationship, with both being born into families active in New York City's art scene. As the girls grew, and their parents explored their artistic lives as painters, that life exposed them to everything in the arts including musicians and writers solidifying their path towards artistic expression. Music quickly became their creative outlet of choice, deviating from their parents but still creating landscapes in the minds of their listeners with their songs.

By age 13, the two had started a band together, taking influences from classic artists like Joni Mitchell and the Zombies. Originally "The Boos" they played gigs around NYC when a trip to France inspired a name change to Beau. Lead singer Heather sounds like Karen O, dances like Jim Morrison, and entrances like Lana Del Rey. Emma is equally captivating, she's the Keith to Heather's Mick but for a new generation.

In continuing their upward rise, Beau is now readying the release of their third EP, called *Life Twice*. After seven years and many important musical experiences under their belts, the duo has refined their intricate sound design, coupled with emotive songwriting and masterful musicianship. The dynamic new EP sways between evocative, soul-stirring songs like "Hardly Breathing" to the energetic, up-tempo heights of "Life Twice" to name a few.

About *Life Twice* Emma says, "This record is super important to us. It's a mix of newer and some throwback material which really depicts the many facets to our music and our personalities."

The new EP was produced by Beau, with one song being co-produced by Nicolas Vehrnes, and recorded at the famed Electric Lady Studios in NYC, with additional recording at Redbull Studios in LA.

The way Beau creates songs is their own unique process as Emma explains, **"**Sometimes we write a song alone and then bring it to each other to improve upon, or to have some honest feedback. Other times we write together on the spot and edit as we record. It's always changing and it's always our dream coming true."

Heather adds, **"**Our friendship as adults is much more balanced and less hormonal. We really understand each other now more than we did then and our long friendship informs our musical partnership. When we write, the process for us involves a comfy room, a guitar, a pen, and a piece of paper as well as lots of words. Emma and I do these things together and alone and like to edit each other's work a tad. My personal favorite is when we do it all from scratch in the same room, brains and hearts linked."

After a stint at tastemaker label, Heavy Roc Music where they further honed their musical identity among label mates, Sofi Tukker, Blue DeTiger, and the Knocks, they realized that success on their own terms was what was going to define their future.

Now signed to Range Music/Virgin Music, Beau continues to be inspired by the city they love, created and produced music that represents their young and artistic lives, and are on the cusp of the release of their new EP.  Exactly where they need to be!