Basel House Mural Festival: Where street art, eclectic music, and new age art installations come together during Art Basel Week.
About this event
The 7th Annual Basel House Mural Festival is THE place to be during Art Basel Week where street art, eclectic music, and new-age art installations from across the globe come together to create an unparalleled experience. This FREE event will offer live painting, unique art installations, vert ramp, live music, late-night DJ, cocktails, food options, and more.  RSVP today to get your first drink FREE! Must be 21+ to drink. Please drink responsibly..
2021 Schedule:
Thursday, December 2nd 4:00 PM-3:00 AM
Friday, December 3rd 4:00 PM - 3:00 AM
Saturday, December 4th 12:00 PM - 3:00 AM
Sunday, December 5th 12:00 PM - 3:00 AM
2021 Artist Line-Up (Live painting container murals throughout the weekend):
Pez (@pezbarcelona)
Kram (@kram_bcn)
Slomo (@slomo29)
Chicadania (@chicadania)
Elxupetnegre (@elxupetnegre)
Flop (@studioflop)
Toxicomano (@toxicomanocallejero)
Erre (@erre.erre)
Risk (@riskrock)
Spok (@spokbrillor)
Sabek (@sabeknonsense)
Urban Ruben (@urbanruben)
2021 Features Include:  
MURALS: Top street artists from across the globe live painting 20 foot shipping containers dispersed around the event site.
FREE BLOCK PARTY with Live Painting, Unique Art Installations, Live Music, late night DJs, Artist & Vendor Market, Food Options, Brand Activations, Cocktail Bars, VIP area, and more!
ARTISAN MARKET with curated, unique vendors displaying creative products, clothing, art, jewelry, and a variety of artistic and one-of-a-kind products

Visit www.baselhouse.com for more infoFor Vendor Opportunities, please email vendors@swarminc.com. For Sponsorship activations or opportunities, please email partners@swarminc.com.
*RSVP for Free Drink is limited to the first 500 guests to check-in and claim their free drink before 9:00 PM. Must be 21+ to drink. Please drink responsibly.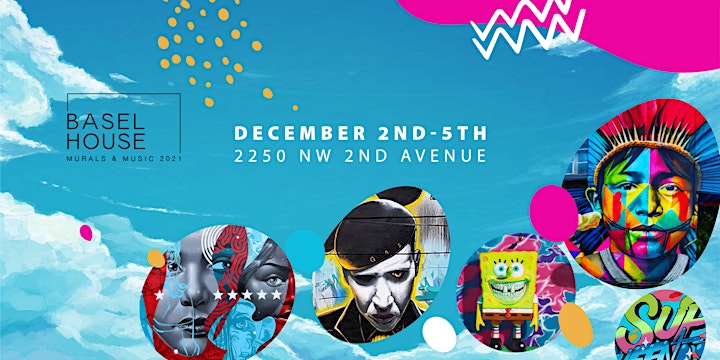 Organizer of Basel House 2021
SWARM, Inc. is an EVENT AGENCY located in Wynwood, Miami, Florida. We are focused on the production, marketing, concessions, and all around logistics of your next event.