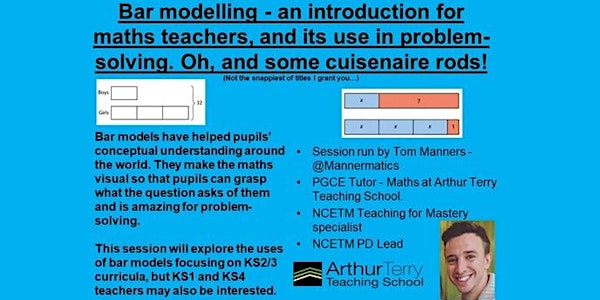 Bar modelling - an introduction for maths teachers, including its use in problem-solving
Description
From: Tom Manners - @Mannermatics
(Please be aware that emails from Eventbrite with the links etc may appear in your junk mail folders!)
This next session does not have the snappiest of titles, but I hope it will be of interest to any maths teacher who wants to start including more representation into their lessons, with this session focusing on bar modelling. The content will mostly use topics within the key stages 2 and 3 curricula, but I hope all maths teachers would find the presentation of interest.
I will be looking at my use of bar modelling in many different topics as well as its use as an amazingly helpful tool to aid problem-solving, whilst aiming to introduce how cuisenaire rods could be used to support progress in the classroom.
When you apply for this, there are two ways to then access the event:
1) You will receive an email on the morning of the event telling you how to dial in so please don't worry. Please check your junk mail folders for emails from Eventbrite.
2) As some people have had issues accessing the emails, the link should show on the webpage when you sign up. Please save this and then put it into your browser at the correct time.
Feel free to sign up for next week's session too! Lesson planning for all key stages - "what's the same, what's different?" - really looking forward to being joined by two wonderful colleagues for this one!
https://www.eventbrite.com/e/lesson-planning-in-maths-for-all-key-stages-whats-the-same-whats-different-tickets-105062466666
If you have missed my previous CPD sessions, please see below:
My session on "Speak like a mathematician - the importance of the words we use in the classroom" can be found here - https://youtu.be/ZMYI6zp31lE
My first session on introduction to algebra tiles as well as looking at collecting like terms, expanding brackets and factorising, - https://youtu.be/qa9ug4qvsXY
My second session on algebra tiles/ representation, with a particular look at integers, can be found here - https://youtu.be/ZVOhNhCmKRo
And if you missed my session on "Teaching for Mastery? How about teaching for understanding!" based on the NCETM's 5 big ideas, then you can watch that here - https://www.youtube.com/watch?v=5ChXhR2RzRg&t=1353s