A Night in Wakanda is a Family Fellowship Banquet designed for us to Dine, Dance and enjoy our loved ones in our African Attire
About this event
Greetings Banks & Spence Family!!! We hope that you are doing well! It has been a while since we have come together to laugh and fellowship as a family! Aren't you ready to do it again?
We are excited to jump back in and pick up where we left off with the "good ole times". Get your African Attire and meet us in the "ATL" July 24th 2021
We appreciate all of the family partners who jumped in without hesitation to help make this a fun and joyous night for all of us! We can't wait to see you! BANKS & SPENCE FOREVER!
Dinner will be served along with evening entertainment and fellowship!
PLEASE SEE IMPORTANT DETAILS BELOW:
NO ADMITTANCE WITHOUT TICKET!!!!!!!!!!!!!!!!!!!!!!!!!!!!!!!!!!!!!!!!!!!!!!!
*TIckets are $50 per adult: Ages 13-79
*Seniors 80 years of Age and older: FREE
*Children 12 and under: FREE
****Hotel Accommodations****
Hampton Inn & Suites Airport West/Camp Creek Pkwy
Group Code: BFM
You can book online www.hilton.com or call 1-866-318-1767
https://www.hilton.com/en/hotels/atlcphx-hampton-suites-atlanta-airport-west-camp-creek-pkwy/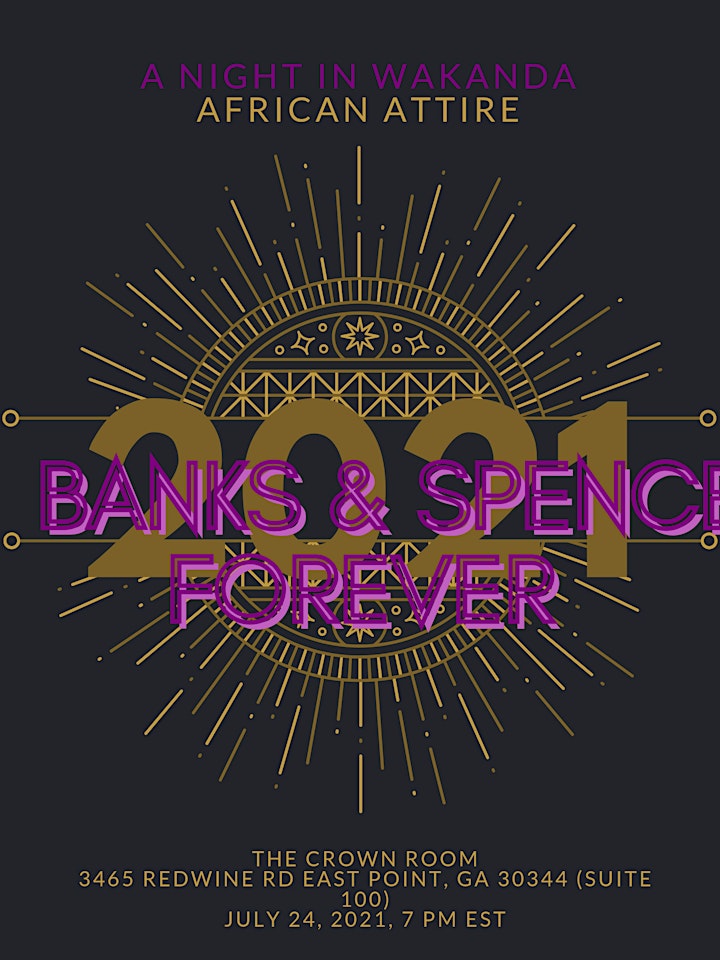 Organizer of BANKS & SPENCE FOREVER: A NIGHT IN WAKANDA FAMILY FELLOWSHIP BANQUET