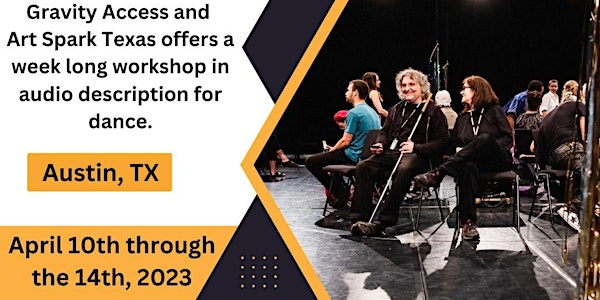 Audio Description Workshop
Professional Audio Description Training with Gravity Access Services
Date and time
April 10 · 10am - April 14 · 5pm CDT
Location
Vesper 3106 East 14th 1/2 Street Austin, TX 78702
Refund Policy
Contact the organizer to request a refund.
About this event
Professional Audio Description Training with Gravity Access Services
Audio Description (AD) is a fast-growing practice that provides access to the performing arts, dance, theater, film and video to people who are Blind or have low vision. AD provides clear descriptions of the essential visual details of a performance – action, costumes, settings, gestures, facial expressions, objects and other visually communicative elements in order to accommodate people for whom many cultural events would be otherwise inaccessible. Many communities in the US have no trained audio describers and there is a vast need for more people to provide the service.
From April 10-14, 2023, Art Spark Texas is presenting an amazing opportunity to participate in a 5-day professional training for Audio Describers with Gravity Access Services, pioneers in the practice, who are known internationally for their vibrant, live audio description and extra-visual access techniques—particularly for dance and body-based performances.
Over the five days, Gravity Access Services founder, choreographer Jess Curtis, and Blind dancer, singer, and expert in extra-visual access for performance, Tiffany Taylor, will lead you through their methods and techniques to mobilize your own physical experience to describe dance performance in meaningful, innovative and engaging ways.
Gravity has trained numerous now-professional audio describers in workshops in AD internationally, who have gone on to become colleagues and innovators in the evolution of the form. Taylor and Curtis have worked together since 2017, creating innovative, accessible performances and offering access services and access consultations to artists and venues across the US and Europe. Curtis founded Gravity Access services in 2018, after noting the dearth of Audio Description services in Berlin and San Francisco where he primarily works.
Ideal participants in this workshop will have good verbal/vocal skills, are familiar with dance, theater and performance in general, and have a desire to learn techniques for describing live performance in real time without a set script. Experience in description is a plus but not a requirement.
NOTE: This work is also relevant and useful to dancemakers who would like to make their own work more accessible and embed or draw on access practices in the process of making their own work. The workshop is accessible to people of diverse physicalities and sensory modalities.
Please contact us if you have questions about specific accommodations or you need more information regarding this workshop, email dance@artsparktx.org
Limited scholarships will be available upon request. This workshop is offered in-person only.
When: Monday, April 10 through Friday, April 14, 2023
Time: 10am to 5pm
Where: Vesper in Austin, Texas
Cost:$95 - $75 for the entire week! (Sliding scale)
Monday-Friday – develop and learn connections between language and dance through improvisation based physical/verbal exercises and games, and learn Gravity's step-by-step process for providing AD and Extra-Visual Access.
Wednesday evening: Observe Curtis and Taylor in their process of previewing and preparing an actual Audio Description, by attending the performance of interdisciplinary tap dance artist Michael J. Love at the internationally acclaimed Fusebox Festival
Thursday: Continue physical/verbal practice and work with Curtis and Taylor to prepare for the AD for Love and his company on Thursday evening
Thursday Evening: Shadow Curtis and Taylor as they lead a Haptic Access Tour and provide AD for Love's performance
Friday: Prepare and Perform AD for a short video, guided by Curtis and Taylor. Debrief Love Performance and discuss next steps
https://www.jesscurtisgravity.org/access
https://www.artsparkdance.org
Photo credit: Sven Hagolani
About the organizer
Art Spark Texas is a 501(c)3 not-for-profit organization that operates at the intersection of arts, education and disability. We believe that arts experiences enhance the skills, confidence and quality of life for all people, especially for people with disabilities. We support this by offering programs that promote achievement and career success, events that feature the work of diverse artists, and specialized trainings and services for the entire community.