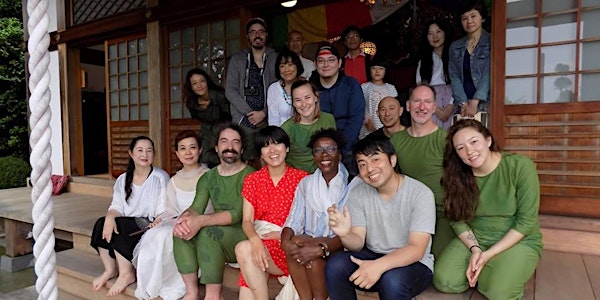 Attune ダンスパフォーマンス並びに、クラス開催
Attune brings together Japanese and US artists: Heidi S Durning, Daya Tomiko, Kumiko Nonaka, Malcolm Shute, and Tabata Vara.
Date and time
Sunday, June 11 · 10am - 3:30pm JST
Location
Shinpukuji Shimokubo-1 Sogabecho Nishijo Kameoka, Kyoto 621-0028 Japan
Refund Policy
Contact the organizer to request a refund.
Eventbrite's fee is nonrefundable.
About this event
5 hours 30 minutes

Mobile eTicket
6月11日(日)
曹洞宗 真福寺
1. 10時 クリエイティブムーブメントクラス
ダンスと音楽を組み合わせた動きで子供も
楽しめる内容です。
自分自身の身体を把握してリズム感・
柔軟性・協調性・
自信を養うことに役立ちます。
(3〜5歳までの子供を対象)
2. 12時 コンタクト・インプロヴィゼーションは、ークショップ
受講生が相互に支え合って行うスタイル
のダンスワークショップでダ
ンス経験は問いません。
(18歳以上を対象)
 3. 14時 コンテンポラリーダンスパフォーマンス
Beginning with 1-hour workshops in creative movement for children ages 3-5 at 10am, and contact improvisation for adults at 12pm, the event culminates in a live dance performance from 2-3:30pm. Those who attend the improvisation workshop are invited to perform at 2pm.
The dances in this year's performance will be linked by themes of water. Heidi S. Durning's solo recreates water, circulating flows like a mermaid. Malcolm Shute brings a contemporary dance quartet depicting seaweed floating, rolling, and launched by waves. Daya Tomiko presents a fusion of Bharata Natyam and contemporary dance. Tabata Vara will present "Immolatio," a trio that portrays an offering of mind, body, and soul to an otherworldly presence, a desperate plea to the void. Heidi, Malcolm, and Tabata will also collaborate on an improvised dance together. Kumiko Nonaka, master of the Noh flute, will accompany dances.
ハイディー・S・ダーニング(日本/スイス)Heidi S. Durning dances between cultures. Her choreography fuses Japanese Classical Dance and Contemporary Dance. She is also an accomplished Classical Japanese dancer under the name Fujima Kanso o. Her unique fusion of impulses, along with her passion for working with artists from diverse backgrounds and countries, has resulted in a performance style that is technically accomplished and rich in texture, spirit, and vibrancy. Based in Kyoto, Heidi continues to teach, create, and perform globally.
ダヤ・トミコ (日本) Daya Tomiko has performed as a soloist all over Japan, becoming one of Japan's most famous and representative performers of Bharata Natyam. She not only dances on stage in theatres, but also at temples and shrines, at schools, and occasionally for charitable causes. She is Principal of "Thanmaye-Nathyalaya" the Institute of Indian Classical Dance and a Lecturer in Indian Dance at the Osaka University, Faculty of Foreign Languages.
野中久美子/能管演奏(日本) NONAKA, Kumiko (Noh-flute player), graduated from International Christian University, Tokyo with BA (Liberal Arts) in 1986. Studying piano and violin for enjoyment sparked her interest in Japanese traditional music. She began studying noh-flute (a bamboo flute in Noh theatre) with Hiroyuki Matsuda. Performing publicly since 1994, Nonaka has played traditional Noh solo pieces, and collaborated with players of western, eastern, and folklore musical instruments, and traditional and contemporary dancers. She has been invited to many memorial events at shrines and temples, and also performed abroad.
Tabata Vara founder of Totema Dance Company, a daughter of Mexican immigrants, is a prominent choreographer in the Washington DC dance community. She has shown work at Nachmo DC and Dance Icons, and collaborated on dance videos with videographers in the DC area. In 2022 she founded Totema Dance Company. As Artistic Director, she evokes untouched emotions from audiences by carefully coaching dancers to embrace their authenticity.
Shinpukuji Temple is a temple of the Soto sect (Zen sect). Shinpukuji Temple stands on a raised stratum of rocks (chert layer) formed from the dead cells of plankton that lived in the lake a long time ago.
Human Landscape Dance was founded in 2006, and has since brought contact choreography around the world. Specializing in artist partnerships, Human Landscape Dance has given performances, held workshops, and shot video footage in Europe, Asia, and South America, as well as cities across the US and Canada. Noted for "…ingenious choreography and staging..." by the Washington Post, the dances of Artistic Director Malcolm Shute are characterized by intimate portraits of people as they undergo change. Using touch to communicate, bodies mold with their environment to create a collage of images.
About the organizer
Human Landscape Dance events support its 501c3 educational mission to promote the appreciation and understanding of contemporary dance.