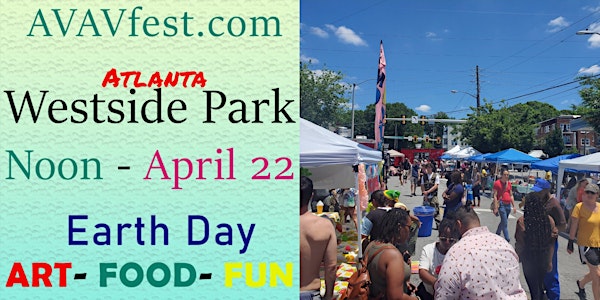 Atlanta Arts, Vegan, and Vegetarian Festival
Westside Park is the City of Atlanta's newest and largest park. The Atlanta Arts, Vegetarian, and Vegan Festival celebrates earth day.
Date and time
Saturday, April 22 · 12 - 8pm EDT
Location
Westside Park 1660 Johnson Road Northwest Atlanta, GA 30318
Refund Policy
Contact the organizer to request a refund.
Eventbrite's fee is nonrefundable.
About this event
The The Atlanta Arts, Vegetarian, and Vegan Festival celebrates earth day. In the spirit of healthy living, family, and community we celebrate the Earth. Support local and international Artists, Crafters, Chefs, and Entrepreneurs.
April 22, 2023
Event Details
12PM- 7:00PM
Event Location: Westside Park
1660 Johnson Road Northwest
Atlanta, GA 30318
Come join us for the AVAV Fest- The Atlanta Arts, Vegetarian, and Vegan, which features a pop-up market, food vendors that includes vegan and vegetarian options, live music, and art demonstrations!
Westside Park- "The City of Atlanta's newest and largest park. After years of planning and construction, the park opened on August 17, 2021. Completion of Phase I includes multiple ADA trails, playground, workout equipment, pavilions, green spaces, and Bellwood Quarry viewing areas." (taken from Atlanta Parks website 6/30/2022)
Tips for the AVAV Festival
• Take MARTA, or available rideshare services such as Uber, Lyft, or cab as parking is limited.
• If it's a bright, sunny day, so dress appropriately
• The festival is free and family-friendly.
• TRAINED Pets on leashes and Service dogs are welcome.
Things To Know
What time does the AVAV - Arts, Vegan and Vegetarian Festival start?
The AVAV - Arts, Vegan and Vegetarian Festival starts at 12PM.
What are the hours for the Pop-up Market & Food Vendors?
The Pop-up Market and Food Vendors at the AVAV - Arts, Vegan and Vegetarian Festival will be open from 12pm to 7pm on Saturday.
Does it cost to get into the AVAV - Arts, Vegan and Vegetarian Festival?
Admission to the AVAV - Arts, Vegan and Vegetarian Festival is FREE!
What Types of Vendors are welcome?
Artist, Artisans, Crafters, Food vendors (including non-Vegan), corporate, political, non-profit, anything family friendly
Vendor Application on the wesite. www.avavfest.com
Vendor Fees
Early Bird—Registered and paid before February 15, 2023
General Vendor– $200
Food Vendor $250
Regular Price after Febraury 1
General Vendor $250
Food Vendor $300
Contact Information
avavfest@gmail.com
Vendor agrees to be bound by the terms and conditions set forth on www.avavfest.com. If Vendor violates any term of this agreement, company and/or the authorized agents of the festival may within their sole discretion, immediately upon notice of violation of this agreement, require Vendor to cease operations and vacate the premises or forfeit any and all fees paid for the right and privilege of participating.
1. Vendor will be assigned a 10'x10' space in any location contained in the Festival Place, at the sole discretion of organizer.
2. Vendors must supply all tables, chairs, 10×10 tents (tents are encouraged), and generators (must be whisper-quiet).
3. Vendor agrees to obey all rules and instructions as directed by the festival staff during the festival weekend.
4. Any failure to strictly adhere to such rules or instructions may result in the immediate termination of this agreement and immediate forfeiture of any and all fees paid.
5. Vendor shall not display, offer for view or sale any illegal or contraband items.
6. Vendor shall not sublet its space.
7. No refunds shall be given due to cancellation or interruption of the festival for reasons beyond the control of Organizer. NO REFUNDS.
8. Vendor is solely responsible for the security of and for securing all its items at the festival location including tents. ( weights are encouraged)
9. Vendor shall ensure that their space shall be free of any and all trash and refuse. Please use appropriate containers and dispose of properly.
10. A valid Vendor Participation Form must be displayed at all times. (Form will be provided by organizer at check-in)
COVID WAIVER:
All participants (vendors, attendees, sponsors, partners, and etc) acknowledge the contagious nature of COVID-19 Variants and voluntarily assume the risk that they may be exposed to or infected by COVID-19 while on-site at the Festival.
All participants voluntarily agree to assume all of the foregoing risks and accept sole responsibility for their own health and safety. All participants hereby release, covenant not to sue, discharge and hold harmless the Excellence in Motion Inc., organizers, directors, officers, employees or agents from any and all liability arising from their participation in this event.
FORCE MAJEURE:
EIM, partners and contractors shall not be liable for any failure or delay in the performance of its obligations hereunder arising out of or caused by, directly or indirectly, strikes, work stoppages, accidents, acts of war or terrorism, civil or military disturbances, acts of God and/or nuclear or natural catastrophes.
About the organizer
S.T.E.A.M.
Science, Technology, Engineering, Art, and Math.
OUR MISSION IS TO HELP YOUTH OF ALL AGES ACHIEVE PERSONAL AND
PROFESSIONAL EXCELLENCE. 
WE FACILITATING INNOVATIVE STEAM BASED PROGRAMS, EVENTS, AND PROJECTS