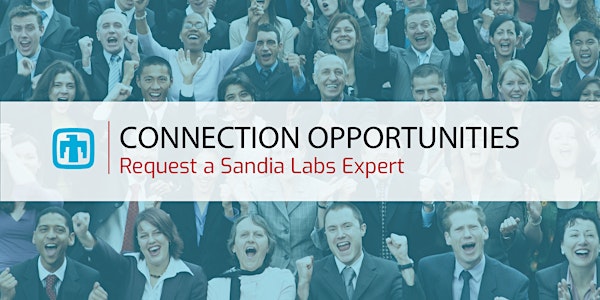 Ask a Sandia Labs expert to participate in a seminar or advisory board
Faculty at partner research schools can request Sandia experts in select fields to speak at a seminar or participate on an advisory board.
About this event
1456 days 3 hours

Mobile eTicket
If you are a faculty member or a department chair of a Sandia University Partnerships Network school, (Alabama A&M University, Arizona State University, Carnegie Mellon University, Cornell University, Florida A&M University, Georgia Institute of Technology, New Mexico Institute of Mining and Technology, New Mexico State University, Norfolk State University, North Carolina A&T, North Carolina State University, Prairie View A&M University, Purdue University, Stanford University, Texas A&M University, University of CA at Berkeley, University of CA at Davis, University of CA at Los Angeles, University of Colorado at Boulder, University of Florida, University of Illinois at Urbana-Champaign, University of Michigan, University of New Mexico, University of Texas at Austin, University of Texas at El Paso, University of Washington, and University of Wisconsin at Madison), you can request an expert in select fields at Sandia National Labs to speak at a seminar or participate on one of your advisory boards.
Fields of Sandia expertise include science, technology, engineering, and math (STEM). Additional fields of expertise include business, information technology, project management, and related topics. Submit your request by registering, and you will be contacted for more information.
Sandia National Laboratories is a multimission laboratory managed and operated by National Technology & Engineering Solutions of Sandia, LLC, a wholly owned subsidiary of Honeywell International Inc., for the U.S. Department of Energy's National Nuclear Security Administration under contract DE-NA0003525. SAND2021-3606 O