Description
ARTFL2017
VIP Reception january 20, 2017
Rolando Chang Barrero brings together 7 of the top curators and their choices of artists to keep an eye on.
You are coordially invited to join us at The Box Gallery to pay homage and celebrate the achievemets of Bruce Helander, Paul Fisher, Jane Hart, Marisa J Pascucci, Lee Ann Lester, Debby Coles-Dobay, and Noor Blazekovic in a reception on January 20, 2017.
Featuring the work of
J..Steven Manolis, Patrick Willard, Andy Marx, Dana Donaty.
​Karla Walter, Carin Wagner, Sarah Knouse,
​Stefan Radu Cretu, and Jon Glaser. ​
This exhibition is partnership with...
ArtSynergy ArtPalmBeach
Irreversible International Art Project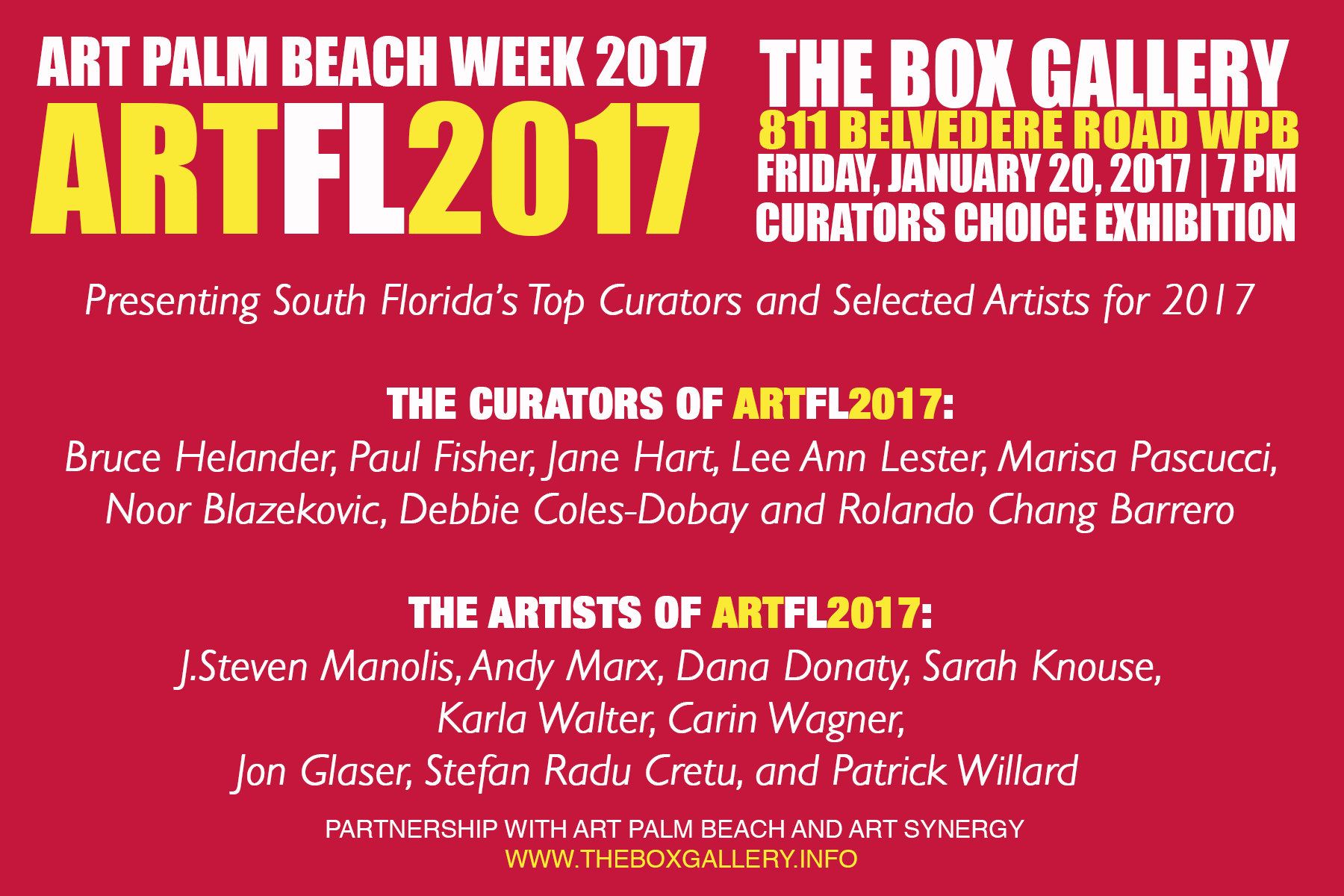 About The Curtors:
Bruce Helander, Art Critic, Arts Writer at the Huffington Post, Curator, Former Editor-in-Chief of The Art Economist, Former White House Fellow, National Endowment for the Arts.
Paul Fisher established his eponymously named gallery in 1990 Flamingo Building,
a 7500sf historic building located near the Norton Museum in the heart of West Palm Beach. He has regular exhibitions at the Flamingo Building and Paul Fisher Gallery Palm Beach (at the Brazilian Court) showing highly established and renowned living artists,
20th century masters, and a well curated selection of emerging and mid-career talents.
Jane Hart, Former Curator of all exhibitions and special programming in the contemporary fi ne arts area at Art and Cultural Center of Hollywood, Florida, Curator of the 100+ Degrees in the Shade: A Survey of South Florida Art.
Marisa J Pascucci, Curator of Collections
Boca Raton Museum of Art, former Associate Editor of The Art Economist, former Norton Museum of Art's Smith Curator of American Art, Everson Museum of Art, the Montgomery Museum of Fine Arts, MOCA, Cleveland, and the Cleveland Museum of Art.
LeeAnn Lester,
Director at Director: ArtPalmBeach, Concept Art Fair Miami Basel WeekArt Boca Raton Contemporary Art Fair, SeaFair Miami
Debby Coles-Dobay, serves as the executive director of the International Kinetic Art Exhibit and Symposium, manager of the City of Boynton Beach Art in Public Places Program where she curates and coordinates the selection, siting, installation and maintenance of the public
art collection.
NOOR BLAZEKOVIC, Founder Publisher/Chief Editor IRREVERSIBLE Projects & Magazine & Executive Director at GIANTS IN THE CITY