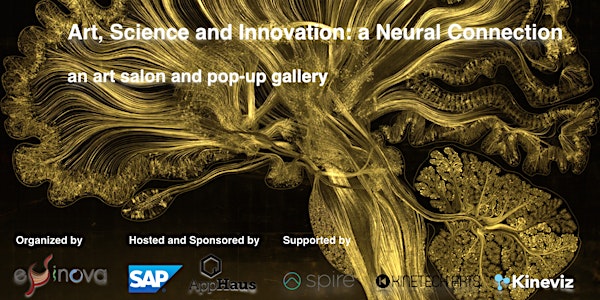 Art, Science and Innovation ::: an art salon and pop-up gallery
When and where
Location
SAP Labs AppHaus Building 9 3475 Deer Creek Road Palo Alto, CA 94304
Description
Essinova proudly presents "Art, Science and Innovation: a Neural Connection", the inaugural edition of its interdisciplinary salon series and a pop up gallery, with collaboration and generous support from SAP Labs. Join us for a stimulating and fun-filled evening of art, talks, interactive and creative activities and raffle prizes of cool tech products, in the company of technologists, scientists, artists, designers, creators, entrepreneurs, innovators, investors and executives from the Silicon Valley community.
The event will feature the latest artworks of Dr. Greg Dunn, the world's foremost neuroscientist-artist; and will be held at AppHaus, SAP's design center and creativity powerhouse in Palo Alto.
You will enjoy this truly unique opportunity to experience how neuroscience insights are reflected in Dr. Dunn's beautiful art, inspired by Asian aesthetics; and how these insights are applied in SAP's design-thinking approach to enhance customer engagement and drive innovation.
Food and beverages will be provided.
PROGRAM HIGHLIGHTS:
Welcome and Introduction
BeiBei Song, Founder and Principal, Essinova
"Illuminating consciousness, mindfulness and the emotional brain - a union of art, science and technology"
Greg A. Dunn, neuroscientist-artist
"Brain-based innovation and customer experience design"
Janaki Kumar, VP, Head of Design and Co-Innovation Center, SAP Labs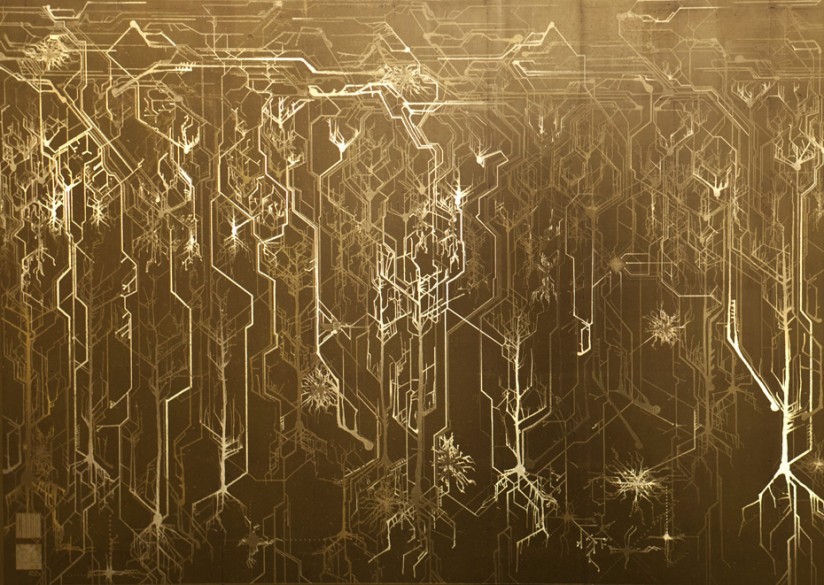 SPECIAL FEATURES:
Original microetching artworks on display

Silent auction for artwork prints (exclusive opportunity!)

Interactive activities with featured artworks - Blind Contour Drawing, Guess Nerves, Mirror Mirror

Raffle prizes: Spire stress and calmness tracker (registration required for raffle entry. Also, sign up for Essinova newsletter to receive a special $30 discount on the tracker!)
SPEAKER BIOS
Greg A. Dunn received his PhD in neuroscience from the University of Pennsylvania. While a graduate student, his artistic experiments demonstrated a connection between the elegant forms of neurons and the aesthetic principles of minimalist Asian art and sumi-e scroll and gold leaf painting. Dunn is now a full time artist based in Philadelphia where he works to incorporate his knowledge of neuroscience, physics, and biology into the artistic process through imagery, concept, and technique. He also worked with Dr. Brian Edwards, applied physicist and electrical engineer and a collaborating artist, to invent the revolutionary techniques of microetchings—handmade lithographs that manipulate light on a microscopic scale to control the reflectivity of metallic surfaces in precise ways.
Dunn has exhibited widely in the U.S. and internationally, and has been featured in prestigious media such as New York Times and Wired. His latest microetching, Self Reflected, in collaboration with Edwards and funded by the National Science Foundation, is on permanent display at the Franklin Institute.
Janaki Kumar leads a team of interaction designers, visual designers and design thinking experts at SAP Labs to design innovative solutions for strategic customers. She is a Co-Instructor with Professor Baba Shiv for the "Customer Engagement Design: A Neuroscience Perspective" course within the Stanford GSB LEAD Certificate: Corporate Innovation program. Kumar sees gamification as a fun way for organizations to motivate and encourage employees and engage with customers. She is a co-author of a book on Gamification, titled Gamification at Work: Designing Engaging Business Software.

BeiBei Song has 15+ years of experience in marketing strategy, international business development and media relations. As the Founder of Essinova, she is widely recognized for producing 300+ executive interviews, technology and product showcases, investor pitches and other multi-media content for "Essinova | Innovation for the Wellbeing of Humanity", providing thought-leadership, insights and trends on life science and cleantech innovation. She curates the "Essinova | Art + Science" online gallery and writes about the intersection of art, science, culture and technology.
BeiBei Song has an M.B.A. degree from Stanford University Graduate School of Business and a B.S. in Economics from International Business & Economics in Beijing. She is on the teaching team for "LEAD Certificate: Corporate Innovation" Executive Education Program at Stanford University.