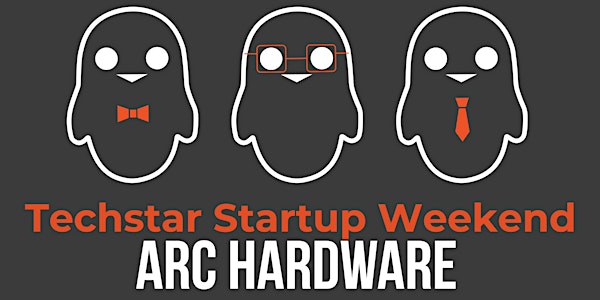 Arc & Techstars Hardware Startup Weekend Oct 2019
When and where
Location
Arc Hardware Incubator 186 Brunswick Street Entrance off St Pauls Terrace (50 m from intersection with Brunswick St) Fortitude Valley, QLD 4006 Australia
Description


Description:
The Hardware Startup Weekend is a 54-hour event where developers, designers, marketers, product managers and startup enthusiasts come together to share ideas, form teams, build products and launch startups. The unique aspect of this event is giving participants the opportunity to engage with a wide variety of cutting-edge prototyping technologies to be able to develop physical products within 54-hours.
The event will kick off with a networking session followed by a pitching session, a popular voting session and a team creation session, all of which will take place on a Friday afternoon. The assembled teams will then have until Sunday afternoon to research, validate and prototype their ideas before pitching them in front of a panel of judges. During the weekend, a range of mentors will be available to provide ongoing advice and assistance to the teams. Following the final pitches, the best teams will be presented with awards and prizes.
This is a great opportunity to meet new people, develop ideas and learn about the startup ecosystem!
Who is it for?
It's open to anyone and everyone to attend! In the past we have hosted a wide range of participants, including: designers, engineers, developers, coders, business minded individuals (finance, law and marketing), social scientists and experienced professionals. Whether you are a serial entrepreneur or new to the startup world, if you are motivated to build a product or startup and open to new ideas then the Startup weekend is perfect for you.
Check out our last Startup Weekend here! https://www.youtube.com/watch?v=5RkC6nwVLgY
The Hosts:
Arc is Australia's first and most advanced Hardware Incubator specifically designed fast-track the development of startups. Arc provides a range of advanced manufacturing and prototyping tools, to enable hackers, hipsters and hustlers to develop their hardware ideas at an accelerated pace. More information at - www.arc.space
The Benefits:
Startup Weekends are a great way for individuals to experience working in newly formed teams, quickly developing ideas and business propositions. It's an immersive experience and a great way to learn the process of developing a startup.
networking opportunities

access to cutting edge technology

access to industry mentors

validating concepts

prizes
Full Schedule & More Information:
To view the full schedule and for more information please refer to the startup weekend guide on Arc's website - http://arc.space/programs/
Sponsors:
Australian Government Department of Industry, Innovation and Science
This Project is supported by the Australian Government Department of Industry, Innovation and Science through Incubator Support initiative funding as part of the Entrepreneurs' Programme.
T&Cs:
It is our job to provide you with an incredible networking and learning opportunity. Our intention is that you meet some amazing people that you might actually start a company with, build relationships with coaches, and learn from your peers. The event is intended to be a collaborative forum for sharing, learning, building, and having fun. As such, by registering as a participant, you acknowledge that any ideas shared by you or anyone else over the course of the event are contributions to the overall experience and community. If you as a participant are worried about someone stealing your ideas, please reconsider your participation in the event itself or simply refrain from sharing specifics about your idea.
As a member of your startup community, you agree to be inclusive of any and all people and their ideas. You agree to act professionally, treat everyone with respect, and treat the event facilities with proper care. You agree that you are responsible for any accidents or damages that you cause. You also agree to not hold Techstars Startup Weekend, your local volunteer team, or any of the event supporters liable for any loss, damage, injury, or any other unforeseeable incident.
By Participating at the event, you grant Arc Hardware Incubator & Techstars Startup Weekend permission to capture photo/video of the event. You can find the exact legal terms on our FAQ Page but to summarize, we want to share your success with the world.
By submitting your information above you agree to Arc Hardware Incubator's & Techstars website's Privacy Policy, and you consent to receive email communication from Arc Hardware Incubator & Techstars and its programs about events and updates that may interest you.