Description
Peter Gilmore is the Executive Chef at two of Australia's most exciting dining experiences; Bennelong at the Sydney Opera House and Quay across the harbour at Circular Quay.

Peter is a 49 year old Australian, born and bred in Sydney. He was inspired to cook at a young age and started his apprenticeship at 16, then spent his twenties working in kitchens overseas and in country New South Wales, developing his own style.

Peter is now one of the most awarded chefs in Australia taking the helm of the kitchen at Quay in 2001.
Quay has been awarded Three Chefs Hats for an unprecedented 16 consecutive years and named Restaurant of the Year six times in The Sydney Morning Herald Good Food Guide. Quay has also been awarded three stars in the national Australian Gourmet Traveller Restaurant Guide for 16 years. Quay was listed for five years on the Worlds 50 Best Restaurant list and held the title of Best Restaurant in Australasia for three of those years.

Peter, along with the Fink Group, reopened Bennelong restaurant in the Sydney Opera House in July 2015 to critical acclaim taking out the title for Best New Restaurant ͛at all three major Australian Restaurant Awards.
Across both restaurants, Peter describes his cuisine as food inspired by nature and as a passionate gardener himself, he was one of the first chefs in Australia to embrace heirloom varieties of vegetables, and continues to work in partnership with small and artesian producers who cultivate bespoke produce exclusively for both Quay and Bennelong. Peter collaborates with a range producers across Australia, from the fishermen who hand dive and line catch the seafood he serves to the farmers who rear rare breed animals with superior flavour and texture for the table. Peter s appreciation of nature s diversity and his endless experimentation in the kitchen and garden are the driving forces in his cooking. Peter has released two cookbooks, Quay: Food Inspired by Nature published in 2010 nature, texture, intensity, purity in 2014. His third cookbook is due out in October 2018.

Peter and his cuisine are held in the highest regard within Australia and around the world .Peter isregularly invited to attend international festivals and seminars. He is proud to be an ambassador for Tourism Australia working in pivotal roles for the Restaurant Australia campaign.

Peter has been a regular guest chef and judge on Australian MasterChef most famously creating the Snow Egg which set the final challenge in the second season; to date one of the most highly watched shows in Australian television history. Peter is a regular guest on various cooking shows including the Restaurant Australia Documentary currently showing on Netflix.

Includes :
5 course degustation menu, personally created by Peter Gilmore with premium matched wines
Meet and greet with Executive Chef, Peter Gilmore in an intimate dining experience as he shares his menu and wine selections

This Summer, Australian Open will present Peter Gilmore of Quay , for one night only.


Don't miss this one night only chance to join Executive Chef Peter Gilmore for a supreme gourmet experience in January.

The AO Chef Series, presented by The Australian Open at The Glasshouse

Each AO Chef Series ticket includes general access to the Australian Open from 10am until late each day, so you will be able to enjoy the AO experience on site before and/or after your dining session.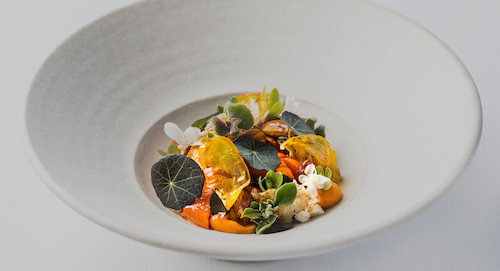 *each menu is still being developed - this image is a representation of the chef's menu style
Check out other events in the AO Chef Series:
Jake Nicholson presents Blackbird Bar & Grill
Angela Hartnett presents Murano of London
Chef Alejandro Saravia presents Farmer's Daughter